Looking for HDMI over IP? Drop By the Vanco InfoComm 2018 Booth
Vanco Evolution HDMI over IP solutions will be demonstrated by the company at the Vanco InfoComm 2018 booth. Don't miss: EV4K2006 4K HDMI Extender; EVO-IP.
Leave a Comment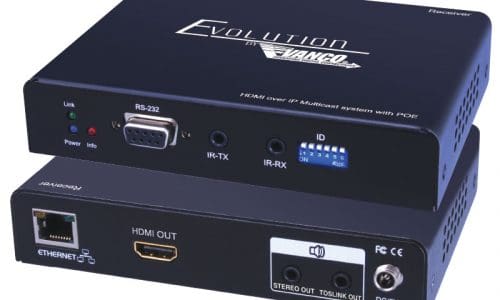 The Vanco InfoComm 2018 booth (#N3022) will feature the Vanco Evolution HDMI over IP system and a new 4K HDMI Extender. Here's a quick Q&A with president Mark Corbin on their InfoComm recommendations.
Commercial Integrator: If we learn about only one product innovation in your InfoComm 2018 booth, what should it be?
Mark Corbin: We've added a new product to the Vanco Evolution line – the EVO-IP HDMI over IP – a single HDMI over IP system that provides installers with the ability to manage, transmit, and receive audio/video and control hundreds of devices over a local network in both commercial and residential applications.
It transmits virtually lossless 4K@60Hz,4:4:4, HDR, HDCP 2.2 video, audio, and IR/RS232 control as a point-to-point, splitter, switch, matrix, digital signage and/or video wall solution, making it very useful in a variety of installation types, small or large.
CI: Ok….What if we have time to see one more thing?
MC: We'll also be showcasing our newly patented 4K HDMI Extender, the EV4K2006.
We had a lot of positive feedback from distributors and dealers on the patented EVEX2006 HDMI extender, the only non-HDBaseT enabled solution available in the market that extends bi-directional Power over Ethernet.
We wanted to develop a similar solution that also offered compatibility and support of 4K video to meet market demands.
We'll also have new HDMI splitters, HDBaseT Certified Cat 6 cables, and other AV accessories on display and available for demonstrations in our booth.
CI: What's one last impression you'd like us to take away from the Vanco InfoComm 2018 booth?
MC: Vanco is churning out lots of innovative new products designed for the commercial space this year, and our booth will have demonstrations, videos, and Vanco reps on hand to talk to how these products really benefit the entire cycle of distributor, dealer and ultimately, end-user.
Our product development team is constantly anticipating market trends and the needs of our distributor customers, and we feel that these new products will be very beneficial to distributors and integrators across various commercial applications.
Vanco products create more vivid and memorable AV experiences in spaces as small as a church to as large as a stadium.