What Is the Best HDMI Cable for System Installations
When integrators spec HDMI cables for their projects they frequently ask what's the best HDMI Cable for 4K or 8K, or how to get the best long HDMI Cable.
Content from our Sponsor
Leave a Comment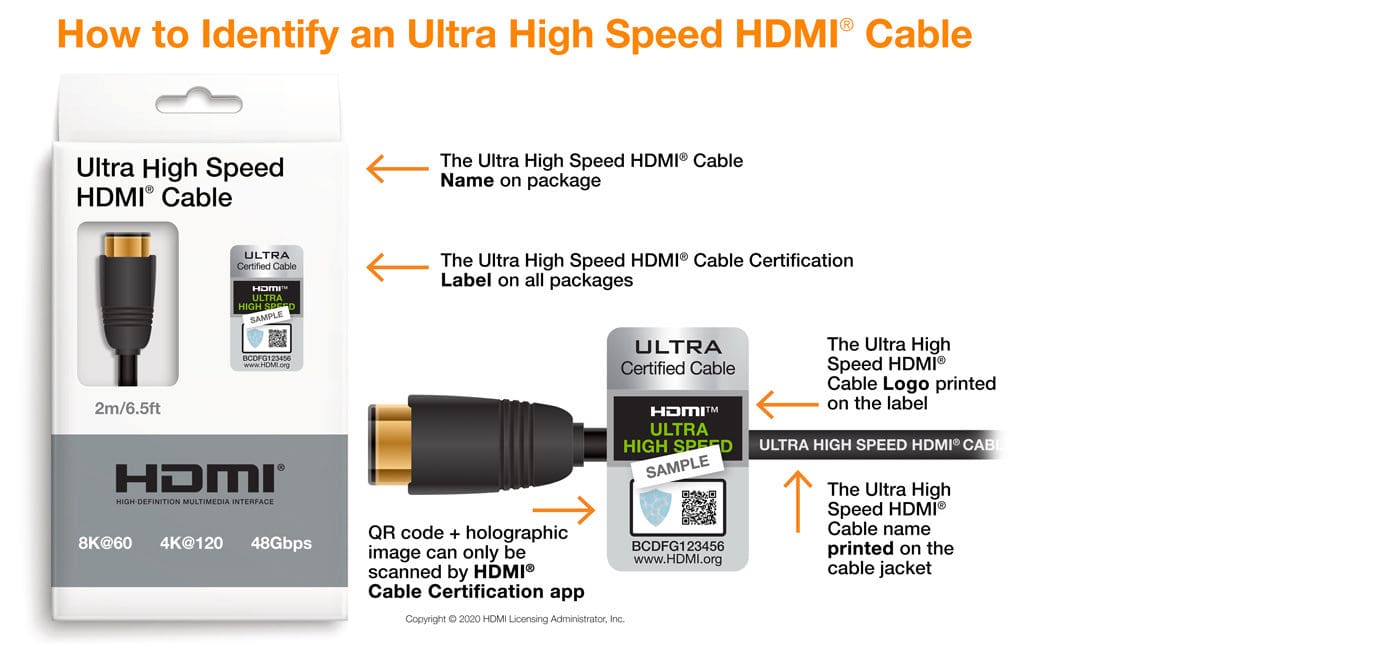 In understanding the meaning and importance of official HDMI® Cable certification and identification, it helps to look back at the evolution of HDMI signal speeds. The HDMI Standard (for 720p/1080i) and HDMI High Speed (for 1080p and 4K@30Hz) Cable designations were introduced over a decade ago. The HDMI Compliance Test Specifications (CTS) detailed how the global network of Authorized Test Centers (ATCs) were to test and certify products. Use of the official cable names and logos was intended to indicate that a cable passed the CTS. But sometimes untested and even counterfeit cables were marked the same way, leaving professional integrators at risk of increased troubleshooting concerns. This demonstrated a need for clearer distinction and transparency in later programs.
Fast forward to today, AV formats and their corresponding bandwidth demands have evolved significantly, and with it the technical challenges for HDMI technology. The 48Gbps bandwidth support of the HDMI 2.1 specification required the introduction of a new signalling technology, Fixed Rate Link (FRL), and exhibits a fundamental frequency up to 6GHz; double the limit of the former HDMI 2.0 specification, and twelve times higher than that of a Category 6A cable! At such high frequencies, carefully constructed shielding in the cable is needed, not only to protect the signals from ambient electromagnetic interference (EMI), but also to minimize emissions from the cable to reduce the possibility of interference with adjacent wireless networks, streaming media players, Bluetooth devices, and mobile phones. Those are just a few examples of why certified cables are critical.
The old Standard and High Speed HDMI Cables are still available for legacy applications, but the two higher tiers of HDMI Cables and their respective bandwidth support are where the action is now: Premium High Speed HDMI® for 18Gbps applications, and Ultra High Seed HDMI® for up to 48Gbps. The latter is required to support all HDMI 2.1 features including uncompressed video up to 8K@60Hz or 4K@120Hz, dynamic HDR, Enhanced Audio Return Channel (eARC), plus advanced gaming features utilized by the new consoles and GPUs: Variable Refresh Rate (VRR) and Auto Low Latency Mode (ALLM).
Both Premium High Speed and Ultra High Speed HDMI Cables have very stringent physical, electrical, and performance parameters. Testing by an authorized HDMI ATC or an HDMI Forum ATC (for Premium High Speed HDMI Cable and Ultra High Speed HDMI Cable, respectively) to the latest CTS is mandatory, not just for each model series, but also for each length as electrical parameters can vary. Both Premium and Ultra High Speed Labels incorporate anti-counterfeit technologies and feature a QR code to enable online verification. This means integrators can be confident in improving systems reliability and reducing EMI and troubleshooting concerns.
Another trend over the years as speeds increased is passive cables getting shorter or made thicker to compensate for the higher operating frequencies. Many manufacturers are turning to active optical cable (AOC) assemblies, using a hybrid of optical fibers for the high-speed lanes and traditional copper for the auxiliaries. This enables much longer lengths in a relatively thin cable. In December 2020, the first Ultra High Speed HDMI AOC was certified, and multiple brands are in-market already with many more expected to follow.
Misinformation is abundant. The best place to get accurate information about HDMI technology and authorized cable compliance programs is direct from the source; that means going to www.hdmi.org – the official website of HDMI LA, the agent for the HDMI Specifications.
HDMI, HDMI High-Definition Multimedia Interface, Premium High Speed HDMI Cable, Ultra High Speed HDMI Cable, Ultra High Speed HDMI Certification Label, the Ultra High Speed HDMI Cable Logo and HDMI Logo are registered trademarks or trademarks of HDMI Licensing Administrator, Inc.