SDVoE Alliance Rides Momentum Into InfoComm 2019
With a slew of new adopting members as well as new contributor Black Box, the Software Defined Video over Ethernet Alliance has more ways than ever to illustrate 'The Matrix Transformed' during InfoComm.
Leave a Comment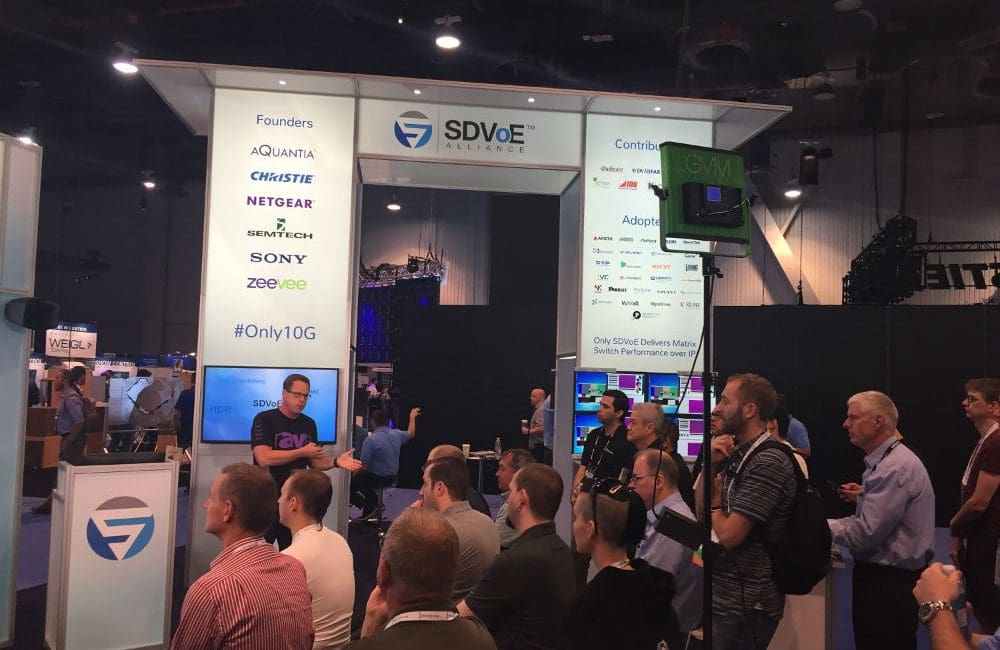 The Software Defined Video over Ethernet (SDVoE) Alliance has made a big splash in its relatively short history. That's only going to continue as InfoComm 2019 is staged.
It's no coincidence that as the Orlando tradeshow approached, SDVoE and numerous manufacturers were announcing their status as joining the Alliance as contributing or adopting members. The roster, which launched with founding members Aquantia, Christie, Netgear, Semtech, Sony and ZeeVee, continues to grow.
Following a successful ISE 2019 event, consider that only since March these companies have joined as adopting members (chronologically): RGBlink, Rose Electronics, Siemon, Theatrixx, D-Link, Intrising Networks, Yuan and Zigen.
Plus, at the beginning of May, SDVoE gained another contributing member in Black Box, maker of IT and pro AV solutions.
"The decision to join the SDVoE Alliance was simple for us at Black Box. SDVoE makes AV over IP what it is supposed to be – true network AV without sacrificing performance, functionality or capability," said Jonathan McCune, director of product management, AV & infrastructure at Black Box, at the time.
"SDVoE is designed for modern network infrastructure and Black Box will play an active role in the valuable work the alliance is doing to educate and inform the market."
Shifting Away from Matrix Switches
Visitors to the booth (#1143) during InfoComm 2019 can hear myriad presentations (see more details below) related to "The Matrix Transformed" theme. Presentations start on the hour and half hour during all three days of the show, and similar to last year's popular "20/20" talks (more than 20 sessions featured, at 20 minutes' time invested for attendees), you may also come away with an extra $20 on top of all the education.
If it sounds like music to Alliance president Justin Kennington's ears, you're right. Here's what an enthusiastic Kennington chatted with CI about in a pre-show Q&A …
It looks like the Alliance has gained quite a few adopting members just in the past month; why do you think this is?
Kennington: The momentum of the industry is clearly shifting away from the matrix switch and into SDVoE. It's not a secret – and now everyone wants to be a part of that trend. Note that many of the new members are former HDBaseT members – an even stronger indication of this shift. The others didn't have a place in HDBaseT: Ethernet switch manufacturers, structured cable infrastructure leaders. These folks see there is now a place for them in pro AV, and it's SDVoE.
Can you briefly note what some of these new members bring to the table to help further the Alliance's efforts?
Kennington: As above – HDBaseT members bring expertise in signal management and how to sell to the AV market, ready to apply these skills to an Ethernet-based world. And the others bring their expertise in Ethernet and network systems to a pro AV market not yet totally comfortable with these technologies. The Alliance is a forum for these two forces to meet, and create great training resources for the AV pros stuck in the middle. The SDVoE Academy is the focus of this educational effort.
What are a few key takeaways Alliance booth visitors will gain from the show and be able to use going forward?
Kennington: Visitors will experience for themselves the difference between SDVoE and the traditional matrix switch. With all the talk about AV over IP and 10G vs 1G, what gets lost is that only SDVoE can match the performance of the matrix, and SDVoE delivers features that the matrix never could. Visitors will put their own hands on the two systems and judge for themselves. SDVoE is the matrix transformed.
Sessions Galore, Plus a System Shootout Planned
As mentioned, there are plenty of opportunities to learn a wealth of information about the group and its member companies during InfoComm 2019. Here's a look at some of the preliminary topics for booth sessions:
SDVoE: The Matrix Transformed – 

Justin Kennington

Simplifying System Architecture with SDVoE – 

Karl Johnson, Christie Digital

The Codec Triangle: Why Compromise? – 

Helgi Sigurdsson, Semtech

Outside the Box – 

Paul Harris, Aurora Multimedia

SDVoE in Medical: Quadram Institute Case Study – 

Garth Leach, ZeeVee

Design a 144-port System in 15 Minutes – 

Laurent Masia, NETGEAR

Case Study: Zurich Opera House – 

Karl Johnson, Christie Digital

Video Tiling – Simple System Architecture with Intuitive Interface

 – Tim Locascio, Savant

SDVoE Academy: What's in it for Me? – 

Matt Dodd, SDVoE Alliance

Integrated AV: A Bridge Between SDVoE and Dante – 

Ryohei Iwasaki, IDK

Selling the SDVoE Edge – 

Matt Dodd, SDVoE Alliance

Why Broadcast Standards Don't Matter to Pro AV – 

Gareth Heywood, Semtech

Advanced Video Wall: How to Use SDVoE to Build Customized Signage Applications – 

Matthew Pulsipher, DVI Gear

Extreme USB and SDVoE: Application Study – 

Grace Lee, Icron, a Maxim Integrated Company

1G vs 10G: Different Applications, Different Expectations –

Paul Harris, Aurora Multimedia

Zero-Latency Application Overview

 – Garth Leach, ZeeVee
Additionally, the Alliance will feature what it describes as a simple demonstration of two video systems in parallel as part of a signal transmission "shootout"; one an SDVoE network and the other a traditional matrix switch design.
Each system will consist of four 4K displays arranged in a 2×2 video wall. A single touchpanel and control system will drive both video systems simultaneously.
If you enjoyed this article and want to receive more valuable industry content like this, click here to sign up for our digital newsletters!