Scary Stories from AV Installers on the Job
We asked AV installers to tell us about a time when they were scared on a job site — the responses were as diverse as they were spine-tingling!
Leave a Comment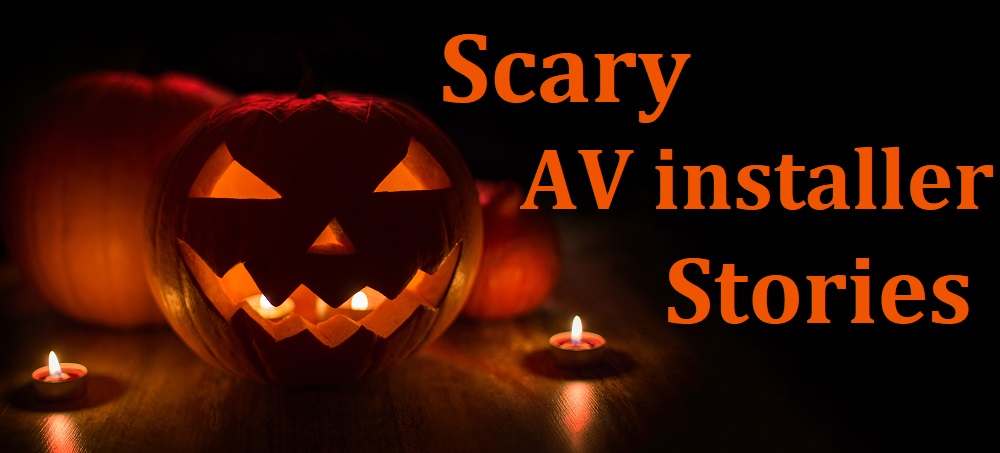 Last year, we invited AV installers to tell us about a time when they felt afraid on a job site. The responses were as memorable as they were frightening.
We couldn't help but pose the same question to those in the AV installation community again this year, this time casting a wider net for responses. We hope you enjoy! Have a safe and fun Halloween.
The WORST closet
Russell Jones
I was commissioning a system in a classroom at a major university hospital in New York during some of the worst days of the COVID-19 pandemic – which was unnerving enough – but it's not actually the scary part of this story.
I was having trouble connecting to the audio DSP, so I went into the storage room where the rack was installed to troubleshoot. Being in a rush, I didn't bother to take a good look around me at first, but after a few minutes, I started to feel like I wasn't alone in that closet.
I looked over my shoulder and saw, three feet behind me, a man with no skin, with bones and muscles and internal organs showing, hanging upright and raising an arm in my direction!
Once I realized that this ghoulish figure wasn't moving toward me to devour my brains, I took a closer look at my surroundings.
I hadn't realized that the classroom was an anatomy lab, and that in addition to AV equipment, this closet was used to store several preserved human cadavers (anybody remember the "Bodies" exhibit?), including one man cut COMPLETELY IN HALF lengthwise, as well as several shelves full of partially-dissected heads, limbs, and various other parts of departed souls who had donated their bodies to science, which were used to illustrate the structure of the human body to medical students.
Needless to say, I got stuck working in that closet until well after dark that night.
A speaker acquainting itself with gravity
Trevor Solander
The most harrowing story of my AV career took place when I was an installer at an amusement park. We had to bring six vintage speakers from the depths of an attic without using stairs. There was a winch system up there and we asked for permission on our radios to take the speakers down.
We got the go-ahead and tied a winch to the speakers' handles and a steering rope so no one had to be below the action. We got five out of six of them down with minimal issues and didn't notice the last one had plastic handles instead of metal ones.
As soon as we let it go, the handle shattered and the rope wasn't enough to stop or slow it down. This Yamaha speaker from the 1970s fell 40-feet and crushed some chairs below.
We plugged it into a system a little later…and it still worked!
TV woes & a bouncing lift
Lionel Felix, Felix Media Solutions
"We can figure that out" is the entry point to a lot of our work. But the kiss of death is saying, "Oh, yeah, that's easy!"
We were helping a large GC work on their new Austin office. They don't want to dedicate too much real estate to elevators, loading docs and the like, and were hell-bent on re-using their old TV. Their movers dropped it and pretended nothing happened.
They needed a new 98″ TV and we get them one. We get to the job site. It doesn't fit their elevator. It's hard to move a TV of that size without its box because putting pressure on it will almost always damage it.
So we used a lift to pick up this 350-pound box just as the sun is coming up and watched this bizarre moment of seeing the TV floating in space as it was being dropped on a patio on the third floor.
For 15 minutes, it was extremely tense.
The bouncing lift
Our can-do attitude has gotten us into trouble, or at least scared. We have a hockey rink in town and it's a great spot with a big metal building with 36-foot ceilings. They came to us for their second rink next door and wanted an audio system for their 100,000 square-foot facility.
We purchased this huge speaker with a white bedliner-painted woofer. They're the de-facto standard for these types of facilities.
I glossed over the fact that we'd need to bring a 32 skyjack lift onto the ice with three people, then lift a very heavy speaker up to the beams that support the roof.
The people working on this include our can-do, special forces team. With that comes their gallows humor.
One fearless individual named James turns whatever he's nervous about into laughing. He'd giggle when nervous.
We had to get that lift onto the ice with a ramp and it's skittering around on the ice.
Once in position and with techs going up, the skyjack starts bouncing and James is giggling while jumping up and down, seeing how it made the machine bounce, too.
James and a few others are up in the lift and all you hear is the bickering of, "Stop doing that!" until the thing gets connected.
I had this fear that the cold would harm the jack and we'd have to have the fire department come to get them down.
Precarious high schoolers & a sudden shock
Ben Stiegler
At a high school where I coach theater tech, the "norm" many years ago was for kids focusing lights from a metal rolling scaffold to operate barefoot — climbing and standing on a 4″ ledge outside the balcony rail and leaning out to focus lights on fixed pipes.
They'd be working above others without any wrench tethers. Yikes! There was some denial and some friction as I brought these up, but eventually they settled down.
The sudden shock 
As chief engineer, one night I was all alone at 2AM in our college radio station working on things that interrupted broadcast.
The 208 outlet that fed the AM transmitter was in our lobby and it was awfully loose in its box. Fearing little, I went to tighten up the screws holding the outlet in place (plate was off). The table with our UPI news TTY was behind me, and I leaned on a leg while I worked on the outlet.
Suddenly, the "this is your life, buster" movie began playing at warp speed in my mind, my arm was clenching, and I had a very bad zap going on. Miraculously, I managed to ungrip the screwdriver and break the circuit.
What happened? The TTY was grounded and screwed to the metal table (I should have known… I secured it). My screwdriver must have slipped to a hot screw and there was a very fine path to the ground right through my torso. Now I am much more respectful of shutting off (and locking out) the breaker before tackling such tasks.
Have a scary AV installation story to share? Let us know in the comments below!