AV News Roundup: Products, Projects and People in New Places
Here's a recap of some of the AV news this week that includes RTI's new products for ISE 2022, an upgraded communication system project, and more.
Leave a Comment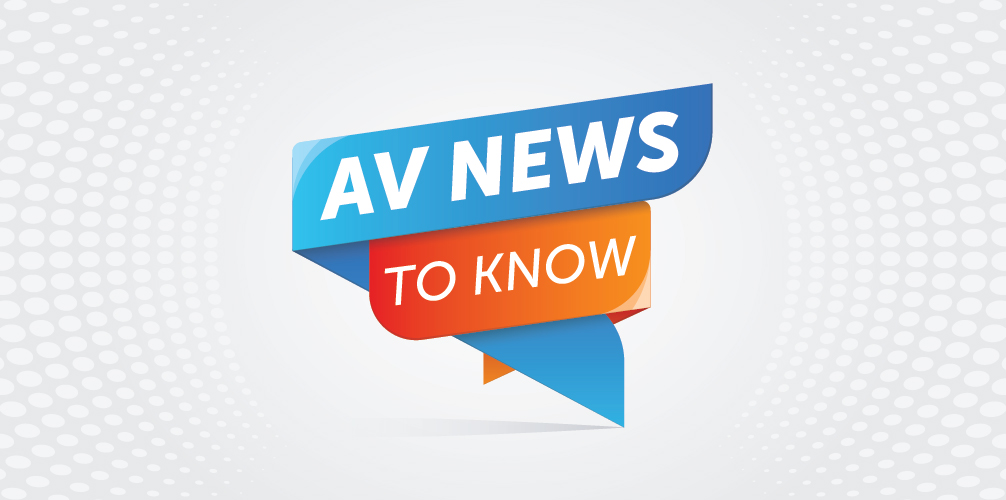 New AV Products
RTI Introduces RTI Music for Elevated Audio Streaming Experience
Shakopee, Minn.-based control and automation manufacturer RTI announced the RTI Music and the MS-3 Music Streamer. The new products will be displayed at ISE 2022.
The company states that RTI Music is designed so that technology integrators can deliver an exceptional streaming experience to clients. For home or business owners, RTI Music is an entirely seamless control experience. It eliminates the need, for example, to exit the control app to search for music and access a playlist.
With RTI Music, users can also stream high-res audio into any room from their favorite platform or from their local NAS. This is achieved with a simple tap on a touchpanel, remote or mobile device. Additionally, the RTI Integration Designer 11 software fully supports the RTI Music.
The MS-3 Music Streamer
On the other hand, the MS-3 supports three concurrent streams from streaming services. These include Pandora, Spotify, iHeart Radio, SiriusXM, SiriusXM for Business, SoundMachine and TuneIn.
In addition, the AirPlay interface enables streaming from Apple Music and Amazon Music. The Music Queue features play now, play later and play soon options to build an on-the-fly song queue. Meanwhile, the Favorites playlists integrate songs from multiple services and local devices.
"Where RTI Music really shines is the user experience, which is fully integrated into the control system," says Neal Ellsworth, RTI director of product management. "Sources, zones, favorites, and playlists are all managed from a single interface, even when creating on-the-fly music queues from multiple services or local devices. And the RTI Music experience on the new Integration Designer 11 template is spectacular."
RTI Music operates natively within the RTI control system. This makes it easy to access playlists and search for songs, artists and albums on services. Users can then direct the music to the room(s) of choice. A music collection on a local NAS drive or computer can also be accessed and fully integrated with support for lossless audio (FLAC and ALAC) formats. The three streams in the MS-3 can keep the whole family engaged. Of course, the lossless audio capability and local drive access will also satisfy the audiophile.
According to RTI, both products are designed with the integrator in mind. When connected, the RTI Integration Designer programming platform will automatically discover the MS-3. The configuration utility also makes it simple to set up homeowners' music accounts. When used with RTI Audio Distribution, up to eight 1U-chassis MS-3 can deliver up to 24 concurrent audio streams throughout the home.
Audio Visual Projects
Pliant Technologies Enhances Production Workflow of Elgin Community College
Alex Desimone, production manager at Elgin Community College Arts Center, recently upgraded the arts center's existing, outdated communication system. Desimone turned to equipment and installation provider BMI Supply for the project. He was then introduced to Ala.-based Pliant Technologies' CrewCom Digital Wireless Intercom System. According to the company, the system would seamlessly enhance production workflow at the Elgin Community College (ECC) Arts Center.
"When talking with BMI Supply about our specific communication requirements, they quickly recommended Pliant's CrewCom system," says Desimone. "For our application, we require an intercom system that can easily be transported back and forth between our two theatres, with the additional benefits of reliable coverage and battery life. It was easy to see that CrewCom was going to solve all of our communications challenges."
Installing the System
For Elgin Community College, CrewCom provided the arts center's students with an easy-to-use intercom system. It comes with radio packs that offer extended run time and clear communication without dropouts. It also has the option to use the system in more than one theatre at a time.
"It was great that we did not have to buy two basestations, and only needed the one Control Unit (CU) to control the systems in each of the two theatres," explains Desimone. "This saved a great deal of money and space for the college. Another selling point was the 900MHz option to help stay away from the 2.4GHz frequency band that conflicts with our other wireless devices."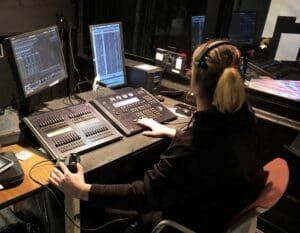 The CrewCom system is currently deployed in the ECC Arts Center's two theatres, the Black Box Theatre and Mainstage Theatre. These house the college's musicals, dramas and "Center Stage Visiting Artist" series. The Arts Center deploys two systems of six users in each theatre. The combined ECC's CrewCom system has a total of 12 Radio Packs (RPs), two six-bay drop-in battery chargers, two Radio Transceivers (RT) and one CU.
Both theatres have its own CrewCom RT with the CU located in the Black Box Theatre. Using RP profiles specific to each of the two theaters, it's configured as two separate wireless intercom systems. Each act as independent systems even though each RT is connected via CAT6 connection back to the CU. This configuration allows the flexibility of future expansion. It also allows for changes in number of users in each theatre depending on the production.
Benefits of the CrewCom System
The system is typically deployed for stage management, backstage run crew, and area-specific needs like video operation. CrewCom helped ECC to increase wireless user counts and coverage range.
"The CrewCom system provides both of our theatres with reliable communication with extended range," adds Desimone. "Ultimately, CrewCom has enhanced productivity among users and offers smoother operation of the overall performance."
Additional, beneficial features are its multiple channels of communication as well as its expandability. Desimone clarifies, "CrewCom allows for two separate A and B channels of communication, as well as private ISO channel capability. This private channel is great for area-specific communication. For example, video camera operators can talk to each other to coordinate video shots while not interrupting the stage manager calling the show."
According to Desimone, the system can be added to over time as ECC's needs expand. Thus, it provides a long-term solution to maximize the school's investment.
People and Places
Steve Rubery Joins MAXHUB as Business Development Manager for the Midwest Territory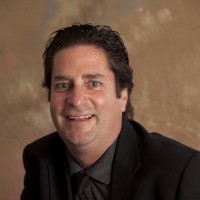 MAXHUB appointed Steve Rubery as the business development manager for the U.S. Midwest Territory. MAXHUB is a provider of collaborative communication and LED display solutions.
According to a statement, Rubery will be responsible for driving sales of MAXHUB LED displays and UC Series conferencing products throughout the 13-state Midwest region. The states include Michigan, Ohio, Kentucky, Indiana, Illinois, Wisconsin, Minnesota, Iowa, Missouri, Kansas, Nebraska, North Dakota, and South Dakota. His responsibilities include creating a team of sales representative firms within the territory to help develop and foster business.
MAXHUB states that Rubery is a well-respected industry leader with an in-depth knowledge of the AV/IT market. He has spent more than 18 years in the Pro AV industry. This includes two years as sales and marketing manager for EXO Visual, Inc. and 15+ years as national sales manager with Eiki International, Inc.
Rubery also held positions as a sales engineer / IT specialist for several companies in the IT business sector, including work with video conferencing systems. He also grew up in Ohio and received his Bachelor of Arts degree in Aviation Management from The Ohio State University. Thus, the company feels he knows the Midwest region well.
Reflecting on his new role with MAXHUB, Rubery comments, "There is tremendous interest and growth in the digital signage/display and video conferencing sectors of the Pro AV market. This translates to a wealth of opportunity for the types of products MAXHUB offers. I am delighted to have the opportunity to assume an integral role in the company's sales initiatives. I believe MAXHUB has a terrific product portfolio and I look forward to furthering both the MAXHUB name and the company's efforts in this vibrant market."
Sam Malik, director of sales and marketing for MAXHUB throughout the U.S., also expresses his enthusiasm. He states, "Steve has a background that is ideally suited for his new role with MAXHUB. He possesses the technical background, the sales experience, and the people skills necessary to make a significant contribution to our company…I have every confidence he will do well."
PIVIUM Appoints John Campanella as Director of AV Sales and Engineering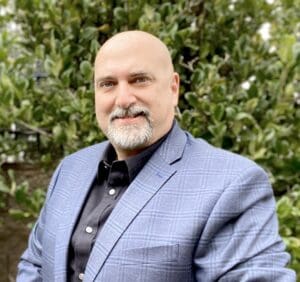 PIVIUM announced John Campanella, an AV veteran, as the new director of AV sales and engineering. Based in Phoenix, Ariz., PIVIUM is a design and integration partner for architects and facility owners.
According to a statement, Campanella brings over 41 years of experience in the AV industry. His career spans all disciplines of design, engineering, consulting, programming, integration and manufacturing.
Campanella's previous role included the director of engineering, CAD and software services for AVDG. Here, he helped direct the Engineering, Programming and CAD teams in the AVDG expansion in Los Angeles, Chicago, Tennessee, and New Hampshire.
In the 33 years prior to AVDG, Campanella was a former partner at Shen Milsom & Wilke from 1986-1995 and his own company MDCI from1996-2018. Here, his historical project responsibility covered over 6,000 completed projects spanning corporate, residential, healthcare, education, government and military facilities.
Campanella also has numerous certifications including CTS-D, CTS, Crestron Silver Masters and more. He also holds a culinary degree in addition to an educational hardware/software patent.
With his breadth of knowledge and expertise, Campanella will be leading the continued growth of the organization. The company also adds that his appointment signifies a new era of expansion and growth for PIVIUM.
Principal Matthew Chitwood remarks, "This hire is an important step in executing our long-term strategic goals and will facilitate a strong deployment of our 2022 plan. We are encouraged and strengthened heading into this new year."
If you enjoyed this article and want to receive more valuable industry content like this, click here to sign up for our digital newsletters!