AV News to Know November 19, 2021: New Products, Cool Projects and People in New Places
Here's a closer look at some of the AV news this week that includes new range of Marshall cameras, a communications system project, promotions, and more.
Leave a Comment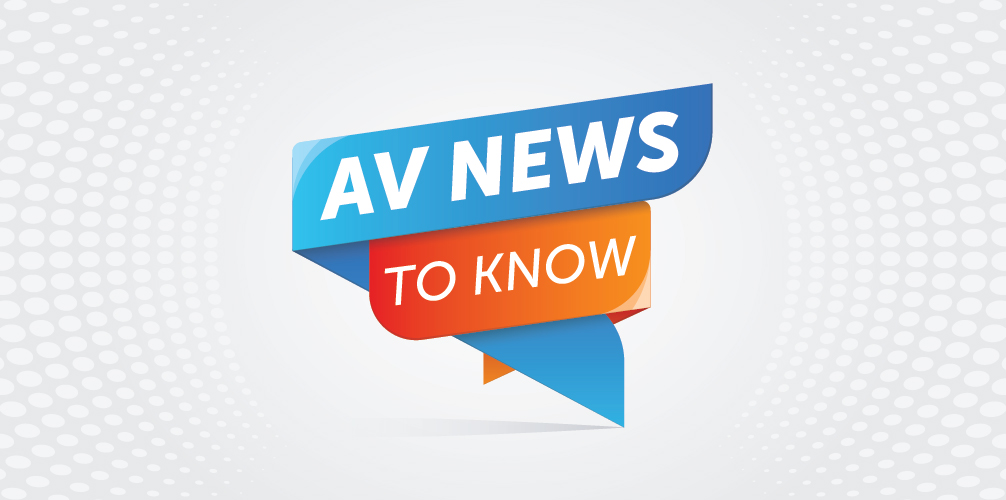 New AV Products
Marshall Electronics Brings Into Focus New Cameras at IBC 2021
Marshall Electronics, provider of professional cameras, monitors and accessories for broadcast production, announced that it will showcase the latest additions to its award-winning line of cameras at IBC 2021.
According to Marshall, this showcase will include its new entry-level CV605 5X HD60 IP PTZ Camera, which rounds out the brand's family of PTZ cameras; the new CV420-30X 12GSDI all-in-one camera that supports 12GSDI, HDMI and IP (HEVC/SRT) simultaneous outputs; and two new Global Shutter models (CV568 and CV368) that produce crystal clear images even when capturing extreme motion.
The CV605 5X HD60 IP PTZ Camera
The new entry-level CV605 5X HD60 IP PTZ Camera is a budget-friendly option to the Marshall family of PTZ cameras that features a 5X optical zoom range with a simultaneous 3GSDI and IP interface and utilizes a professional grade 2 Megapixel sensor to capture crisp HD video at up to 1920x1080p resolution at 60fps.
Furthermore, the wide-angle optical zoom lens offers an 85-degree angle-of-view through 20-degrees (15mm) with smooth transitions and an additional 10X digital zoom range. The CV605 has a low latency 3GSDI output as well as IP ethernet with multiple protocols supported.
The CV420-30X 12GSDI Camera
The CV420-30X 12GSDI camera features 12GSDI, HDMI and IP (HEVC/SRT) simultaneous outputs to fit into a wide variety of broadcast and professional A/V workflow capable applications.
The CV420-30X utilizes a high performing Sony Exmor-R sensor to capture crisp 4K (UHD) video up to 3840x2160p at 60fps through a long 30X optical zoom range. Its straightforward design and ease of use makes it suitable for live broadcast, sportscasts, newscasts, houses of worship, concert production, corporate video, courtroom capture, government assembly, and more.
The long 30X optical zoom lens offers an extended zoom range from 4.6- to 135-mm, starting at just under 70° all the way out to 3° horizontal angle-of-view for maintaining image crispness from ultra-wide to ultra-long telephoto shots. The CV420-30X also operates with exceptional low-light sensitivity, ensuring a clear picture in variable and challenging lighting conditions.
CV568 Miniature HD Camera and CV368 Compact HD Camera
The company stated that the CV568 Miniature HD Camera is built into the same durable miniature sized body as other Marshall CV503/CV506 cameras, and have rear panel protection, interchangeable M12 lenses, secure locking connections and remote adjust/match features. The CV368 Compact HD Camera also follows the same body design as the CV344/CV346 cameras with slightly larger CS mount lens type and a wide variety of variable and fixed lens options available.
However, the similarity stops there as the CV568/CV368 models pack a much larger, more powerful global shutter sensor with genlock (signal-sync), producing crystal clear images at affordable price points.
Audio Visual Projects
Exertis Pro AV Elevates Communication Systems at Health Facility with Contacta Bridge Bar System
Located in Adelaide, South Australia, Hampstead Health is dedicated to delivering high-quality and comprehensive health care services to the people of the local community.
According to Toni Jones, human resources manager at Hampstead Health Family Practice, the facility has a large, busy, and noisy reception area making clear communications with incoming clients a challenge. Furthermore, the pandemic led to the installation of Perspex Safety Screens that drastically reduced cohesive communication.
"We needed a solution that would protect the health and safety of our clients and team and improve direct, two-way communication in the reception area," explained Jones.
To design and install an effective solution, Jones approached their reseller AV Australia, who then turned to Exertis ProAV Australia, their specialist commercial AV distribution partner in the region.
After the consultation, Exertis recommended the Contacta Bridge Bar system that is part of the Window Intercom System family. Exertis installed a demo system for the customer and post a weeklong trial, it recommended AJS Lighting Sound Events to serve as the local installation partner on the project.
According to Exertis, the Contacta Bridge Bar System provides full duplex communication for staff and customers/patients, including an integrated hearing loop for customers wearing hearing aids.
Exertis ProAV Australia General Manager Nick Cocks added, "In today's Covid environment, the addition of Perspex safety screens can mean a loss of up to 12dB in sound level, combining that with protective masks eliminating the ability to lip read, the capacity to understand speech clearly is greatly diminished for both staff and patients."
He further expanded, "The Contacta Window Intercom Systems allow for speech intelligibility to be increased so that customers and staff do not need to raise their voices or speak around the screens. The other advantage is that the amplified sound field is limited to the speakers' vicinity, so customer confidentiality is maintained, which is vitally important in the health and banking sectors."
Since the installation of the Contacta system, Hampstead's Jones is seeing a higher quality of two-way communication between staff and clients. "[After] installing the Contacta Bridge Bar System, communicating with our patients is so much easier. There is no longer any need to raise voices to be heard and, most importantly, the reception staff are extremely happy with the system," concluded Jones.
People and Places
Karon Evanoff Joins List of 100 Most Influential Women in Supply Chain
QSC recently acknowledged that Karon Evanoff, Vice President of Global Supply Chain has been recognized as one of the "100 Most Influential Women in Supply Chain" by Global Women Supply Chain Leaders.
According to a statement, the award aims to recognize global women leaders who have achieved extraordinary successes in the supply chain domain through furthering frontiers and breaking barriers.
Evanoff's expansive career in supply chain includes leadership roles at Western Digital, HID Global, SolFocus and Powerwave Technologies. For the past five years, she has served as Vice President of Global Supply Chain at QSC, responsible for all supply chain activities inclusive of demand and supply planning, strategic sourcing and purchasing, global logistics, and trade compliance.
Praising her achievements, Jatan Shah, executive vice president, chief operating and technology officer, QSC, stated, "Karon is an innovative and highly accomplished leader, guiding her team to success and navigating the entire organization in the midst of a challenging supply chain environment."
The Global Women Supply Chain Leaders awards ceremony will be hosted on November 25, 2021.
Bill Lawrence Named as AQAV's Executive Director; Kelly Perkins Also Appointed as VP of Marketing
Bill Lawrence, vice president of engineering at Kinly U.S. and current VP of Programs at AQAV, assumed the role of AQAV executive director at the beginning of the month, replacing Gina Sansivero whose four-year term ended recently.
"I am honored and humbled to take on the role of executive director, and to continue working with the amazing volunteer staff at AQAV," says Lawrence.
He further added, "In this time of rapid change and increased volume of implementation, it's more important than ever to focus on delivering predictable, quality outcomes. AV 9000 and AQAV are essential steps toward ensuring systems run defect-free one hundred percent of the time."
Additionally, Kelly Perkins, marketing manager at Hall Technologies, also joined the AQAV board of directors as VP of Marketing.
RGB Spectrum Appoints Jason Alter as Director of Sales, North America
RGB Spectrum recently named Jason Alter, CTS-D, as the Director of Sales, North America.
According to the company, Alter has more than 25 years of experience in the professional audio-visual industry with the industries' premier consulting firms, systems integrators and manufacturers.
Prior to joining RGB Spectrum, Alter served as the Director of Sales for Mitsubishi Electric's Visual Imaging Systems division where he created rapid growth and expansion through the development of new market sectors.
"Jason is the ideal candidate to lead our next chapter of growth and success," said Bob Marcus, CEO of RGB Spectrum. "His track record of developing high performance teams highlighted by new market development, significant revenue growth and customer satisfaction is impressive. We are excited to have him join the RGB Spectrum team."