AV News to Know Roundup: Products, Projects and People in New Places
Here's a closer look at some of the AV news this week that include new conferencing cameras, a loudspeaker system installation, promotions and more.
Leave a Comment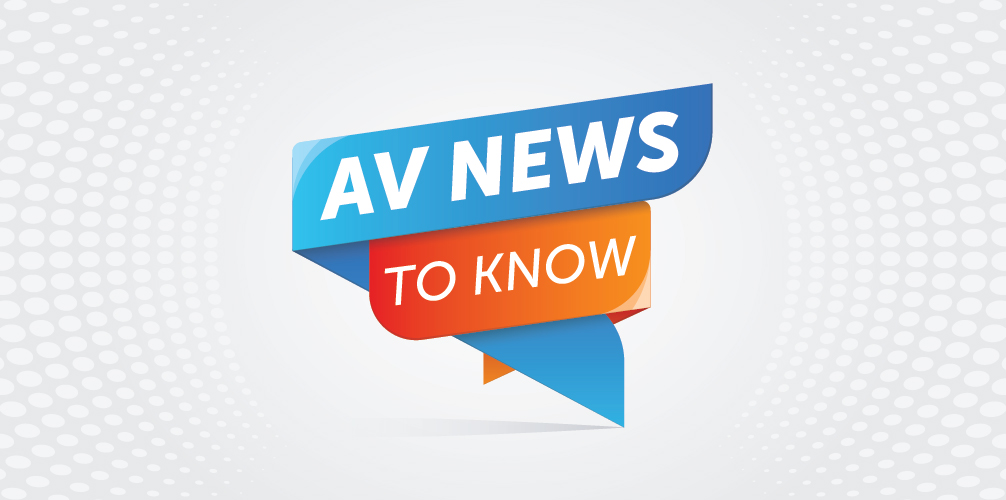 New AV Products
WyreStorm Introduces its Unified Communications Product Line
N.Y.-based WyreStorm has announced the availability of a new professional-grade UC&C line of products featuring the futuristic Apollo speakerphones line-up, and the 1080p HD CAM-200-PTZ.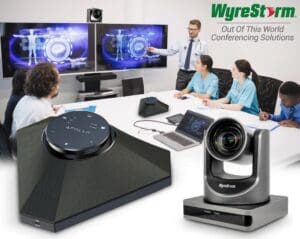 According to the company, the new product line delivers an omnidirectional microphone array unit and a camera featuring 1080p video resolution at 30 fps with full pan, tilt and extended zoom functions. Thus, Wyrestorm states that the Apollo and CAM-200 PTZ line-up is ideal for large conference rooms, classrooms and boardrooms with close-up, high-fidelity video and audio capture.
Speaking of the Apollo speakerphones, it is the first in the unified communication line of products. The speakerphones are designed for various spaces including small huddle spaces and large conference rooms.
According to WyreStorm, Apollo is built specifically for ease of use. It thus allows for easy and successful meeting management. This all-in-one conference solution makes it possible to collaborate effortlessly with team members and have an effective conference call experience.
Currently, three models are available (100, 200, 210). Each is equipped with unique features but they share the same omnidirectional microphone array with echo cancellation technology.
In addition, the CAM-200-PTZ  is also a crucial part of the Unified Communications line of products. It offers premium video conferencing experience where its HD 1080p video ensures that users appear crystal clear in meetings. Its high-quality pan and tilt motor provides a smooth experience without excess noise or judder. The CAM-200-PTZ also facilitates easy third-party control. It does so by utilizing the industry standard VISCA protocol for control through RS-232, LAN or IR. Furthermore, its integrated web interface and free PC software provide advanced monitoring and configuration options.
The CAM-200-PTZ ships with a wall mount included in the box for flexible installation options.
Biamp Debuts Premium Surface Mount Desono Loudspeaker Series
Beaverton, Ore.-based Biamp will be exhibiting the Desono EX Series at booth 3D200 at ISE 2022. It is a sleek, modern line of high-quality, high-performance surface mount loudspeakers for high-fidelity music or speech reinforcement. It is thus designed for indoor and outdoor use with time-saving installation features. The Desono EX Series includes 6.5-inch, 8-inch, and 10-inch two-way coaxial loudspeakers as well as a 10-inch subwoofer. All full-range models include 70V/100V transformers and low-impedance inputs.
Biamp's Desono EX Series surface-mount loudspeakers provide high-quality acoustic performance, uniform coverage, and elegant aesthetics for a diverse range of distributed indoor and outdoor applications. These include presentation spaces, restaurants, hotels, bars, multi-purpose spaces, and themed entertainment and sports facilities. Moreover, it is UL1480A-certified in the USA, CSA 62368-1-certified in Canada, and EN54-24-certified for emergency use in the EU.
The Desono EX-S6 is the smallest member of the new series. It is a 6.5-inch, two-way surface-mount loudspeaker. This makes it ideal for discrete, distributed sound in applications requiring exceptional audio clarity with a small footprint. Meanwhile, the Desono EX-S8 is an 8-inch, two-way surface mount loudspeaker that provides detailed voicing with projection. It is an excellent fill or distributed loudspeaker for systems requiring pristine voice clarity. Additionally, the 10-inch Desono EX-S10 provides improved musicality with deep LF extension. It's suited for front of house in small venues or used in distributed applications without subs. Finally, the 10-inch Desono EX-10SUB subwoofer provides additional deep base to the EX-S6 or EX-S8 systems for full-range, foreground music playback.
Each of the models installs quickly and easily with two flexible mount options. They are the ClickMount Pan-Tilt Bracket or the indexing ClickMount U-Bracket. These allow mounting in virtually any location or orientation. Both mount options reduce installation time and are theft- and tamper-resistant.
More information on Biamp's full product portfolio is available at www.biamp.com.
Audio Visual Projects
Austin Ridge Church Installs d&b KSL-Series Loudspeaker System and new 40D Amplifiers
Austin Ridge Bible Church is a multi-site, non-denominal church consisting of three campuses. It opened its new flagship Bee Cave Campus last year with a 2,500-seat auditorium. For this, Austin Ridge chose Germany-based d&b audiotechnik KSL system for their main PA needs.
Need for Installation
The church is contemporary in nature, with a full band and multiple vocalists in addition to several worship leaders and singers. On a given week, it could include drums, bass, two electric guitars, acoustic guitar, keys and up to five singers.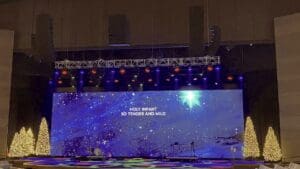 "Our early design effort included matching the room shape and acoustics to the church's program," Ryan Knox, senior consultant of Idibri, states. "The initial technology design effort included developing audio, video, and lighting systems that were coordinated with each other and accommodated in the architectural and structural design of the building. And after careful consideration and suggestions, the church chose the d&b KSL-Series."
The system was developed by Knox alongside d&b's regional manager, Todd Hartman.
The d&b technology, ArrayProcessing was used to minimize reflections from walls and other surfaces while maintaining coverage consistency. Knox says Idibri worked with the church to determine which speaker system would best meet their needs from an immersive perspective.
"The design and performance requirements were determined early in the project and once LD Systems was brought on, Idibri used their services to facilitate different options. d&b supported us through the process to help match products to the design," Knox adds.
Integrating the System
Once the d&b system was chosen, final integration and commissioning was a collaborative effort between Idibri and d&b. "The big thing for us with the d&b loudspeakers was that we needed a system that could support their style of music with plenty of headroom along with the rear rejection to keep the levels on stage down," Matt Rhodes, sales engineer, LD Systems, states.
He adds, "We worked very closely with the church and Idibri to make sure it would create a great stereo image to as many seats as possible. The technology with their management and prediction software was fantastic and the d&b 40D install amps that we just put in are great while meeting the requirements of an install as opposed to a touring situation. The support from d&b for us as the integrator has also been incredible and working closely as a team has been a great experience. The sound system works well with the room to provide an expansive mix palate and consistent experience throughout the seating."
Features of the KSL Series
KSL, the second sibling of the SL-Series, shares the family characteristics. These include full-range broadband directivity and extended low frequencies to deliver quiet stages and maximum clarity for the congregation. Combined with the 40D installation amplifier, the system provides a conscientious level of efficiency and maximum SPL output.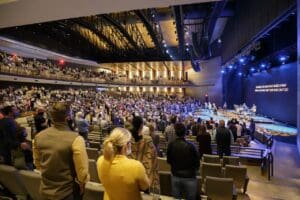 Hartmann, who also serves as the primary front of house engineer, adds, "The KSL has been a truly phenomenal system to mix on. The cleanness of the low-end allows for an incredibly impactful transient response, even at lower volumes. The vocals have perfect separation from the other midrange elements in the mix, and the top end is effortless…it never fatigues you. It's honestly hard for me to go back to mixing on anything else now."
Austin Ridge Technical Director, Gary Poole, remarks during the holiday week, they added a choir of 25 vocalists in addition to their regular 8-piece band. "It sounded great in the room. Austin Ridge is thankful for the new Worship Center and proud of the partnership with d&b, who shared the vision of creating a truly inspirational and exciting place for worship," he states.
The system is configured as Main L/R arrays: 8 x KSL8 and 2 x KSL12 per side (ArrayProcessed), outfills L/R arrays: 8 X Yi8 per side (ArrayProcessed), 270 fills: 2x Yi7P, flown subs: 3 x SL-SUBs, ground subs: 7 x 21S-SUB, front fills: 8 x 8S, under balcony delays: 27 x 8S, stage fill: 1 x 12S, 10 x 40D amplifiers to power the KSL, with an additional combination of D80, 30D, and 10D amplifiers.
People and Places
Datapath Announces new Appointments for Key European Territories
U.K.-based Datapath, engineers of visual solutions, have announced new appointments to its global team.
For Southern Europe, covering Spain, Portugal and Italy, Datapath welcomed Carmen Jerez as regional sales manager. Based in Madrid, Jerez brings extensive experience in AV technical support and management following a history of success at Aplein Ingenieros. She will manage Datapath's key accounts in the region while expanding its customer base with new opportunities. Jerez also has a diploma in Industrial Engineering as well as an MBA in Business Administration.
Meanwhile, regional sales manager William Zimmermann will cover France, Benelux and Maghreb territories. Zimmermann brings over 25 years' experience in technical AV support and account management to the position. His experience also includes coaching, sales and engineering roles at French distributor Incom.
To coincide with these new appointments, Datapath sales stalwart Andy Lee has been promoted to senior international sales manager. He will support the company's management and development of OEM, distribution and developing strategic customer relationships throughout the EMEA and APAC regions.
Phillip Davenport, director of Sales and Operations (EMEA) for Datapath, remarks optimistically for the year ahead following the new appointments. He adds, "…With the arrival of Carmen and William, we have reinforced our presence in two key European territories and…we are excited to have a strong team in place to further deliver our latest Aetria solutions to the European market."
He also says, "Working alongside Andy, we have a superb team of industry professionals in place and, together, we look forward to the future with great optimism and are relishing meeting our customers and partners in Barcelona at ISE 2022 [at] Booth 3E-850."
Meyer Sound Announces Promotion and New Hire in Product Management Department
Berkeley, Calif.-based Meyer Sound has promoted Andy Davies to senior product manager and appointed Gautam Sharma as the new product manager.
In his new post, Davies will assume responsibility for managing the entire Meyer Sound product portfolio. This involves overseeing new product development, defining product features, and supervising product launches. He will also coordinate the product management efforts related to engineering, training and product support teams.
With Meyer Sound since early 2016, Davies previously served as a senior technical support specialist in the United Kingdom. Prior to Meyer Sound, from 2007 to 2012, he was general manager of the UK rental firm Concert Sound. Davies holds a bachelor's degree in Sound Technology from the Liverpool Institute of the Performing Arts, and he will remain based in the U.K.
As the new product manager, Sharma will provide cross-functional support of all technical and go-to-market aspects of products, including loudspeaker hardware, electronic modules and software. Sharma will ensure the loudspeaker product development and life cycle is integrated within the larger scope of Davies' work, which encompasses digital hardware and software products as well as loudspeakers.
According to Meyer Sound, Sharma has a passion for high-quality audio along with depth of experience in management of digital infrastructure and leadership of diverse teams. Earlier in his career, Sharma worked as a sales and installation specialist for a high-end London home installation company and later as a product specialist for Bang & Olufsen in New York. He received an Audio Engineering diploma at the SAE Institute and a master's degree in International Business at the London South Bank University. He will be based at the Berkeley headquarters.
"With Andy and Gautam at the core of our product management team, we have an ideal balance of talents," says Director of Global Marketing Tim Boot. "…Together, they will ensure Meyer Sound products stay at the forefront of the industry and maintain our reputation for an extended life cycle."
QSC Promotes Ron Marchant to VP EMEA Sales and Marketing
Costa Mesa, Calif.-based QSC recently promoted Ron Marchant to VP EMEA Sales and Marketing. In his new position, Marchant will oversee the company's sales and marketing activities and initiatives throughout Europe, Middle East and Africa.
"Ron has played an instrumental role in the development and growth of QSC throughout the EMEA region," says Markus Winkler, SVP, EMEA & APAC, QSC. "During his tenure, he has driven the regional growth strategy which includes several office expansions, strategic distribution changes, and customer and sales restructuring. In addition, he has helped build a strong sales and marketing team as well as a go-to-market model to enable future growth in the region."
Marchant joined QSC in 2017 as senior director of EMEA Sales. Prior to QSC, he held several senior sales and marketing positions at Shure EMEA.
"QSC is a tremendous place to work," says Marchant. "With our great team, partner network and innovative technologies we are very well positioned to grow significantly in the EMEA region the next several years. I look forward to playing a role in that."