ClearOne University Adds Training Courses for March
ClearOne University's new training courses for March will allow integrators to get a head start on Q2 2023 sales season.
Leave a Comment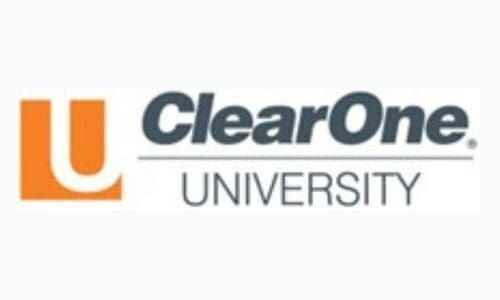 ClearOne announced that it has opened registration for a new schedule of online-training courses for March 2023. This provides an opportunity for integrators looking to get a jump on the Q2 2023 sales season.
The Salt Lake City-based company notes that ongoing training and education is essential if partners are going to be able to keep current with the latest communications, conferencing and collaboration needs of their customers across all vertical markets.
With monthly training and certification courses, ClearOne adds that it supports the expanding network of global partners with resources needed to stay up-to-date and in-tune with the latest industry technology and trends. March's schedule thus includes courses such as multiple Design Library trainings and Pro Audio Conferencing certifications. It also presents an opportunity for partners to learn more about ClearOne's growing line of UNITE cameras.
Also Read: ClearOne CHAT 150 BT Speakerphone to Enhance Conferencing Experience
The schedule of topics and times for March training courses at ClearOne University is as follows:
CONVERGENCE AV MANAGER Certification
March 28: 9:00 to 10:30 AM EST
March 29: 9:00 to 10:30 AM EST
AV Conferencing Certification
March 28: 10:00 AM to 12:00 PM EST
March 29: 10:00 AM to 12:00 PM EST
Design Library Training
March 29: 9:00 AM to 9:45 AM EST
Advanced Pro Audio Conferencing Certification
March 30th from 9:00 – 11:00 AM EST
Pro Audio Conferencing Certification
March 21: 8:00 AM to 10:00 AM EST
March 22: 8:00 AM to 10:00 AM EST
March 23: 8:00 AM to 10:00 AM EST
VIEW LITE Training
March 21: 1:00 PM to 2:00 PM EST
Console AI-Software Configuration Certification
March 27: 9:00 AM to 10:00 AM EST
UNITE 60/160/260 Pro 4K Camera Training
March 22nd from 11:00 – 11:30 AM EST