Colorlight and Media Links Join AIMS as Newest Members
AIMS welcomes Colorlight and Media Links, pioneers in video and media transport tech, to its member roster.
Leave a Comment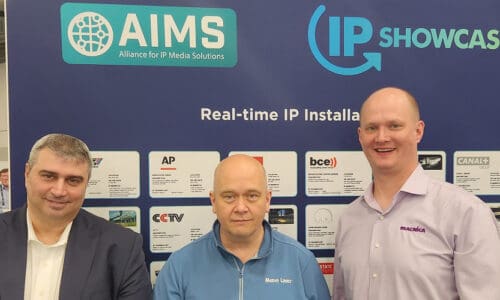 The Alliance for IP Media Solutions (AIMS) announced its newest members: Colorlight, a pioneer in video and image processing; and Media Links, a pioneer in media-over-IP transport technology. Both companies formally joined AIMS during the 2023 NAB Show in Las Vegas. AIMS, is of course, the Bothell, Wash. not-for-profit organization dedicated to the education, awareness, and promotion of industry standards for the transmission of video, audio, and ancillary information over an IP infrastructure, as well as products-based on those standards.
"With their extensive IP media transport experience in both broadcasting and Pro AV applications, both companies will help us drive the adoption of IP and our IPMX proposed set of open standards and specifications in new markets," says Andrew Starks, an AIMS board of directors member and director of product management for Macnica.
Colorlight's Commitment to Meeting Emerging Needs of UHD Video Industry
A professional video solutions provider with global reach, Colorlight offers video processors, LED control systems, and media servers that have been widely adopted for live events, film and TV, exhibitions, meeting rooms, digital signage and more. The company is committed to meeting emerging requirements of the UHD video industry through constant technological innovation and convergence.
"Our solutions are widely deployed in a variety of Pro AV environments, where video-over-IP is quickly becoming the prevailing infrastructure," says Jimmy He, VP of Colorlight. "With IPMX set to become the core of that infrastructure, there couldn't be a better time for Colorlight to join the alliance and help bring interoperability to a range of applications."
Media Link's IP Solutions
Established in 1993 in Kawasaki, Japan, Media Links' IP Ecosystem delivers a range of media transport capabilities for news, entertainment and sports to audiences across the globe. Its IP solution portfolio includes media gateways, modular transport platforms, aggregation/core switches and management control software supporting the full gamut of video, audio and data formats and bandwidths.
"Media Links has been at the forefront of the rapid transition to IP-based media processing," says Gill Payne, marketing manager of Media Links. "We have many years of IP experience and a really good appreciation of interoperability challenges, and look forward toward working together with AIMS and its members to address them."
If you enjoyed this article and want to receive more valuable industry content like this, click here to sign up for our digital newsletters!
If you enjoyed this article and want to receive more valuable industry content like this, click here to sign up for our digital newsletters!