Commercial Integrator, NSCA Plan Diversity-Focused Webinar for Integrators
Commercial Integrator and its partner NSCA want to spur on conversations about diversity and equity in our industry community.
Leave a Comment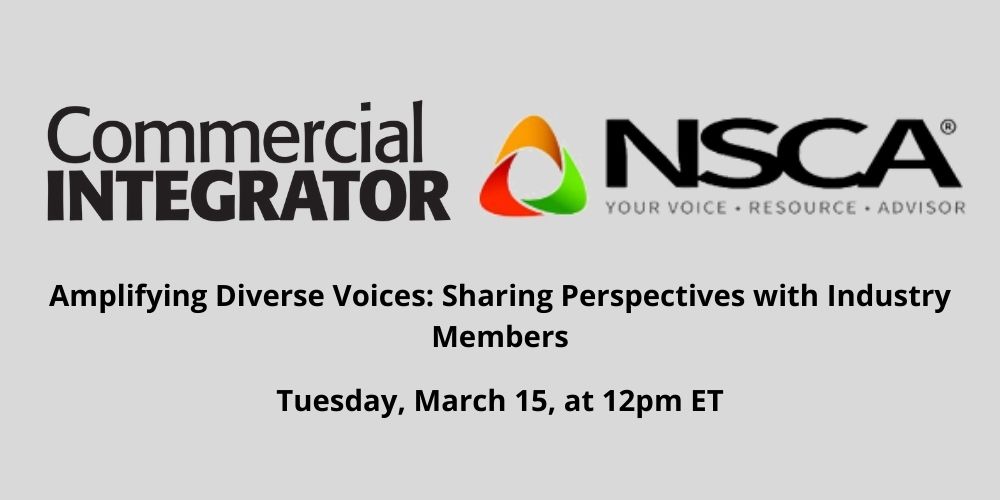 In recent years, the commercial AV industry — indeed, nearly all of society — has had its consciousness raised about diversity, equity, inclusion and belonging (DEIB). It's hard to dispute that men across all races, but Caucasian men in particular, have historically been overrepresented at AV trade shows and in AV-related organizations.
That lack of representation for females and people of color is improving slowly, thanks in part to the efforts of trade associations like NSCA and AVIXA, and thanks especially to the leadership of rockstar spokespeople for a diverse and inclusive AV industry. The efforts and activism of industry figures like Verrex's Charmaine Torruella and BAM! Marketing & PR Agency's Brandy Alvarado-Miranda have made a real difference.
Commercial Integrator and its partner NSCA want to spur on these essential conversations and underscore the importance of DEIB in our industry community. Therefore, we've planned a webinar entitled "Amplifying Diverse Voices: Sharing Perspectives with Industry Members." It's scheduled for Tuesday, March 15, at 12pm ET. Registration details are forthcoming.
Expert Panelists in DEIB and AV
We're honored to be engaging these expert panelists in conversation:
Commercial Integrator and NSCA seek to foster a thought-provoking, provocative dialogue. To that end, we've prepared a very short, two-question survey to guide the conversation. It's your opportunity to tell us how DEIB issues manifest themselves in your business, as well as to guide us in choosing the most topical subjects (e.g., hiring practices, cultivating talent, corporate culture).
Please fill in your answers here: https://survey.alchemer.com/s3/6739178/CI-NSCA-DEI-Survey. It'll take only a minute or two, and you can remain anonymous if you wish.
Commercial Integrator, NSCA and our expert panelists look forward to welcoming the industry community to this essential dialogue on March 15.