Electrosonic Announces Rebecca Knight as Commercial Director, EMEA
As commercial director, Rebecca Knight will lead the sales and strategic partnerships teams for Electrosonic in the EMEA region.
Leave a Comment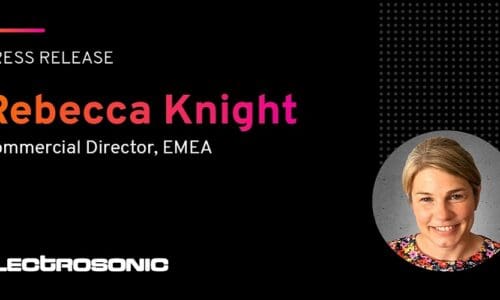 Electrosonic appointed Rebecca Knight as commercial director in Europe and the Middle East (EMEA). This news comes on the heels of the promotion of Sean McChesney as VP of sales in North America.
Per the Orlando, Fla.-based company, McChesney will partner closely with Knight as she leads the sales and strategic partnerships teams in EMEA.
"I am [ecstatic] to join Electrosonic at this exciting time for both the industry and the company," says Knight. "Electrosonic is a great organization with an unparalleled history of creating world-class experiences enabled with technology. I'm inspired by the rich history of innovation throughout the years."
As the lead for sales and strategic partnerships in the region, Knight will drive business development. She will thus focus on acquiring new business and deepening existing relationships.
Also Read: Electrosonic Appoints Morgan Rottinghaus as Global VP of Partner Strategy
"People create cultures with each one of us playing our part. I look forward to working with the team and playing to their strengths; and supporting their personal growth to further develop the Electrosonic legacy," she adds.
Previously, Knight served as sales director EMEA at Disguise. Here, she handled regional sales, business development and managed cross-functional teams. According to Electrosonic, Knight also brings a wealth of experience in the technology sector with former roles at Sharp/NEC and Canon.
"We are [happy] to welcome Rebecca Knight as our new commercial director," says Ewan Smith, CEO at Electrosonic. "With her proven track record of driving growth and deep industry expertise, we are confident that she will help take our team to new heights and accelerate our momentum within Europe and the Middle East."
Check out the latest personnel announcements in our monthly movers & shakers in AV series.
If you enjoyed this article and want to receive more valuable industry content like this, click here to sign up for our digital newsletters!