Exertis Almo E4 2023 Kicks off in Dallas
Exertis Almo E4 Experience will kick off in Dallas on March 7, with a host of new professionals, education and products for attendees.
Leave a Comment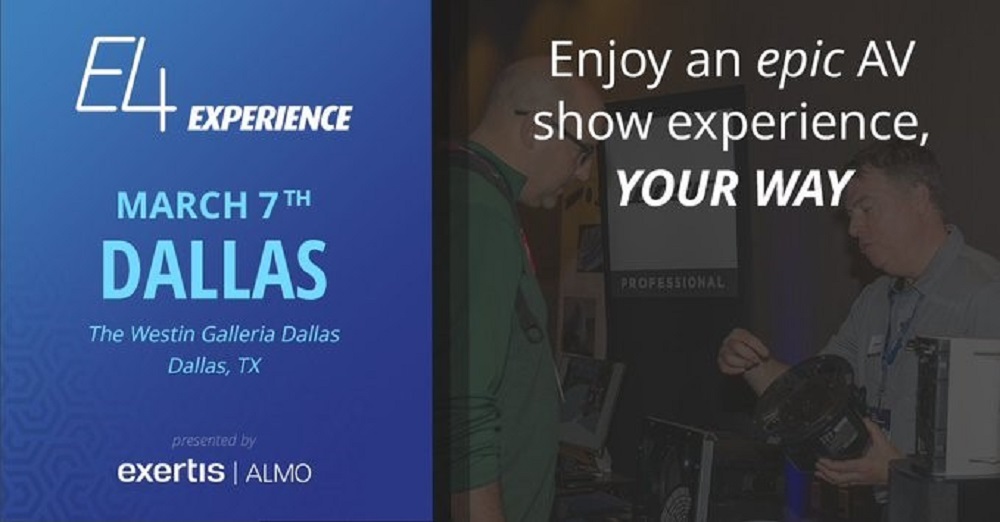 Philadelphia-based Exertis Almo announced its E4 Experience 2023 program will kick off in Dallas on March 7. According to the organization, the show will have a host of new professionals, education and products to ensure attendees create their own customized day. Additionally, for the first time in the 14-year history of the E4 Experience, Exertis Almo, has opened registration for all four 2023 E4 Experience events.
Crown Jewel Showroom
The E4 Experience will feature a "crown jewel" showroom packed with the newest AV gear in use. This thus makes it an ideal place for integrators to bring their end users. There will also be a stacked lineup of enriching AVIXA CTS-certified business, technical and trend sessions.
The following E4 Experiences are now open for registration:
According to vice president of marketing and communications for Almo Corporation, Melody Craigmyle, "The best part about an E4 Experience is that it's an individual experience. Attendees create their own paths, which often lead to new connections and business, additional knowledge and credentials and inspiration that guides them to the next level in their careers."
She then continues, "We've opened registration for all four E4 Experiences so attendees have the opportunity to plan ahead by adding the day-long events into their schedules now."
"Everything is always bigger in Texas and that includes the venue where we'll host the first 2023 E4 Experience. It is complete with an all-new educational curriculum, new exhibitors, and the newest products, some of which were just introduced at ISE," adds Craigmyle. She also notes that E4 Experience Dallas is the first E4 since the announcement about EVP/COO Sam Taylor's retirement and Dan Smith as his successor. Both Taylor and Smith will attend E4 Experience Dallas.
E4 Experience Dallas Education
Additionally, AV instructor Gary Kayye will debut an all-new keynote, "Eight Cool New Products and Five New Technologies That Will Change the AV Industry Forever." This will be a forward-thinking discussion about up-and-coming technologies and how they could change the way everyone does everything.
Other sessions will feature highly influential educators, the organization notes. These include Tom Kehr, in-house system and design trainer, Exertis Almo, and Tom Stimson, executive coach for The Stimson Group. The sessions will also be worth AVIXA CTS Renewal Units (RUs). Thus, they will enable attendees to enrich their education through expert insight. Some of the available sessions include:
Official E4 Experience Live Show Floor Tour
How to Conduct a Needs Analysis
What the Marketplace is Telling You About Your Strategy and What to Do
DEI Roundtable
Conducting a Proper Site Survey
The MTR (Microsoft Teams Rooms) Effect
New E4 Experience Exhibitors
Moreover, Exertis Almo will welcome audio specialists Audio Technica US and Sennheiser to the E4 Experience. E4 Dallas is also the first to feature a team of drafting and engineering experts since Exertis Almo's acquisition of Caddrillion.
The E4 experience is a 2022 SCN Stellar Service Award winner and a 2022 Commercial Integrator BEST winner. It brings together top educators, manufacturing partners, AVIXA CTS RU certified training, technology firsts and endless networking opportunities. According to Exertis Almo, attendees can thus learn the latest business and industry trends necessary to stay productive and gain valuable skills.
If you enjoyed this article and want to receive more valuable industry content like this, click here to sign up for our digital newsletters!