Near Houston? Earn 3.5 AVIXA CTS RU Credits at Free #LGOnTheRoad
#LGOnTheRoad attendees of LG Commercial Display Roadshow stop in Houston, February 22, can earn up to 3.5 AVIXA CTS RU credits.
Leave a Comment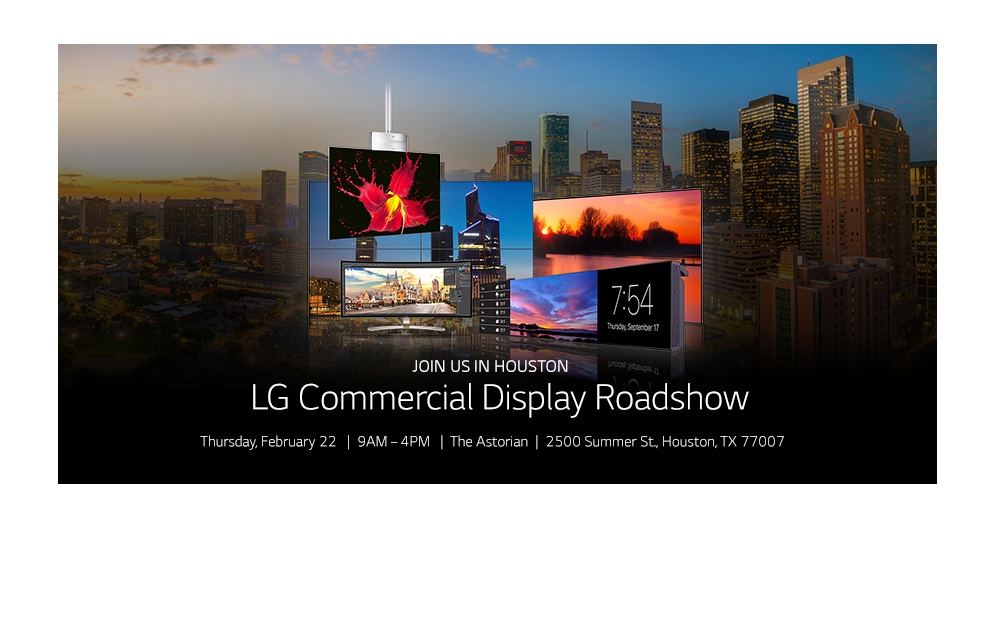 First-hand look at the latest LG technology? Check. Food? Check. Drinks? Check. Opportunity to earn up to 3.5 AVIXA CTS RU credits? Check. There are plenty of reasons for AV professionals who will be near the Houston area on February 22 to attend the free #LGOnTheRoad LG Commercial Display Roadshow stop at The Astorian.
LG — which recently expanded on its LG PRO Program which offers dealers benefits such as incentive rewards, point programs, training and marketing development funds and now boasts new LG PRO Design – is reaching out to the integration community with its LG Commercial Display Roadshow.
At the Roadshow stop in Houston, 9:00 a.m. to 4 p.m., LG says integrators can experience the latest LG technologies right in Houston and discover what makes its innovation "truly game changing."
The maker of commercial AV solutions adds that at the Houston stop on the LG Commercial Display Roadshow, attendees can:
Enjoy delicious food and drinks
Get InfoComm AVIXA CTS RU renewal credits
Win fun prizes
Network with peers, experts from LG, and other industry specialists – ranging from content and software creators to touchscreen technology experts
rp Visual Solutions is offering a 2-RU credits session called the Art of Displays that LG says will dive into everything from aspect ratio and brightness to current trends in technology, the basics of sizing a room, and how to create true experiences with digital displays.
Did we mention it's free?
LG is offering free admission and valet parking as well as complimentary food and drinks served all day – including breakfast and lunch.
There will also plenty of prizes with frequent changes for LG Commercial Display Roadshow attendees to win great prizes.
Most importantly, LG says the #LGOnTheRoad stop in Houston will feature its product innovation including LG OLED as well as its envelope-pushing form factors.