InfoComm 2020 Goes Virtual
AVIXA is in the crosshairs of what CEO David Labuskes calls "the better normal" with shift from an in-person event to an online one.
Leave a Comment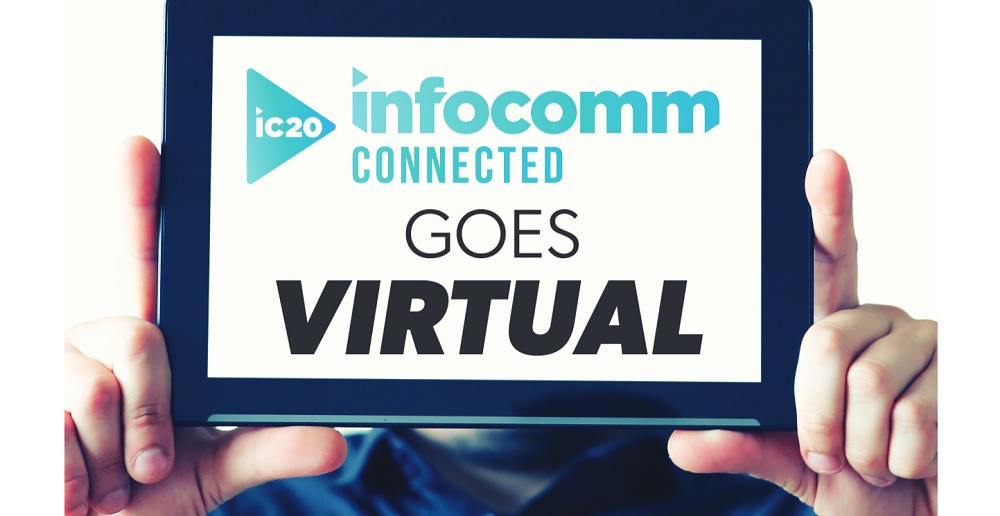 At least AVIXA CEO David Labuskes isn't putting any pressure on himself or his events team when it comes to transforming InfoComm 2020 from an in-person event slated for Las Vegas in mid-June to a virtual event dubbed InfoComm 2020 Connected. 
"This goes beyond a virtual tradeshow. It's a digital transformation of the world," says Labuskes of the transition of the largest pro AV trade show in North America to an all-online experience that will kick off June 16, the same day the InfoComm trade show was slated to open its doors. 
"I'm looking at this to accelerate and further deliver on a digitally enhanced real life," says Labuskes. "It's about retooling our education, taking the lessons we've learned and extending those beyond this show." 
Those are certainly some lofty goals for AVIXA's first major foray into the virtual trade show world, but it's not an initiative Labuskes believes is out of reach for the association, its events team or its members. 
InfoComm 2020 Connected will feature virtual trade show booths, product spotlights, streamed and recorded education sessions, matchmaking through AI, lightning rounds of side-by-side comparisons and even karaoke and other networking opportunities. 
InfoComm 2020 Connected will also allow visitors to catch many of the sessions and product showcases they missed live in a recorded format through Aug. 21. 
"We didn't want to abandon all the opportunity for connectedness," says Labuskes on AVIXA's decision to launch InfoComm 2020 Connected when it became clear the in-person trade show wasn't a viable alternative. 
"We didn't want to just give up. That's not what the AV industry does. We figure it out and make it happen," he says. 
Not Afraid to Fail
Labuskes understands AVIXA's undertaking is an ambitious one, but he's not shying away from it—or even expecting it to go perfectly. 
"Lots of people have delivered virtual tradeshows, but not in this environment with this level of focus," he says. "This is an opportunity to take decades of experience of delivering vibrant events in person and deliver something new that doesn't try to replicate in-person experience. 
"What we want to do is deliver value to people who are participating, connect the marketplace together, connect peers together to celebrate the industry and leave behind the bounds and the assumptions of the physical world," says Labuskes. 
As for the critics who will surely be ready to scrutinize every aspect of InfoComm 2020 Connected, Labuskes is ready for them and welcomes their feedback. 
"You enter every edition of InfoComm hoping everything goes right, and hoping no one can see whatever goes wrong," he says. "It's like when you're the best man—you hide every problem from the bride and groom. 
"We just want to create an environment where attendees can leverage value of being together. I'm quite confident something will go wrong. If it doesn't go off seamlessly, that's a learning opportunity," says Labuskes. 
"None of us have ever been involved in the design or installation of an AV system that worked perfectly as soon as we turned the switch. We're an industry of innovation. We're an industry of solving problems. We're all going to stumble. Maybe it's our responsibility to fall first so we can all move forward," he says. 
Labuskes sees the lesson AVIXA will learn from InfoComm 2020 as part of what he's dubbed "the better normal" that will emerge from the coronavirus outbreak across the U.S. and around the world. 
"Getting better means learning and learning means making mistakes," he says. "We are going to make mistakes. I don't think anyone's going to lambaste us for that and if they do, that's OK too. People don't generally see the challenges, except for the people in the middle of it." 
Labuskes noted he's overseen tradeshows plagued by power outages and a waterlogged exhibit hall floor. 
"The execution and the quality of the team gets you through that," he says. 
Labuskes says InfoComm 2020 Connected will "deliver the content in a different fashion" than what the events team had been planning, saying the opportunity to offer sessions at times that are conducive to AVIXA's global members is something they couldn't do at a trade show. 
That includes AV standards sessions in German, state of the industry sessions in Italian and French, discussions on the relationship among content, space, and technology in the Latin American market in Spanish and Q&A sessions with AVIXA instructors and EMEA regional managers. 
"It's not about scrapping what you've been planning for a year," he says. "It's about building on it. It's just as complex as delivering a show in real life and would typically take six months to a year to put together." 
To that point, AVIXA decided to keep InfoComm 2020 Connected in June because "we simply could not imagine June without InfoComm," says Labuskes. 
"This is a time of innovation and trial and error and we are excited to bring Connected together for our audiences and to keep the amazing networking, learning, and new product demonstrations going at a time when our community needs it most," he says. 
Having InfoComm 2020 Connected in June also keeps the event from being part of the glut of AV industry events that have been postponed to the second half of the year, says Labuskes.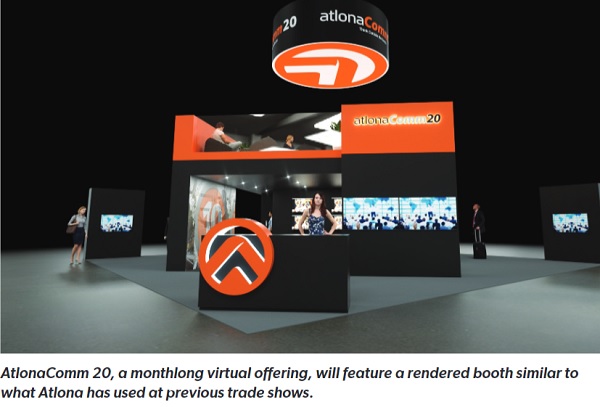 Labuskes understands InfoComm 2020 Connected will be a different experience for everyone involved, including himself.
He's become accustomed to attending as many events at InfoComm shows as he can pack into his schedule and will do that in different ways this year. 
"What I love about getting to all the different gatherings is the real connection with the people," he says. 
"Sometimes my being there reaffirms for people their group is important to us. I don't want to do something that's inauthentic like hopping on a Zoom call for 30 seconds. 
"You're not going to get me to sing karaoke, but I'm not going to want to miss that. I try to be as involved as I can be without being a damper on it," says Labuskes.  
Labuskes will deliver a keynote address on finding the so-called "better normal" on June 16, AVIXA senior director of market intelligence Sean Wargo will explore the state of the industry on June 17, and AVIXA board of directors chairman Jeff Day will lead a fireside chat on June 18. 
All three sessions will include opportunities to ask questions of the presenters.  
The winners of the inaugural AV Experience Awards will gather for a panel discussion on June 16, to share their stories on employing AV to create various types of experiences — from dynamic art to individualized.  
In addition, the annual AVIXA Awards ceremony on June 17 at 5 p.m. EDT will recognize AV professionals who are making lasting impressions on the industry.  
How AV Will Adjust
AVIXA's decision to transform InfoComm 2020 to a virtual event, says Crestron president and CEO Randy Klein, "gave us a chance to think about things differently and to think about every part of our business. It's forcing us to think differently. It's a more creative, more imaginative way to think." 
One thing that's not different for Crestron: its product research and development cycle. 
"Our product release cycles are not tied to InfoComm or any event," says Klein, noting Crestron puts out at least 250 new products each year. "Our product releases are built around our fiscal year, as well as buying and budget cycles in key vertical markets." 
One thing Klein will miss the most about InfoComm 2020 is Crestron's annual Swirl party, held at InfoComm every June. 
 "I really look forward to it and it is the most fun I have every year," he said. "It's my chance to thank 3,000 to 4,000 people for their support." 
Atlona, meanwhile, is among those in AV launching its own virtual event. 
AtlonaComm 20, a monthlong virtual offering, will feature a rendered booth similar to what Atlona has used at previous trade shows and several live and on-demand webinars that will allow the company's global audience access the information they want at any time, says director of marketing Garth Lobban. 
"As we look at the market the way it is now, we still have stories to share and opportunities to create," he says. Atlona and Panduit officials started discussing a virtual event after ISE 2020 in February, says Lobban. 
"We still need that opportunity for our sales team to meet with our existing customers and the new customers we don't even know today," he says.  
Related: 10 Virtual Background Ideas That Will Make Videoconferencing More Fun
The virtual event will open June 1 and the live events will run the week of June 8. AtlonaComm 20 will be available throughout June "so people can come and go as they please," says Lobban. 
"We're hoping to make this even more global than we'd be able to do" at an in-person event, says Lobban. "We can put everything in one container for people to experience at their time." 
"We have the opportunity to bring the equivalent of a 40-foot semi-trailer to the show, not just the greatest hits," he says. 
AtlonaComm will be Atlona's primary summer trade show, says Lobban, but the company is still talking about participating in InfoComm 2020 Connected. 
AtlasIED VP of marketing and corporate communications Gina Sansivero says InfoComm's move to a virtual format "allowed us to reassess the addition of product features that we originally slated for a later release.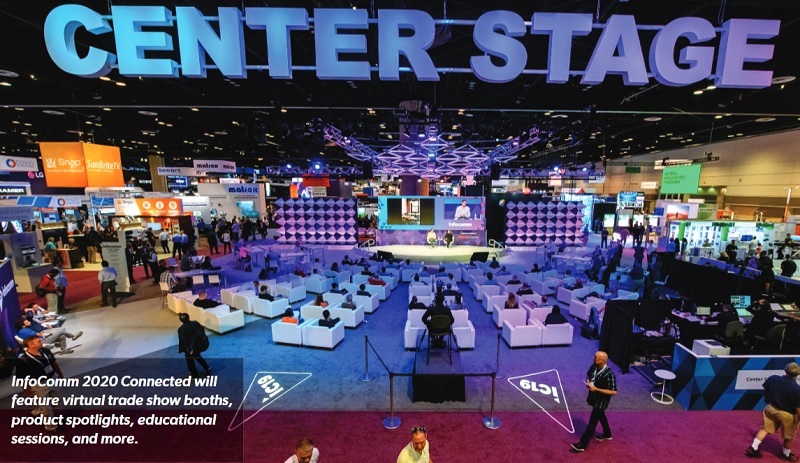 "We decided to rework the development cycle to include some of these features as part of the first product release in the brand-new family of audio technology solutions that were scheduled to launch in June," she says.  
"We have added capabilities that will be beneficial to our integrator partners immediately upon product release. We were no longer obligated to a limited or finite reveal schedule, and therefore we can reveal the product when it's fully realized and ready to ship," says Sansivero. 
A virtual product launch is "pushing our creativity and allowing us to try new technologies and environments for our launch strategy," says Sansivero. 
"It's allowing us to think of a product launch in entirely new terms," she says. "We're having a lot of fun with it. We don't have to worry about driving people to our booth in a sea of 1,000 other booths and breaking through the noise of a crowded and overwhelming tradeshow.  
"Our focus isn't limited to a week, or a location, or a venue. It is an ongoing event that will be planned in such a way that it builds upon itself to bring the product to market," says Sansivero. 
What InfoComm 2020 Connected Means for Integrators
Scott Wright, president and CEO of Lifeline Technologies, has gone to InfoComm for the last 15 years. 
"If you're going to be on the cutting edge of technology, you need to see what's going on. InfoComm's a big, big deal, even for small integrators like us," he says. 
Wright says the move to a virtual event will mean more manufacturers will likely be adopting the virtual platform for their product releases, a shift that could be tough on his small business. 
"A lot of the manufacturers will have mini-InfoComms," he says. "That's going to take a lot of time because of the number of product lines we have. We're talking months vs. 2.5 days. 
"I can't drive to Chicago [from rural Wisconsin] to listen to three speakers. They're going to have to come to me. I can definitely see us making a very different use of our time," says Wright. 
Lionel Felix, owner of Felix Media Solutions, is disappointed AVIXA canceled the in-person InfoComm 2020 show. 
"I wanted to see the show pushed out to November and we would all just adapt with lots of lead time," he says. "It's a real treat to soak in the industry for a few days and come back a bit energized. It's a few days of hard work, lots of walking but lots of smiles." 
AVI-SPL director of corporate communications Nathan Legg echoed Felix's sentiments on missing the in-person interaction at InfoComm 2020 this year. 
"We enjoy collaborating with guests and strategizing ways they can enhance their organization," he says. "With partners, it's always great to see their excitement for what they have to share at the event and feed off that energy. 
Human Circuit president and CEO Bruce Kaufmann wonders if it's time to rethink the trade show format altogether. 
"Changes occur too quickly, and knowledge should be shared regularly," he says. "Proactive positioning and distribution of knowledge by manufacturers should arrive in more personable and fulfilling ways. 
"If trade shows are to be of any value, they should be miniaturized, focused, and held regionally or locally. The significance of connections/relationships are ones that occur daily, not the ones that take place once a year. They are laser-focused and purposeful," says Kaufmann. 
Diversified senior VP of global marketing Anthony Cuellar says the company will face a challenge to replicate the connections its leaders make during InfoComm 2020, including through its annual VIP reception and meetings with manufacturers. 
"It's been a challenge to stay in touch with our clients," he says. "That's something that's so important at this time." Diversified typically has a booth at NAB and will do the same at that virtual event, but they don't exhibit at InfoComm, says Cuellar. 
"The biggest challenge, especially for a tech solutions provider like ourselves, is we're always sharing a total overall solution," he says. "When you go virtual, it's a little more difficult, talking at a much higher level about products and particular needs they solve." 
Diversified has been hosting webinars and created a business continuity page on its website.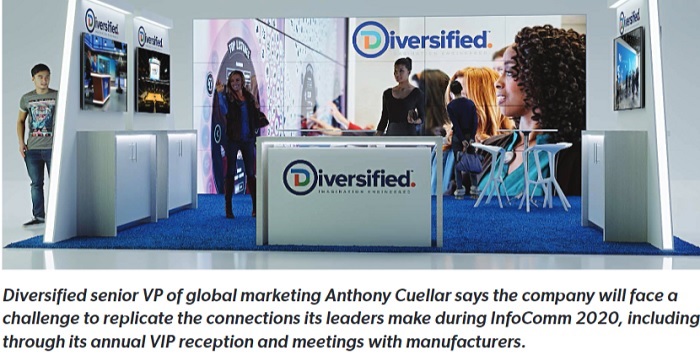 "That got us into the rhythm of communicating with our clients more regularly," says Cuellar. 
"It's odd but it's made us better in some ways. It's made us more high-touch." 
Cuellar says he doesn't expect the lack of an in-person InfoComm show to hamper Diversified talks with other companies about potential acquisitions.
The face-to-face conversations at the show are nice but not necessary, he says. 
Craig Gudorf, director of brand marketing at AVI Systems, calls InfoComm "a marquee events for us to meet with our customers and talk to some new ones," especially as the company joins the GPA, formerly known as the Global Presence Alliance. 
"It's a very rare opportunity to accomplish so much at one time," he says. "Many opportunities enter the pipeline [during a typical InfoComm show] and many reach the finish line. It's a unique opportunity for us to tell our story. 
"When we're at InfoComm, we're part of a rare category of vendors. We end up having a lot of happenstance conversations with people who see something and how it can help their companies," says Gudorf. 
AVI Systems is looking at creating virtual versions of its AVI Live events, regional events that include keynotes, educational sessions and a trade show floor.  
"We'll be able to learn some of the best practices from InfoComm," says Gudorf. 
USAV Group is hoping to launch an international partner program around the time of InfoComm 2020 Connected and saw its annual reception as the perfect place for that debut, but they're probably going to have to do it differently now that it's a virtual event. 
"We ended a lot of conversations at ISE saying we'd see them at our InfoComm reception," says USAV Group director. "That definitely put a little wrench in things." 
But VP Chris Salazar-Mangrum says USAV leadership is "flexible enough that we can adapt and still create something of value" when it launches its international component. 
If you enjoyed this article and want to receive more valuable industry content like this, click here to sign up for our digital newsletters!