Just Add Power Announces AVIXA RU and CEDIA CEU Approved Training Opportunities
Installers can now receive AVIXA RUs and CEDIA CEUs with Just Add Power's Certified Integrator Workshop & Introduction to AV-Over-IP Class.
Leave a Comment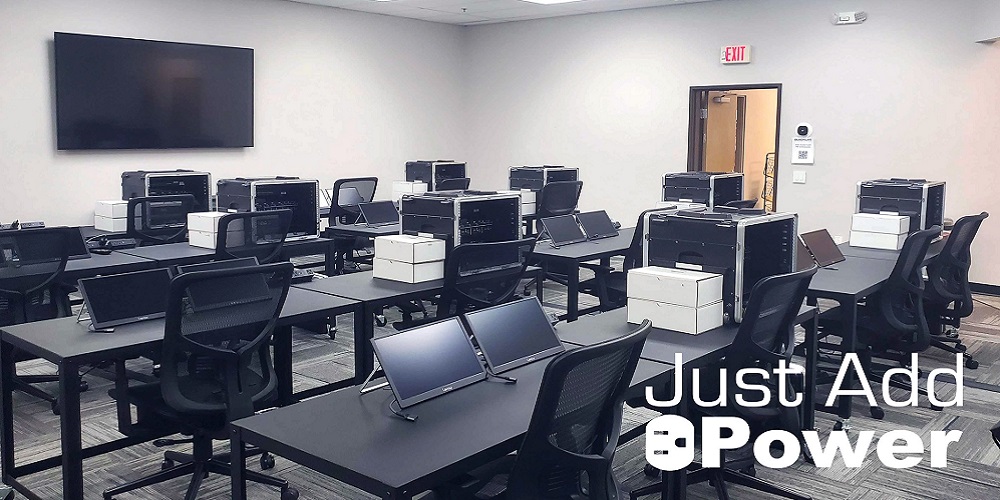 Just Add Power, prominent in AV-over-IP distribution, announced that its new Certified Integrator Workshop and Introduction to AV-Over-IP class now have approval for AVIXA renewal units (RUs) and CEDIA continuing education units (CEUs).
The hands-on, three-day Certified Integrators Workshop provides 8.5 AVIXA RUs and 8.5 CEDIA CEUs to those who successfully complete the training, Just Add Power notes. Meanwhile, the Introduction to AV-Over-IP provides 3.5 AVIXA RUs and 3.5 CEDIA CEUs.
"Training has always been at the heart of what we do and a valuable part of building installers' expertise," says Eric Martin, training director at Just Add Power. "Whether you're joining us in person or catching one of our nationwide trainings offered at our partner locations; these two opportunities are a fun and enjoyable way for attendees to level up their understanding to create amazing installations. And all while earning RUs and CEUs."
Certified Integrator Workshop
The Just Add Power Certified Integrator Workshop teaches installers how to design, build, implement and troubleshoot any Just Add Power AV-over-IP HDMI distribution system. This course requires no prior knowledge. Moreover, it covers all aspects of a project, beginning with system design and ending with a fully functional HDMI matrix switcher.  The class also includes training on basic computer networking, HDMI specifications and video standards. The reason being the integral nature of the Just Add Power system.
In the past year, Just Add Power has expanded its list of supported switches. Here, it released the MaxColor 4K60 Series 1 and Series 2 systems. As a result, it made training more exciting and beneficial than ever.
Just Add Power holds classes quarterly at its in Seminole, Fla. Additionally, there is no cost to attend the workshop. It also includes meals, local travel and lodging. However, participants are responsible for their travel costs to Florida.
The remaining 2023 workshops will take place on April 19 through April 21; July 19 through July 21; and Oct. 18 through Oct. 20. Information and registration for the workshop is also now available, the company notes.
AV-over-IP Classes
Just Add Power's Introduction to AV-Over-IP class teaches installers how to design, install, configure and troubleshoot a standardized Just Add Power AV-over-IP HDMI-distribution system. Participants will thus learn to anticipate and prevent issues that may arise with standard installations and learn best practices to ensure every project is a success.
This is a one-day class that includes extensive hands-on activities with Just Add Power and networking equipment. Classes are hosted by Just Add Power partners throughout the United States at no cost to participants.
Also Read: More Than Just Ice: Just Add Power Delivers at Hertz Arena
Introduction to AV-Over-IP classes are currently scheduled for:
March 7 at WAVE Electronics in Dallas
May 16 at Pioneer Music Company in Kansas City, Kansas.
According to Just Add Power, more locations and other information will be added in the future.
If you enjoyed this article and want to receive more valuable industry content like this, click here to sign up for our digital newsletters!