Just Add Power Announces AVP-Enabling Chipset for Field-Modifiable KVM Transmitters
The new 718KVM and 749KVM transmitters from Just Add Power can now be upgraded to enable full AVP functionality with Dolby chipsets.
Leave a Comment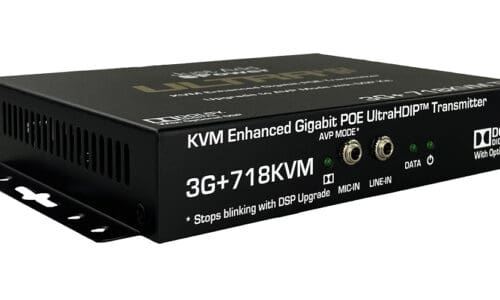 Just Add Power, the Seminole, Fla.-based video-over-IP distribution provider, has amped up the capabilities of its 718KVM/749KVM transmitters to offer full AVP functionality with Dolby chipsets now available for order. The transmitters arrived in response to the customer demand for the company's 718AVP and 749AVP transmitters at a time when the solutions' Dolby downmixing chipset was in short supply. These 718KVM/749KVM transmitters support keyboard, video and mouse (KVM) as well as stereo audio breakout right out of the box. With the installation of the new Dolby chipset, the transmitters can be modified in the field to deliver full AVP performance.
"When supply chain issues threatened to disrupt workflow and investments, we knew we had to solve this hardware problem with the same modular and flexible approach that has made Just Add Power an AV distribution leader," says Taft Stricklin, sales team manager for Just Add Power.
He continues, "We are pumped to offer the new Dolby chipset and introduce a whole new level of modularity. With the 718KVM and 749KVM transmitters now a permanent part of our portfolio, installers have a lower cost of entry into Just Add Power AV distribution with KVM functionality, or they can add the chipset — supporting AVP and enabling Dolby downmixing only where needed."
Also Read: Just Add Power Integrates With Jetbuilt
Just Add Power's new 718KVM and the rackmount 749KVM will replace the out-of-stock 718AVP and 749AVP indefinitely. Like the AVP models, the new PoE transmitters encode a 4K or lower-resolution source device into an IP signal. They then send it over the network with ultra-low latency and instant switching. Moreover, the transmitters support HDCP 2.2 and USB 2.0; and feature image pull, 3.5mm stereo audio output with adjustable delay, and RS-232, IR, and CEC control of sources.
With the chipset upgrade, the 718KVM and 749KVM transmitters will enable Dolby DSP, the re-encoding of Dolby Digital 5.1 as Dolby Pro Logic II for HDMI distribution to both multi-channel and stereo audio zones. They will also provide two analog audio inputs that are mixable with HDMI audio. According to Just Add Power, the KVM transmitters are now shipping.