Just Add Power MaxColor 4K60 Series Powers 4K Videowall at Fullerton Police Department Association
Just Add Power's MaxColor 4K60 series helped distribute 4K 12-bit video over Cat 5/6 for a cost-effective, future-proof, and impactful visual experience at FPDA.
Leave a Comment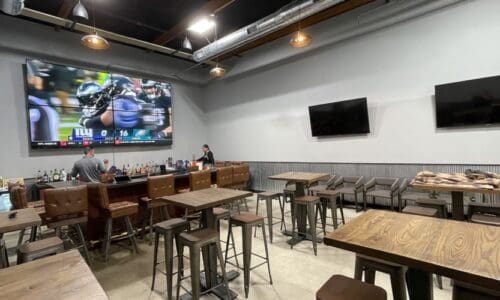 Just Add Power, prominent in AV-over-IP distribution, installed its MaxColor 4K60 Series transmitter and receiver in the new meeting and event space of the Fullerton Police Department Association (FPDA) in Fullerton, Calif. Installed by HB Integration, the MaxColor natively supports 4K60 in and out, supporting the association's new 2×2 4K videowall.
"I was able to confidently tell the FPDA I had a perfect solution because it's something I've vetted myself," says HB Integration's Jason Gibson. "I have had Just Add Power in my own home since 3G and have been using the MaxColor models since their release. Their products are easy to install, they have great support, there's no lag; and they are continuously evolving to add even more simplicity to the system."
For FPDA, HB Integration design plans consisted of four Apple TV video sources. Through the Apple TVs, the organization can access its Direct TV channels from the Direct TV app. It can also access music and other content with ease. In addition, anyone would be able to AirPlay content directly from their own device.
Per a statement, the organization then focused on providing a high-quality viewing experience that would complement the Apple TV's 4K content options. It also needed to complement the 4K Sony displays that make up the videowall. Thus, the integrator selected the MaxColor 4K60 Series.
Also Read: Just Add Power Announces AVIXA RU and CEDIA CEU Approved Training Opportunities
Installing MaxColor 4K60 Series
The system infrastructure's support includes the GSM4212PX-100NAS 10-port stackable Gigabit Ethernet switch from NETGEAR; the Ubiquiti UDM-SE router and the Ubiquiti U6 Mesh access point inconspicuously mounted up on the wall. Additionally, a URC control system, which is fully compatible with the Just Add Power system, controls the videowall.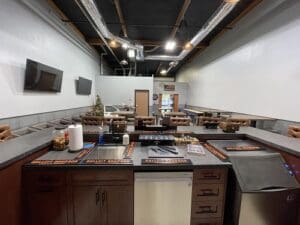 According to Just Add Power, the MaxColor natively supports 4K60 in and out. Thus, it allows end users to play 4K Ultra HD video from the growing number of 4K sources and devices. This includes Apple TV. With MaxColor, 4K 12-bit video can be distributed over Cat 5/Cat 6 cable. With this, it eliminates the expense of upgrading to fiber and buying more costly network switches. The series also works with existing Just Add Power drivers and supported control systems.
In addition, it supports MPEG downstreaming for connected devices, such as a laptop or a mobile device. The series features instant seamless switching, 4K up- and downscaling, all audio formats, seamless HDR management and Dolby Vision for the best viewing experience. Additional features include image pop, push, and pull, as well as 90-degree image rotation for landscape and portrait modes.
"Our MaxColor Series was engineered to provide the 4K video-over-IP distribution platform that installers and end-users have been clamoring for," says Taft Stricklin, chief sales officer at Just Add Power. "The installation at FPDA is an excellent example of the proliferation and demand for 4K experiences beyond the living room. We're proud to be the system of choice for HB Integration's design and help them create a flexible and easy-to-use distribution system that will meet the association's visual needs now and in the future."
If you enjoyed this article and want to receive more valuable industry content like this, click here to sign up for our digital newsletters!