Just Add Power's MaxColor 4K60 Series Soon to be Shipping
Just Add Power's soon-to-ship transmitter and receiver let integrators distribute 4K60 12-bit video over existing network infrastructure.
Leave a Comment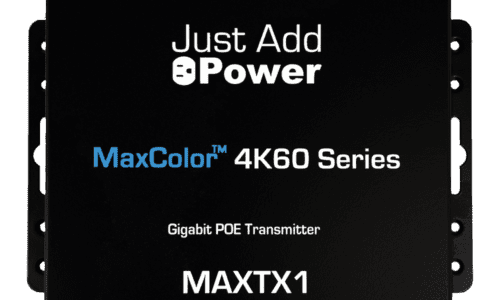 Seminole, Fla.-based Just Add Power has announced that its MaxColor 4K60 Series, composed of transmitter and receiver, will ship imminently. Together, they provide integrators with a scalable 4K ultra-HD distribution platform. The products natively support today's 4K source content with high frame rates over existing network infrastructures. The products will start to ship in early Q1/22, the company says. Of course, Just Add Power is well known in AV-over-IP distribution.
The MaxColor transmitter and receiver natively support 4K60 from source to screen. Thus, end users can play ultra-HD video from the growing number of 4K sources and devices that are now available. With MaxColor 4K60, video at 12-bit color and 4:4:4 chroma is distributable over existing Cat5/Cat6 cable. Thus, there is no need for the expense of upgrading to fiber. Likewise, there is no need to buy costly network switches. In addition, the transmitter and receiver support MPEG downstreaming for connected devices, such as a laptop or tablet.
MaxColor 4K60 Series: Instant, Seamless Switching
The MaxColor 4K60 Series delivers instant and seamless switching, 4K up- and downscaling, and EDID management. All the while, it supports all lossless audio formats and HDR formats, including Dolby Vision, for optimal viewing. In addition, the feature set includes image pop, push and pull; 90-degree image rotation for landscape and portrait modes; and integrated endpoint control.
Taft Stricklin, sales team manager at Just Add Power, expresses enthusiasm about bringing native support for high-frame-rate source content to the Just Add Power platform. He also cites the buzz that the MaxColor 4K60 generated at InfoComm. That enthusiasm, he says, underscores that customers are eager to get their hands on the transmitter and receiver. He continues, "With that in mind, we couldn't be more excited to say that the wait is almost over." In fact, Just Add Power is taking preorders now.
For prior Commercial Integrator coverage of Just Add Power, check out our archives.