Ocean Matrix Unveils First HDBaseT 3.0 Offering
Ocean Matrix's OMX-01HMBT0013 HDMI over HDBaseT 3.0 Extender set delivers 4K HDMI signals up to 328 feet over a single CAT6a/CAT7 cable.
Leave a Comment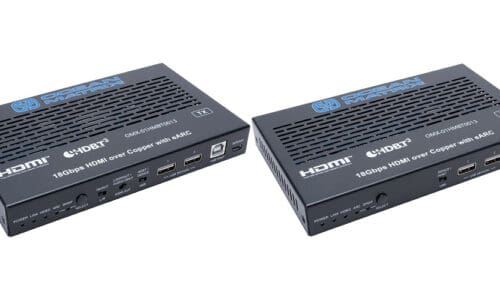 Saugerties, N.Y.-based Ocean Matrix announced that users can extend crisp and clean 4K HDMI signals up to 328 feet over a single CAT6a/CAT7 cable with the Ocean Matrix 01HMBT0013 HDBaseT extender. This unit employs the latest in HDBaseT 3.0 extension technology enabling long-distance distribution of uncompressed HDMI 2.0 4K@60Hz 4:4:4, audio, 1Gb Ethernet, USB 2.0, controls and power. What's more, it deploys all of this with near-zero latency.
Ocean Matrix adds that the 01HMBT0013 offers several ways to gain complete control over the audio. The transmitter and receiver supports both audio embedding and disembedding. Meanwhile, the complete system supports eARC/ARC when the need to pass through audio via HDMI is required.
Per the company, system contractors and installers will appreciate the bidirectional 24V POC functionality of this system. It delivers the convenience of powering either end whereas typical systems only offer the power-over-cable feature to work from the transmitter end.
Similarly, users can set up USB host control at the transmitter or receiver end offering keyboard and mouse control where it best suits them. The system also supports complete IR pass through to control host video and audio devices at either end of the setup.
Need for HDBaseT Technology
HDBaseT has become the technology of choice for a variety of AV applications, says Ocean Matrix. These include digital signage and videowalls, projectors, corporate conference rooms, educational lecture centers and more. It has been deployed in different verticals, from enterprises, hospitality, retail, education to government and more.
The company adds that HDBaseT Audiovisual is the ultimate choice for any scenario needing to transmit high-throughput content over long distances. Utilizing this technology, the very first HDBaseT 3.0 offering from Ocean Matrix will hit the market with uncompromised 4K60 resolutions extended up to 328 feet.
Also Read: Ocean Matrix Equipped with the Global Standard: HDBaseT
Ocean Matrix states that it is a proud member of the HDBaseT Alliance. HDBaseT has revolutionized the audiovisual market by offering more features, increased reach and better performance than existing solutions. At the heart of this technology is the 5Play feature set, the combined delivery of uncompressed ultra-high-definition digital video and audio, Ethernet, control signals, USB 2.0, and up to 100W of power through a single, 100m/328ft Category cable.