Peerless-AV Impresses at ISE 2023 with Array of New Products
During ISE 2023, Peerless-AV showcased a wide range of DVLED mounting solutions, making its booth a major hub.
Leave a Comment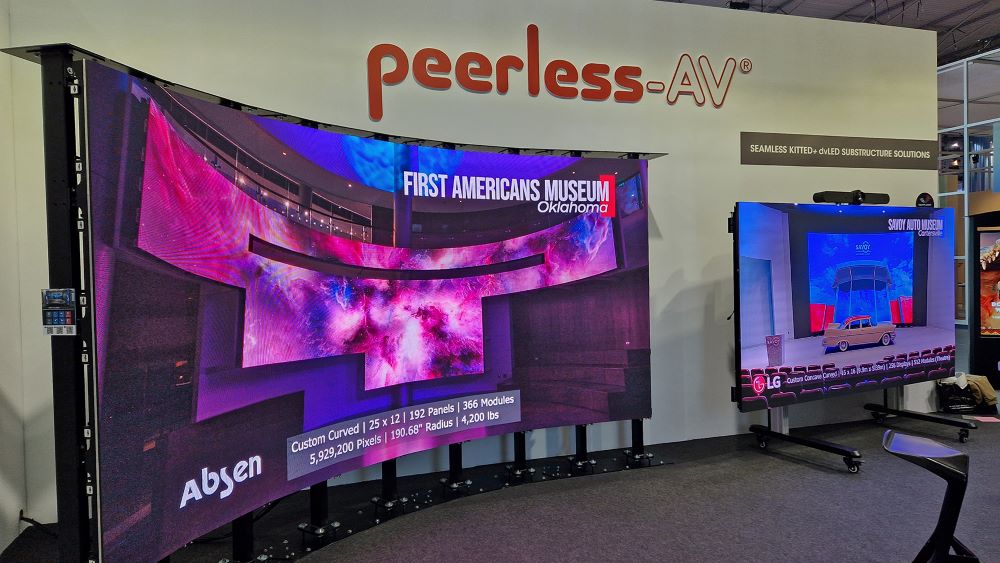 During ISE 2023, Peerless-AV attracted droves of visitors to its booth, with the company showcasing lots of new products. Particularly exciting was an exclusive sneak peek at a world-first development in DVLED mounting, with an anticipated global launch in Q2/23. Showcased alongside was a custom curved DVLED display wall using 8×4 Absen PL Pro DVLED cabinets mounted on a SEAMLESS Bespoke DVLED Mounting System. Precision engineered with exacting tolerances and Z-adjustment, the mounting system is perfect for DVLED deployments requiring creative shapes, aggressive corner wraps or concave/convex curves. The content on the display highlighted some of Peerless-AV's recent custom concave curved DVLED projects globally. Those include Mohammed VI Polytechnic University in Morocco, which is the company's biggest DVLED project in EMEA to date.
Peerless-AV Showcases Product at ISE 2023
Peerless-AV also enthusiastically showcased new updates to SEAMLESS Kitted+ mounting solutions on the booth, demonstrated as a mobile trolley with compatibility to mount a range of leading VC solutions. In addition, Peerless-AV exhibited new-generation Smart City Kiosks, including single-sided (KOP55XHB-EUK) and dual-sided (KOP55XHB2-EUK) variations. They feature IP55-rated media cabinet and base cover, as well as speaker and IR touch overlay optional extras. The new 75-inch Xtreme High Bright Outdoor Display (XHB754-EUK) also showed, alongside complementary 55-inch and 65-inch models. These models are IP66 rated with the widest operating temperature in the industry. Thus, they can excel in all weather conditions.
Nick Belcore, executive vice president of global sales and marketing, at Peerless-AV, says, "I arrived in Barcelona with high expectations, and I'm pleased to say that ISE 2023 didn't disappoint. Attendance was high, and Hall 3 was jammed, especially the first two days." He expresses excitement about Peerless-AV's booth location in 2024, adding that he "…can confirm that Peerless-AV will be back with a bigger space and a revamped, refreshed design and presence for what we anticipate will be a momentous year."
ISE 2023 Marked By Great Innovation
"Around the show, there was evidence of great innovation, with standout examples of ingenious content and improvements in the hardware used to display it," Belcore continues. "The progress and evolution of DVLED displays has been astronomical over the past few years, and it's evident that, with narrower pixel pitches and the technology becoming more affordable, it is now a far greater vehicle for presenting and enabling creative content." He closes by turning his attention to InfoComm, where, Belcore says, "We look forward to launching and showing new product."
Belcore concludes on a note of excitement and anticipation, saying, "Watch this space, and see you in Orlando!"
To read more Commercial Integrator coverage of the ISE 2023 show, check out our website archives.
If you enjoyed this article and want to receive more valuable industry content like this, click here to sign up for our digital newsletters!