Quest for Quality 2022 Winner D-Tools on Customer Success, Channel Relationships
Having earned a Quest for Quality Award from the integrator community, D-Tools exemplifies a channel-focused mindset.
Leave a Comment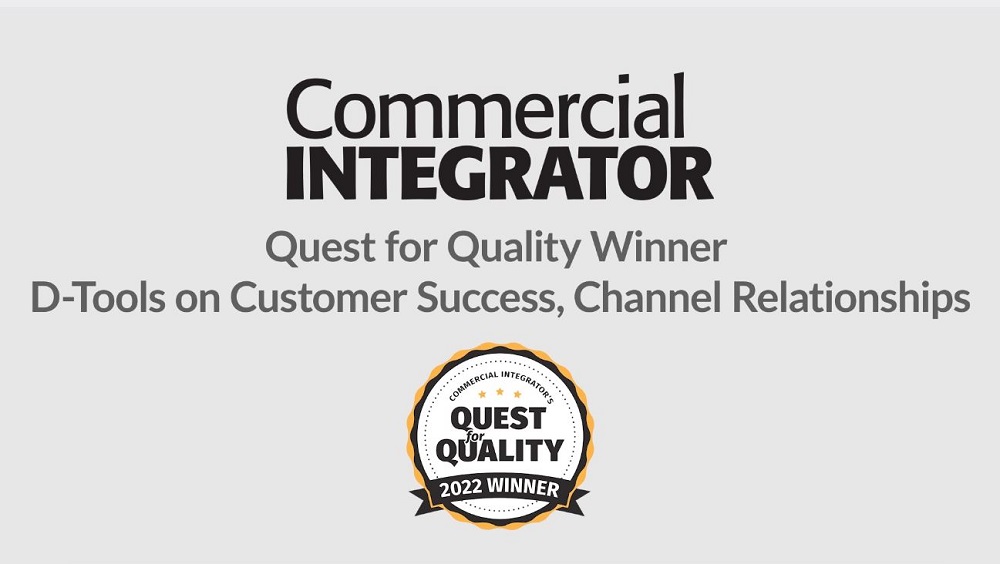 Commercial Integrator  created the Quest for Quality Awards to celebrate manufacturers and distributors that exceed expectations and push beyond boundaries to serve their integrator partners well. Given that mission, a Quest for Quality Award recognizes not only the organization but also every tech-support person, sales-support professional, website creator, customer-service rep and warehouse worker who powers the winning company. 
This year, D-Tools earned a Quest for Quality Award by attracting the most integrator votes in the Best Manufacturer – Customer Service/General Communication category. Randy Stearns, CEO of D-Tools, issued the following statement upon learning of his company's Quest for Quality Award win: 
It is an honor to be recognized for Best Customer Service in the inaugural CI Quest for Quality Awards. Over the past seven years, D-Tools has made significant investments in our customer success team, tools and processes, with a goal of helping our customers run better businesses through optimizing the use of our software. Being selected by industry peers for this award is a tribute to my team's deep sense of caring and commitment to our customers and the CI channel. 
Earlier this month, Dan Ferrisi, editor-in-chief of Commercial Integrator,  caught up with Stearns to allow him to speak expansively on this subject. The video below is their complete interview. 
During the conversation, Stearns shares his thoughts on what a Quest for Quality Award means to D-Tools. He provides insight into D-Tools' ethos that customer success must be the company's primary focus, explaining that, today, nearly 50% of all D-Tools' staff is dedicated to the customer success side of the business. Diving deeper, Stearns also talks about the investments the company has made across its team, training and tools. What's more, he shares aspects of how he personally interacts with customers and retention team members on a daily basis. He closes by explaining a bit about D-Tools' perception of the channel and the stakeholders who compose it. 
Please check back on the Commercial Integrator  website regularly to watch video interviews featuring Quest for Quality Award winners. 
If you enjoyed this article and want to receive more valuable industry content like this, click here to sign up for our digital newsletters!