Rejuvenated DSE Plans Experience-Focused Expo in 2022
DSE 2022—formerly "Digital Signage Expo" but now "Digital Signage Experience"—will emanate from Las Vegas between March 22 and 24.
Leave a Comment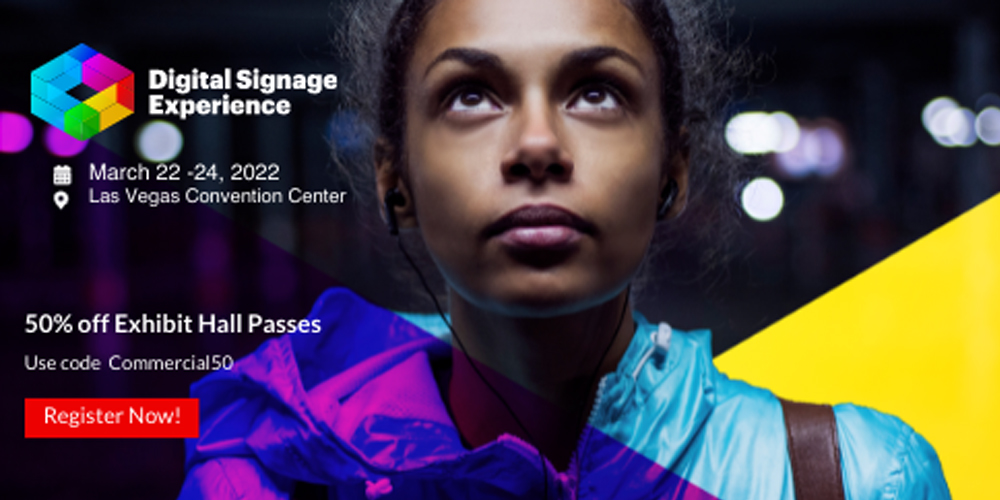 Sony Electronics, Peerless-AV among the DSE 2022 exhibitors ushering in Questex's investment in the digital signage community.
With many industry organizations once again staging trade shows, we're starting to see in-person events return to our calendars. One such event is DSE 2022—formerly "Digital Signage Expo" but now "Digital Signage Experience"—which will emanate from Las Vegas between March 22 and 24. Given the strength and vibrancy of the digital signage community, many were saddened when the old DSE announced its permanent cancellation in 2020 during the first months of the COVID-19 pandemic.
Next March's event represents not only a rebirth but also a reimagining, the culmination of Questex's acquisition of all the key DSE properties from former owner Exponation LLC. Commercial Integrator speaks to Questex's Marian Sandberg, vice president and market leader for DSE, and Brad Gleeson, executive producer of DSE, to learn more about how they plan to add value to the community, serve exhibitors and grow to new heights.
DSE is Back
Asked first about the value that Questex saw in reviving DSE, Sandberg cites the organization's nonoverlapping—but nonetheless related—experience with technology shows like LDI. "We saw this as a huge opportunity to grow our portfolio at Questex," she says. Sandberg also mentions the organization's ability to leverage internal lists, contacts and media properties to add value to the DSE brand.
In fact, she says, those assets could help Questex reach perhaps 200,000 end users. Even while underscoring that DSE will maintain its dedication to the integrator channel, Sandberg adds, "We feel we can build on the experience for exhibitors by bringing in more end users." The goal, she explains, is to ensure a more robust user base. According to Gleeson, "It got to be to the point where, frankly, there were no real end-user buyers at [DSE]. Not enough for the exhibitors to feel like they were doing anything but speaking to the choir." This March, that will change.
The team behind the newly reimagined DSE enters the marketplace with humility, welcoming guidance from stakeholders about what makes the experience worth reviving. "The first thing I did was reach out to folks in the industry and ask, 'Does the world need DSE again?'" Gleeson says candidly. He hastens to add that he found overwhelming support.
One of the reasons is likely that, although digital signage spans many applications and venue verticals, there's a unifying commonality in the technology and the people. "That creates a certain amount of passion and interest," Gleeson observes. That passion made it essential for DSE to stay close to the grassroots of the digital signage community. "With the help of Marian and Questex, we put together an advisory board with people from inside the industry, from adjacent verticals and from user groups," he adds. The board is tasked with identifying what people loved about the old DSE, how to amp those things up and how to fix what wasn't working well.
It's worth underscoring that the new DSE stands for "Digital Signage Experience," and that name change isn't just about marketing; it actually reflects the fact that these technologies and media applications are much broader than the term "digital sign" could convey. "We wanted to reflect the fact that this technology really impacts the user experience," Gleeson explains.
"It affects how people go through the world." Thus, changing the letter "E" to "Experience" illustrates show organizers' commitment to experiential marketing. He says, "At the end of the day, the customer's not buying an LCD screen. What they're buying is the experience that the customer gets from the content, the enclosure and the environment." But even as the Questex team seeks to find broader ways for people to participate and exhibit, it also wanted to maintain a sense of continuity and to capitalize on existing brand cache. Thus, the DSE acronym remains.
DSE 2022 Keynotes, Education
Sandberg's confidence in the quality of the keynotes and education sessions that DSE will offer rests in the exceptional experience curators that Questex has secured. She mentions industry luminary David Drain, Director, Event Programs, for DSE, who is spearheading the show's content. "We're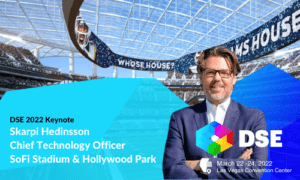 trying to lead with great content," Sandberg emphasizes, adding that Drain's strength is curating wonderful conference programs.
She also reflects on the value that Gleeson brings to the table. "Having someone like Brad on board was a clear win for us," Sandberg enthuses, citing his experience in the industry and with the show itself. This world-class team has already lined up two keynoters— media artist and director Refik Anadol and Skarpi Hedinsson, CTO with SoFi Stadium and Hollywood Park—and a third will be named imminently. Much of the agenda is already online and available for perusal.
In keeping with the organizers' humility in reviving the DSE brand, they approached stakeholders in earnest to find out what they wanted from the show. According to Gleeson, one common theme emerged: a distaste for panels, keynotes and presentations being linked directly to the purchase of show-floor booth space. Relating the sentiment he heard, Gleeson sums up by saying, "We don't want more sales pitches from exhibitors who spent the most on their biggest booth."
Instead, he says, stakeholders want the conference program to be educational and inspiring, featuring content that attendees haven't consumed before. This ethos, which reflects Commercial Integrator's own mission of helping integrators run their businesses better, will suffuse the conference program, Gleeson says, citing as an example a hypothetical presentation about ROI for anamorphic displays. "The idea," he concludes, "is that they have to have a meaningful level of educational or inspirational content to make the cut."
Who's In?
The marquee names that have already signed on for DSE's revival bespeak not only its existing brand equity but also the community's confidence in show organizers. Sony Electronics, for example, has taken on the presenting sponsorship, which is DSE's uppermost sponsor position. "[Sony's] Rich Ventura is on our advisory board," Gleeson remarks. "They've really stepped forward and committed to helping us create a much stronger show."
Other household names in the digital signage community that have signed on to participate in DSE include Peerless-AV, BrightSign, Navori and TSItouch. What's more, show organizers have struck partnerships with likeminded organizations like the Out of Home Advertising Association of America (OAAA), DPAA, the Digital Signage Federation (DSF) and the Society for Experiential Graphic Design (SEGD). Those partnerships will not only enhance the conference program but also act as a beacon to draw community stakeholders.
Related: Rebranded DSE Signs Sony As Presenting Sponsor
When attendees get to the Las Vegas Convention Center, they'll find a much more equitable show floor that encourages attendees to traverse every aisle. Formerly, Gleeson acknowledges, all the big exhibitors were up front and everybody else was in a far less trafficked location. Emphasizing that that will change, he states, "We laid things out so that there's reason for people to go deeper into the show floor—both to see key exhibitors and to experience things like the keynotes." To that end, the team is planning an area called "Central Park," located in the middle of the show floor, which will be a prime gathering spot throughout DSE. This aligns with the show's raison d'être, which, as Sandberg describes it, is "really about getting the right buyers in front of our customers, and our customers' customers." Democratizing the show floor will advance that goal for the entire exhibitor community.
DSE 2022 Extracurricular Activities
DSE was known throughout the industry as home to amazing parties and networking events. Happily, Sandberg and Gleeson confirm that the reimagined show will include a robust schedule of afterhours gatherings. "We're going to have an opening night mixer on Tuesday, the first night of the show," Gleeson says. "And, on Wednesday, we're planning to have an awards presentation." Complementarily, DSE 2022 organizers expect the customary Dave Haynes 16:9 mixer, an Experience United Social Club (XUSC) event and, excitingly for those who've attended before, the annual Peerless-AV party. "We'll have lots of afterhours networking opportunities during the show," Gleeson promises, reinforcing one of the key differentiators of in-person events.
Asked whether DSE would stay in Las Vegas for the long term, Sandberg, citing parallel data about LDI show performance, indicates that remains the plan. However, importantly, show organizers do not intend simply to produce one annual event for the community. They're planning to announce
smaller, invitational, boutique-type breakout events in the months upcoming. Some of those might leverage DSE's tight partnerships with the OAAA, DPAA, the DSF and the SEGD.
According to Gleeson, "Where we can do cooperative, collaborative things—where we can cohost events and things of that sort—we're going to do that." Sandberg adds, "This will keep us in front of people all year round." With the flagship show in March, the Questex team will have an opportunity to let community members know what they stand for, thus laying a firm foundation for a constellation of future events.
And what the new DSE's organizers stand for is embracing digital signage, investing in its practitioners and contributing meaningfully to their success. "We want this community to understand that we're seeking to maintain and improve the community," Sandberg underscores. Although Questex is very familiar with how to run shows, Sandberg says the organization doesn't want to be perceived as some corporate entity just swooping into a tight-knit, passion-fueled market segment.
"We know how to produce a show," she acknowledges, "but we want to make sure we produce it right for this group." Gleeson says the organizers' key objective is to understand what will make this type of event valuable to the community in the future—how to make the show better. "We're not in it for the money," he says. "We're in it to lay a foundation for the future."
If you enjoyed this article and want to receive more valuable industry content like this, click here to sign up for our digital newsletters!