SAVI Controls Rolls Out SAVI 3.3 for Integrators and End Users
The latest software update features new dealer and customer features to simplify programming and end-user management of commercial AV systems.
Leave a Comment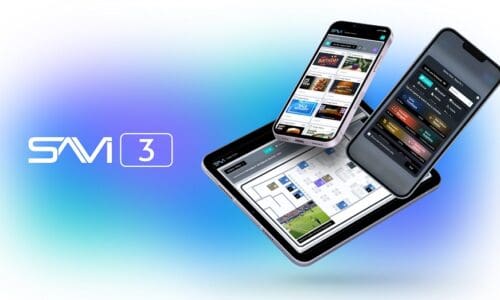 SAVI Controls, designer and manufacturer of commercial AV control, automation and management solutions, released the latest advancement to the SAVI 3 platform – SAVI 3.3. This advancement offers increased value to integrators and end users alike.
Per the Carrollton, Texas-based company, the SAVI 3.3 allows dealers to win more bids with built-in, zero-programming tools. These tools also deliver unprecedented simplicity and control of content distribution for customers. Additionally, SAVI 3.3 features save business owners time and money with visual system control, dynamic sports programming views, and intuitive and customizable content distribution.
Key Features
SAVI Controls deems the platform as the AV platform of choice for family entertainment centers, bars and restaurants. These include Taco Mac, Chicken N Pickle, Dave & Buster's, Topgolf and WinStar World Casino. In fact, these flagship customers emerged as the inspiration behind three starring features of SAVI 3.3. The features are as follows:
Map View is a turnkey, no-code feature delivering a holistic and bird's eye view of an entire AV system. It is thus suitable for a neighborhood sports bar or a professional sports stadium with thousands of endpoints. Here, integrators can generate venue maps in seconds. To do so, they simply upload a floor plan and dropp in the project with SAVI Creator. They thus provide business owners with a cost-effective, visually intuitive tool for controlling, managing and automating their AV.
SAVI Show is a media database that puts content creation, distribution and management into the hands of everyday users. It simplifies every step, from basic signage to custom layouts. Thus, businesses can deliver personalized and customized content across all displays in seconds. Moreover, they can do so without incurring the expense of an additional digital signage platform.
Game View is accessible from a phone, tablet or computer. This feature aggregates current and future sporting event data into a simple, intuitive and elegant view. Game View's visually informative schedule, complete with team logos, colors and program data, makes it easy and fun to fulfill any fan's fantasy, any time.
Eliminating Complexity
"SAVI is always evolving to support the needs of our customers, but our mission — to radically simplify commercial AV for dealers and business owners — will never change," SAVI's CEO, John Dorsey, says. "Historically, tools like Map View, Game View and SAVI Show were a costly, bespoke and time-intensive endeavor for both the dealer and end user."
He continues, "Now, integrators can offer innovative and critical features in ground-breaking time while empowering businesses with unparalleled control and custom-content capabilities without the added expense of complex signage solutions."
Value-Added Proposition
Per a statement, pre-release customer feedback reinforces SAVI 3.3's value proposition for the end user. For businesses, it is now easier than ever to do the following:
Upload content from your phone, tablet or computer and distribute the imagery to any display in seconds
Create slideshows with settings for transitions, sort order and intervals directly in SAVI show
Create personalized experiences for guests; take a customer's photos and deploy them to any display for events like engagements, birthdays, and more
Get more out of your displays than just TV — showcase a sports game, a happy hour special and even sell ad space on a single display
Quickly fulfill a customer programming request by selecting endpoints based on a physical location rather than memorizing device names
Eliminate remotes and searching through programming lineups; filter to see new or replayed games by sport or search in Game View for a specific team
Prepare for your daily rush or the Final Four by scheduling games in advance
Also Read: Change is Coming: The Software Revolution
Ryan Sowa, president and co-founder of commercial AV company Just Press Play, calls the selling power of SAVI truly remarkable. He notes, "With SAVI's array of out-of-the-box, no-code features like Map View, Game View and SAVI Show, clients have been able to drastically streamline their AV solutions for a fraction of the typical cost. Our customers not only realized significant savings but discovered their potential to draw profit from their AV system."
"In fact, following an incredibly successful first deployment of SAVI 3.3, we are rolling out 19 more SAVI projects with the same investment group," Sowa concludes.