A Sneak Peek at InfoComm 2023
InfoComm's showrunner provides a comprehensive breakdown of what attendees can expect to see on the show floor and beyond.
Leave a Comment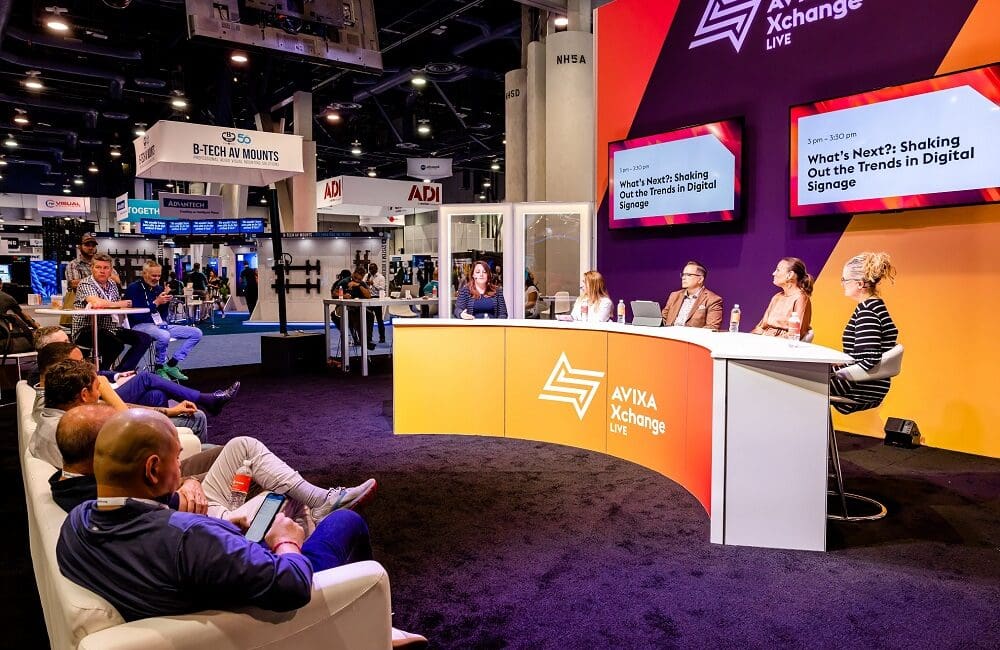 InfoComm, the large, commercial AV-focused technology exhibition, is back from June 14 through June 16 at the Orange County Convention Center in Orlando, Fla. And InfoComm 2023 is anticipated to be even bigger and better than before! 
To give attendees an idea of what to expect from the show, Commercial Integrator sits down with Rochelle Richardson, senior vice president of expositions and event services for AVIXA, the association that produces InfoComm. Along with expanding on her expectations for InfoComm 2023, Richardson dives into the various education opportunities, trade-show experiences and DEI initiatives that will be presented during the packed, three-day event. 
Emphasis on Education
According to Richardson, one of the most interesting aspects of the upcoming InfoComm show will be its emphasis on partnerships and education. "We announced our partnership with the Higher Education Technology Managers Alliance (HETMA) with the purpose of bringing a wide range of higher-education opportunities for attendees," she begins. "We've always supported HETMA, and they have had a great presence at InfoComm." Richardson notes that this is the first time that InfoComm has partnered with the association in a prominent manner. "AV continues to play a vital, central role in higher education at the university level," she reasons. "So, we wanted to bring together technology managers in the [InfoComm] space with other key stakeholders." 
By leveraging the partnership, Richardson hopes to provide an exceptional learning environment. She reveals that, before the grand opening of the show, the Higher Education Summit will be presented on June 13. "It's a half-day program that talks about AV/IT challenges faced in colleges and universities," Richardson adds. "It allows us to focus on the structure of a typical project lifecycle — from inception all the way through the design, installation, support and how individuals work on the projects." According to Richardson, there will also be opportunities for breakout groups to discuss best practices in higher-education spaces. "We aim to provide a very comprehensive and hands-on experience," she enthuses. 
Richardson takes a moment to commend HETMA's founder and president, Joe Way, for being one of the main facilitators of the partnership. Way also serves as the director of learning environments at the University of Southern California (USC). "Joe was a big catalyst and advocate, along with a couple of the other industry experts, in putting this together," she acknowledges. "They have helped curate trade-show tours around higher education and set up education spaces for technology managers." What's more, HETMA will have its own booth at the InfoComm show floor this year. Richardson explains, "This booth space will allow higher-education technology managers to come together." In addition, there will be a classroom and conference room set up in the booth area, as well as an event space. "All of this, of course, has gone through the rigorous HETMA approval program," she proclaims. 
But that's not all there is to offer. Richardson adds that, in addition, there will be rigorous training courses, which will take place from June 10 through June 12, leading up to the big show. "This is where we provide prep courses for the CTS, CTS-I and CTS-D exams," she notes. "We will also have in-depth training for technical professionals on topics like networked AV systems and AV signal transport."
For more Commercial Integrator coverage of InfoComm 2023 in Orlando, click here.
Centralized Focus on Partnerships
Richardson underscores the importance of partnerships to provide an engaging InfoComm experience. "I'm very pleased with our partnerships this year," she enthuses. "In fact, we've partnered with DSF (the Digital Signage Federation) in a big way to promote all things digital signage." The partnership with DSF, Richardson adds, has now entered its third year. "We first collaborated in 2020, where we had to pivot and go online," she recalls. "However, since 2021, we've worked to deliver the in-person D=SIGN conference for attendees." Again, this year, there will be a DSF booth on the show floor where all professionals in the digital-signage space can connect and continue the discussion around digital signage and its evolution. "Alongside this," Richardson notes, "there will also be expert-led tours in the digital-signage space on our trade-show floor."
Another major collaboration involves a half-day education program created in partnership with NSCA. The program will center on the business side of commercial AV. "This program highlights thought-leadership discussions on running successful AV-integration programs [involving everything from] finance to project management," Richardson states. "Individuals will also have the opportunity to take courses around finance and managing cash, as well as targeting profitable projects. These are all great programs, and we cannot wait for attendees to experience them," she enthuses.
Next, Richardson reveals that InfoComm has partnered with the AV User Group for a hosted-buyer program. "We will have around 35 to 60 end users in collaboration with the AV User Group who will get to see exhibitors presenting new products," she adds. Richardson highlights the importance of this collaboration for showcasing featured products, remarking, "This will also be a great opportunity for our exhibitors, as it is a very specific audience."
Summing things up, Richardson stresses that AVIXA has cultivated these partnerships not only to reflect the entire AV ecosystem but also to ensure that there are programs of interest to the thousands of attendees who will converge on InfoComm 2023 in Orlando.
Fusion of Art and Technology
"I'm very excited to introduce InfoComm attendees to our two immersive activation areas, made in collaboration with one of the largest content creators, as well as renowned manufacturer brands," Richardson enthuses. "These experiences will showcase technology at its best!"
According to Richardson, the Interactive Experience booth, created by Moment Factory and powered by Nanolumens, is a one-of-a-kind fusion of art and technology. The installation features a range of interactive displays that respond to movements of and gestures from visitors, creating a truly personalized experience. "I can promise that attendees will not be disappointed by what they will experience [at InfoComm]," Richardson pledges.
In addition to this, the event will provide technology updates and highlight emerging trends. The hub for this will be the Technology Innovation stage. There, Jamie Reilly, general manager of Moment Factory events and USA, will be interviewed by Dorothy Di Stefano, founder/director of Molten Immersive Art. They'll discuss the studio's vision for creating immersive experiences. Richardson attests that these experiences are a must-see for attendees. She remarks, "As a show organizer, [we have] the idea to create a forum that connects people together, and we use technology as the catalyst to achieve that." In Richardson's opinion, if AVIXA provides immersive experiences, InfoComm 2023 attendees can engage with the visuals and audio, while engaging with the emotional side of it.
For Richardson, another memorable aspect of InfoComm has always been the integrated experience tours and this year will be no different. She reveals, "We have tours taking place at Full Sail University, the University of Central Florida and even one at Disney." Richardson states that, although those tours will be outside the convention center, the trade-show floor will also have curated solution-area tours. "Along with the higher-education tours, we also have conferencing, collaboration and digital-signage tours for attendees to explore during the show," she says.
Richardson expresses her mounting excitement as the show draws closer to its launch date. She comments, "At this time, we have over 670 world-renowned companies and brands that will be represented at InfoComm 2023, and I'm excited about each and every one of them!"
Encouraging Global Discussions with Congreso AVIXA

Congreso AVIXA was created as a response to the suspension of live events during COVID-19, and the continuous need for learning, sharing and networking in the commercial AV industry in Latin America. We've hosted five virtual editions of Congreso AVIXA so far. In fact, our event in October 2022 drew an impressive audience of 5,240 attendees, with 60 experts sharing their knowledge.

Congreso AVIXA, presented in Spanish, will make its in-person debut at InfoComm 2023 on Tuesday, June 13. Here, AVIXA's education, expo and Latin America (LatAm) teams have collaborated to provide a platform for AV professionals in Latin America to exchange ideas and stay up to date on the latest industry trends. The debut of the in-person event this year is an exciting milestone. We will be sharing practical strategies and insights to help attendees succeed in the ever-changing AV landscape. We are confident that the in-person debut of Congreso AVIXA will be a valuable and memorable experience for all who attend.

Rodrigo Casassus Coke, senior director of Latin America and Caribbean, AVIXA. 
Amplifying DEI Perspectives
Richardson extends her excitement to the much-anticipated AVIXA Diversity Council sessions and the AVIXA Women's Council Breakfast. "Diversity, equity and inclusion is — as I like to say — our DNA at AVIXA," she underscores. "We will be presenting sessions that spotlight the gender gap relative to pay compensation and the importance of DEI in the workspace." Additionally, Richardson says, at InfoComm 2023, AVIXA will continue "Pass the Mic," initiative where speakers are encouraged to invite others as presenters for programs. "From our speaker sessions to the panelist lineup, we hope to showcase diversity across all our stages," she declares.
Discussing the AVIXA Women's Council Breakfast, Richardson states, "This is probably one of our largest and most successful events consistently, year every year." She reiterates that the event is open to all — not just to women. "We try to foster an inclusive environment, and, so, we encourage everyone to attend and partake in addressing the challenges facing our industry professionals," Richardson explains. This year's keynote speaker, Dr. Tarika Barrett, is CEO of Girls Who Code. As part of the session, Barrett will spotlight the transformative power of learning spaces for women to innovate and envision themselves as leaders and equals in their respective fields. "With this topic, we're looking to bring awareness for the next generation, as well as [to provide] greater visibility for women in our industry," Richardson adds.
For Richardson, DEI also includes fostering a sense of belonging for all AV professionals. She points to the formation of AVIXA Xchange, the 24/7/365 online community platform that has allowed for more open dialogue on various topics pertaining to the AV industry. Richardson adds, "The AVIXA Xchange Live at InfoComm brings these [online] conversations to cohorts so that they can continue them in person." From her perspective, the in-person event enhances the dynamics among the different attendees and sparks deeper engagement within the community. "I'm an advocate for the in-person experience, and I look forward to the new connections, as well as the direction of topics that will take place in this forum," she says.
Overall, Richardson emphasizes the fact that there is a lot of ground to cover at InfoComm 2023. "We've tried to make sure there's something for everyone who will be at the show," she enthuses. Richardson further opines that, as we continue to come out of the pandemic, there's increased demand for gaining new education, experiencing innovative products, and connecting with peers and other industry professionals. "People are looking to get reconnected and be part of something big again," she concludes. "And that is what we aim to give to every single person who attends InfoComm 2023."
If you enjoyed this article and want to receive more valuable industry content like this, click here to sign up for our digital newsletters!