The LED Studio Launches AEGIS Pro, Solar-Assisted Outdoor Display
Launching at ISE 2023, the AEGIS Pro is a narrow-pitch outdoor-LED display with an attachable solar panel and unique fully waterproof exterior.
Leave a Comment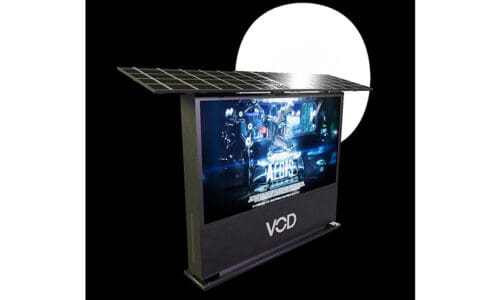 The LED Studio announced it will launch its AEGIS Pro narrow-pitch outdoor LED display with an attachable solar panel at ISE at manufacturing partner VOD Visual's booth.
The AEGIS Pro 130-inch outdoor-kiosk solution is the first outdoor-narrow-pitch LED display to feature a unique fully waterproof exterior. Per a statement, it also requires no additional glass casing. The solar panel can mount on top of the display and has a battery pack capacity of 20AH. This can achieve full charge in approximately 2.5 hours in the appropriate lighting conditions of six hours or more a day.
When running at 220V, the AEGIS Pro kiosk average power consumption is 1140W, at an average current of 5.2A. In these conditions, the 20AH battery provides roughly 3.85 hours of power from full charge and up to nine hours in high bright conditions. Under 24/7 operation conditions, this can save 38.5% of energy per week.
These savings are in addition to the fact that the AEGIS Pro already features a sustainable design to consume up to 40% less power consumption compared to traditional outdoor LED display technologies. This makes it not only more energy efficient but maximizes ROI over the product lifetime. What's more, it is better for the environment.
Championing Sustainability
Rob Bint, CEO at The LED Studio explains, "Sustainability is inherent in everything we do. The demand for green technology and digital signage solutions has risen astronomically; and with the rising cost of energy, efficiency and total cost of ownership are more important than ever."
He continues, "All our new products feature energy-efficient design and manufacturing processes, compact shipping, logistical solutions, smart operations, or futureproofing to reduce waste by reusing as many components as possible."
Looking to Lower Video Wall Costs and Increase Sustainability?
Read Our New Guide!
The AEGIS Pro design enables quick installation, says the company. It thus has everything needed to get the display up and running included in the box. The all-in-one nature of the kiosk means it doesn't require any additional components. It also does not require any streamlining and simplifying operations. Additionally, The LED Studio can supply integrated CMS functionality. Alternatively, it is also compatible with all leading CMS platforms including Scala and BrightSign.
The AEGIS Pro has been crafted to cater for close and far observing audiences, available in low pixel pitches of 1.5mm, 1.8mm and 2.5mm. It is also available in landscape or portrait orientations. This provides a sustainable option for replacing existing outdoor LED or LCD screens, including digital six sheets and bus stop signage. As a result, it opens up new opportunities for DOOH advertising locations.