VuWall Launches VuStream 550 All-in-One SDVoE Encoder/Decoder
VuWall's new VuStream 550 SDVoE appliance offers new features and capabilities to fit evolving application requirements.
Leave a Comment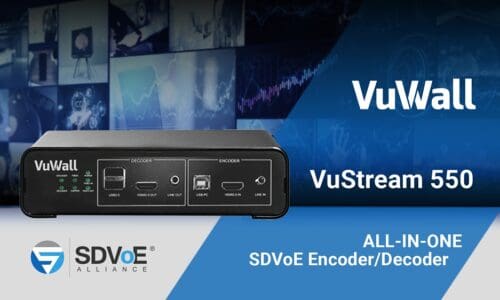 VuWall, prominent in videowall control systems and unified-visualization solutions, announced the release of its new VuStream 550 all-in-one SDVoE encoder/decoder appliance. Per the Montreal-based company, the device distributes 4K60 video and audio over standard 10Gb IP network switches with no latency. The VuStream 550 also provides an ultra-scalable, easy-to-deploy, highly reliable solution for incredible flexibility in system design and workflows.
"Equipment obsolescence is a common concern of any IP-based visualization application, preventing operators from being able to keep up with evolving requirements and access the systems they need. This is why we are dedicated to continuous improvement for all our devices," says Mark Schmidt, chief technology officer of VuWall. "The new VuStream 550 ensures that every possible facet of performance and flexibility is exceeded for smooth content distribution, control and management for years to come."
Improved Flexibility and Compatibility
Fully SDVoE compatible, users can configure VuWall's VuStream 550 all-in-one compact device as an encoder or decoder. Thus, it can function as a receiver or a transmitter. With this, it can provide incredible flexibility in system design and workflows, says the company.
The VuStream 550's configuration includes copper or fiber cable infrastructures and features one HDMI output. This also functions as local monitor output in Transmitter Mode. Moreover, the unit can power directly when connected through a 10-Gigabit Ethernet (10GbE) switch that provides PoE (802.3at).
Also Read: PSNI Global Alliance Welcomes VuWall to Global PVP Lineup
It also features an SFP plug connection for fiber and offers bi-directional IR, RS-232, and Ethernet extension. In addition to two USB 2.0 ports, it supports a special Simultaneous Mode for USB extension. This allows a host connected to a single transceiver to connect to up to seven transceivers with USB devices connected.
Users can configure and manage all VuStream 550 appliances by using VuWall's TRx videowall-management platform. The platform now features Multiview, USB routing, HDCP 2.2 support and 4K60 on SDVoE stitched videowalls. Thus, it is ideal for high-performance, zero-latency applications on 10G networks.
Check more of the latest products from VuWall on Commercial Integrator's sister-site AV-iQ here.