WAVIT to Offer Star Wars-Inspired DEI Panel at cavlo
WAVIT will present "May the Force of Diversity, Equity, and Inclusion be with You: Lessons from Star Wars" at the cavlo trade show on May 4.
Leave a Comment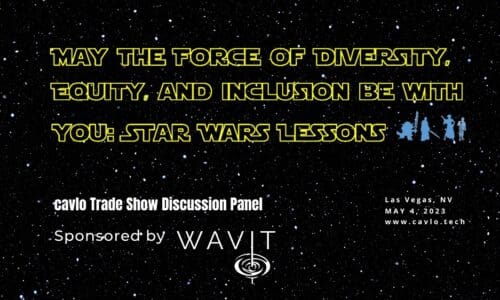 Women in AV/IT (WAVIT), the nonprofit organization dedicated to supporting and empowering women in the AV and IT industries, will sponsor and present a Star Wars-inspired discussion panel at the cavlo trade show on May 4, 2023.
May 4 is universally acknowledged as Star Wars Day, says WAVIT. The DEI session will thus be called "May the Force of Diversity, Equity, and Inclusion Be with You: Lessons from Star Wars." The panel at cavlo will feature WAVIT Board members and founders. These include Gina Sansivero, Susan Wilhite and Brandy Alvarado-Miranda.
Lessons From Star Wars
"I am a self-proclaimed Star Wars nerd; and there are many lessons in DEI we can learn from the franchise," says Alvarado-Miranda, CEO of BAM! Marketing & PR Agency.
She then adds, "Some of the ideas we'll discuss embody themes we see in Star Wars: saving our galaxy (industry) and using the Force for good (equity); complex characters from many different perspectives (diversity); and women in key leadership roles such as Princess Leia, Queen Amadala, Ahsoka Tano, Rey Skywalker, etc. We'd love for people to join this epic discussion at cavlo on Star Wars Day!"
Also Read: WAVIT Partners With #GALSNGEAR
The cavlo show marks the first time WAVIT, launched in January, will exhibit at a trade show. "A huge part of our mission is to enrich, educate, inspire and empower women in tech," says Sansivero, VP of marketing and corporate communications, AtlasIED. Sansivero is also president of the WAVIT Board.
She then continues, "Exhibiting at cavlo will allow us to meet potential new members; and give our current members a place to connect with each other face to face."
The cavlo trade show will take place at the Orleans Hotel & Casino in Las Vegas, Nev.
If you enjoyed this article and want to receive more valuable industry content like this, click here to sign up for our digital newsletters!