AV+ April 30th, 2021
In this episode of AV+ we have Alan Brawn on to discuss Digital Signage Certification Week.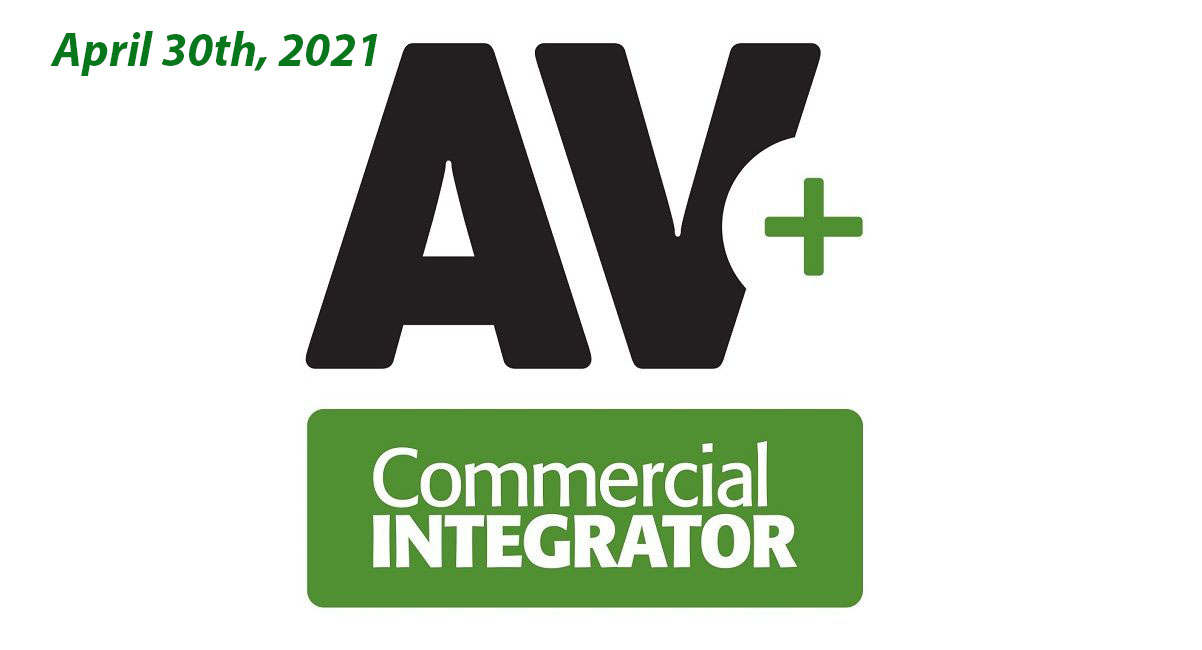 Listen to this podcast using the embedded player below.
Watch the video version of this week's podcast:
On this week's episode of AV+:
This week's guest is Alan Brawn, a long time figure in the AV industry especially in terms of digital signage education. We're having Alan on to discuss a new venture from the Digital Signage Federation and the Digital Signage Experts Group. Digital Signage Certification Week will take place from June 22-24 and will involve credentialing and professional development in digital signage and experiential technologies.
TRANSCRIPTION:
Hello and welcome to AV plus your weekly news show of all things integration. My name is Jonathan Blackwood, editorial director of commercial integrator and my tech decisions and I am your host.
Before we get started with this week's episode of AV plus a quick word from this week's sponsor viewsonic Seeing is believing with view Sonics innovative all in one direct view LED displays with huge screen sizes up to 216 inches. These displays make a sizable impression in any lobby, boardroom or conference from or a large venue boasting stunning video wall images in full HD resolution. They're easy to set up with only two people in less than two hours, easy to calibrate, easy to maintain, and easy to collaborate and wirelessly share content compared to a customized video wall with larger than life images and simple setup viewsonic direct view LED displays are cost effective all in one alternative to traditional video walls, find out more and see the difference@viewsonic.com first up today's headlines. Women are advancing in STEM industries but the gender gap remains. Women make up only 28% of the workforce in science, technology, engineering and math and men outnumber women majoring in most stem undergraduate majors according to a recent survey of xo women's council chair women brandy Alvarado was cautiously optimistic about the strides women made in STEM careers in the past 50 years but knows the work is far from done. I'm happy to see that women have made considerable gains but we still have much work to do to encourage and attract more young women to seek out careers in STEM says Alvarado. In my opinion it needs to start early on in middle school and high school age students. outreach programs that showcase AV and it careers are key and enticing young women into this career path. There is no av 101 course available in college. But building a curriculum and perhaps making it available to tech colleges would be a great opportunity to make additional strides says Alvarado.
A new next gen TV demo shows how journalists can use technology to fight misinformation. The National Association of Broadcasters has partnered with the E w scripts company it consultancy fin cons group and the news literacy project to create a demonstration of how news companies can quote embrace the interactive content opportunities of next gen TV to fight misinformation. The demonstration focuses on how local TV newsrooms can utilize next gen TV also known as ATSC 3.0 to create dynamic and interactive content on important topics like news literacy, helping to combat one of the biggest problems facing our democracy and the media industry. today. misinformation. dnab announcement says TV you media source features rights cleared pool feed of first Biden address to US Congress TV networks is providing a REITs cleared live pool feed and real time clipping service during President Biden's first address to a joint session of Congress on April 28. The US president's first joint address is typically held in February, but extra planning was involved this year because of the coronavirus pandemic and security concerns.
There will be a limited number of lawmakers present during the address because of social distancing requirements and media access will likely be limited. Although the House and Senate press galleries have not finalized those decisions as of today. Distance Learning is cemented as a long term piece of the education puzzle. A recent nsca roundtable discussion during the Alamo e4 virtual event highlighted the ways distance learning has gone from a luxury and recruiting tool at colleges and universities to a necessity at all schools from K through 12. to higher ed. For more here is commercial integrator editor at large Craig McCormack, distance learning has gone from a recruiting tool for some of the most tech savvy colleges and universities to a necessary piece of every educational institution from kindergarten all the way through that final walk to grab your diploma at your college campus. What's amazing is that transition happened almost instantly. As soon as the pandemic began, its sweep across the US and around the world. Last spring.
integrators responded quickly last spring and have continued to perfect their methods have they've gotten more experience installing these distance learning systems?
In a recent Alamo e4 evolution virtual roundtable on distance learning nsca is Tom LeBlanc noted that distance learning used to be a cool offering. But over the last year, it's become a mission critical necessity for colleges and universities.
Blank said it's been elevated in a really big way in terms of importance to customers, and as an opportunity for AV integrators at the same
Time, the limitations of distance learning have become exposed and the challenges for integrators have become amplified. Samsung's Thomas Gad boys mentioned that there were a lot of trade schools and higher education institutions that were doing distance learning before the pandemic. But, but there are still plenty of K to 12 schools just doing the basics in terms of their setups right now, even a year later. He says it's all about problem solving, and thinking about how hybrid and asynchronous learning will continue. Gad boys mentioned that it's about getting rid of the problems that exist. And that comes through buy in by administrators. He mentioned not every classroom can be can be rebuilt, and that that synchronization of video and audio is something every integrator can work on.
Forget boys, it's about solving those problems with a complete solution.
Many of the integrators out there were blindsided by how quickly distance learning took effect after the pandemic, and about how big an issue it became. And that came from trucks is Tara novin jener staff had been talking to superintendents and school officials about what they needed and wanted to have a complete distance learning solution put in place. Most of those requests included document cameras and other basics. But many of those gadgets were in short supply, right after the pandemic. Those requests have since been fulfilled, though.
Naveen mentioned that, that she wanted to make sure that trucks and other companies were supporting the school districts because they had a huge burden to bear. She put it the pandemic she said she had a lot of light on the issue of inequity in terms of technology for what students have at home, and what was even available to them at school.
She said a lot of integrators were in what she called panic mode last year, and now it's about thinking about outcomes and training. These days, it's about helping to create the solution.
And many educators have have to plan both in person lesson plans and add home lessons for their students. And they've had to do that for the last year or so. And that that could continue says emos, Rob Vorhees. And he said, the most important thing that integrators and manufacturers and distributors, anybody in AV could do is being able to adapt to the trends.
So we certainly haven't heard the last of distance learning and in fact, it might just be gaining some momentum right now. It's something to certainly keep your eye on and if you're not involved as an integrator right now, in that space, you might want to pursue that. Thank you, Craig. In other news solutions digital signage project increases engagement at California cannabis dispensary solutions. Commercial integrators 2019, integrator of the year recently completed a digital signage and video wall project at a recreational marijuana dispensary in California. The project included multiple two by two video walls and touchscreen kiosks that give the customer information about the variety of products at the dispensary. This project illustrates the opportunity that a growing market could provide for pro AV integrators.
Apple releases a new iPad Pro.
Apple's new iPad Pro has some really advanced camera features including a new ultra wide camera and centerstage feature that uses machine learning to pan and keep the user in frame during a video call. The feature will also work with other video conferencing systems making this another example of where enterprise and consumer tech are meeting to support the hybrid workforce. That's in tech Academy offers military veterans another avenue into tech careers. This program will serve as another avenue to entice military veterans to consider a career in AV and other tech that's in tech Academy, quote raises the bar with focus training, education and employment. The announcement says bringing all training and education services under one umbrella that's in tech Academy broadens veterans training and employment opportunities. That's in tech Academy is made possible through sponsorships from Craig Newmark, philanthropies and DraftKings tech for heroes. quest x acquires digital signage Expo from explanation LLC through bankruptcy deal. quest x bought the brand and will combine it with other recent acquisitions to try to salvage the show and the brand in this flourishing AV segment. Finally, commercial integrator recently profiled CEC, an integration firm that has been around for 75 years and continues to innovate. You can look out for the full article and the May issue of ci, but in the meantime, commercial integrator editors at comio brings us more.
Thanks, Jonathan. I recently had the pleasure of speaking with several executives from communications engineering company, or CEC, a technology integrator
Based in Cedar Rapids, Iowa, they started about 75 years ago as a Motorola two way radio shop, and have morphed into a jack of all trades when it comes to commercial technology. They specialize in AV it fires security, healthcare communications, and they have established business in several markets. But it's really the company's forward looking approach to business, it sets it apart. They recently rolled out a managed services program for which they won a 2020 excellence and Business Award from the nsca. And they operate a very interesting technology steering committee that's tasked with looking at emerging technology and incorporating it into the company's offerings. Here's more from radio metalia is the company's vice president of technology on that committee we've formulated is a technology solutions committee. And so we take a lot of the subject matter experts or technologist within our organization, and we meet once a month, and we review, you know, where do we stand with our current technology partners? And where are they going, they certainly can provide us a lot of information. But we also belong to a lot of technology industry associations. And with that, we get some, some vision as to where, you know, things are going. So we, you know, look at those things. And we evaluate those things. We've developed a technology roadmap, that always is looking two years out that says, Okay, here's a technology that's up and coming, we want to be ready to understand, you know, how it could benefit our customers, when it's going to be ready for market. And then more importantly, we want to get it in and test it for our customers. So, you know, we've got our technology solutions committee, the TSC, but kind of our home base is what we call lab 46. It's our innovation lab. And so aptly named after a year of, you know, when we started in 1946, so lab 46. But within this lab, we've installed our, our different technologies, so we've got,
you know, five equipment racks that all have the various technologies that we install and support for our customers, we've got fire alarm on the back wall, and what we do there, and we've got AV in the room, of course. And so we conduct our meetings out of there, we conduct demonstrations out of there, but we take the different systems, and we integrate them using our IT staff using our development team, we integrate systems together so that they interact. So for instance, if we've got a intercom system that has
you know, an emergency button for like, say active shooter or some other incident, that button could trigger the access control system to lock down all doors. It could also trigger messaging for the for video displays, within the within the school, it could initiate a announcement and announcement over the
public address system. It could also trigger information on the Motorola two way radio system. So that the the forget that the DSR that the
security person, police person on the cat on the school site would get that information and would be able to react accordingly to it. So you know that for us, you know, as a bunch of technologists, when we can tie these things together and make them do things like that. That's what really gets interesting. Back to you, Jonathan. As always, we end this week's episode of AV plus with an interview. Today's guest is Alan Braun, a longtime figure in the AV industry especially in terms of digital signage education. We're having Alan on to discuss a new venture from the digital signage Federation and the digital signage experts group. Digital Signage certification week will take place from June 22 to 24th and will involve credentialing and professional development and digital signage and experiential technologies. Before we get to Alan, though, here are some things to look out for on commercial integrator. Our profile on Art Media Group, a minority owned integration firm run by Eugene bobbio and Giovanni Agra. montay is the first in a new series of articles that aim to highlight diversity in the AV industry, as well as give advice for how integration firms can build a diversity strategy. Look out for that in our may print issue. Our distance learning deep dive also available in our may print issue and available for download on CIA's website discusses the future of K through 12 and higher education distance learning solutions. We also have data from a survey of integrators in our audience about the revenue technology and trends associated with
Distance Learning on May 5 DGI, is sponsoring a commercial integrator and my tech decisions webinar that discusses how real time virtual reality can be used to streamline the design process for integrators, consultants, architects and their customers. attendees can register through the commercial integrator website. Now, let's turn to our interview with Alan brown to discuss more about digital signage certification week.
All right, and we're welcoming on to the AV plus podcast industry veteran Alan Braun of brown consulting. Alan, thank you so much for joining us today. Thank you very much for inviting me. It's an exciting time as we are now getting the benefits of coming out of our long limited pandemic. So good, good to be seen. Good to be heard. Yeah, without a doubt, it's good to see it's good to hear you. I wanted to invite you on today to talk about a new venture. You're very involved in digital signage and with the digital signage Federation, and the digital signage Federation is putting on what is going to be known as digital signage certification week, upcoming in June from the 22nd to the 24th. Can you tell us a little bit about how you came up with the idea for this? And what was the onus for it? Yeah, I sure can. It actually was kind of a cool concept. We all are familiar with the demise of the digital signage Expo. And over the last decade or more, every year, we have participated with our digital signage certification programs at the digital signage Expo. Well, with the postponement, and then the ultimate demise of the digital signage Expo, there was a huge void left it was absolutely avoid. And no matter how much we like these, you know, these video conferences, the zooms the WebEx is the go to meetings, the team's meetings, whatever it is, still doesn't take the place of a live event. And one of the really special things about the digital signage Expo and the digital signage Federation participation in that was the live one on one kind of an experience. So we've all suffered kind of separation anxiety, if you will, you know, from from the live event in a lot of ways, but but certainly in where digital signage is concerned. So Brian Gore, who is the executive director of the digital signage Federation, and I started talking about it last fall. And we said, what are we going to do? How are we going to address this? So fast forward, and we we had been having conversations with a vixa in a vixa is really doing their absolute level best to get more involved in the digital signage community to kind of take the place of what the digital signage Expo was all about. So Brian, and I got to talking about it. We said, Well, you know, we're not going to have our June event for infocomm, which of course, is of x's big annual show, we're not going to have that. So what could we do from a DSF? And a digital signage experts group perspective, what can we do to fill in the blanks. And so Brian actually came up with the idea. And he said, Well, let's do a live webinar, is it as good as a live in person event? No, but it comes as close as you can possibly come. And so we came up with a thought with the new relationship between the digital signage Federation and a vixa. And we thought about the June timeframe work, and we thought this would be ideal. So when we get back in the mode of having the June timeframe work for infocomm, we'll be able to blend in with the digital signage Federation and our certification programs into that kind of a roadmap. So this is our attempt at saying, let's let's do this live, let's do this person to person. And let's do this and the most meaningful way possible as we come out of this pandemic.
Yeah, and as you mentioned, you know, people may be a bit worried about the online aspect of these things, especially when it comes to digital signage and getting certified. So for those wondering, Is this a full certification is this you know, the same or at least the same in terms of what they're going to walk away with and what they're going to learn as if it was a live in person? What are integrators that join digital signage certification? We're going to get out of it. That's actually a good question. You know, and we've known each other for a while, and I have at least somewhat of a reputation in the industry. So I'm not going to throw a lot of flowers at the at the answer. The answer is it is is it as good as a real live in person one on one event? Absolutely not. But is it considerably better than just taking something that's a recording online? You bet it is. So it's somewhere in the middle. Now what makes this special though, is is is really cool. I think how we ended up and by we, I mean, Brian Gord with DSF we work with the people that vixa and
Of course, I said digital signage experts group, we came up with this concept. So instead of doing a full day, we brought we're breaking this up into three different days. So three, three hour segments. The first segment, the first part of it's going to be the digital signage certified expert. And that's going to run three days in the morning. And then for the people who are kind of gluttons for punishment and want to get both certifications, we're going to offer the digital content and media expert in the afternoon running over three days, we're going to take regular breaks, it's going to be live so that we can actually take questions and answers, we're going to have networking events after each of the three days. So it's as close to a live event, as those of us utilizing modern technology, it's going to be as close to a live event as we can possibly make it. And then of course, we're going to record it. So the people who do attend will be able to pick back up and say, oh, okay, and we can go off script. I mean, you and I talk about this all the time, you and I will start into a conversation. And invariably, you and I will get off script, because that's kind of the way I am. And and and we do that in a live presentation where you can't do it in a recording presentation. So is it is good as a pure one on one event? No. Is it really close? We hope to make it that way. Yeah, that that one on one, and that back and forth, that you guys are going to be enabling is so beneficial, especially when it comes to training, there are so many specific questions. I know that you know, a lot of people in our audience are going to either already have these certifications, or be well aware of them. But there are plenty of new integration professionals coming in, there are plenty that maybe haven't gotten the training in quite some time and could use it, can you give just an overview of what these certifications are and what integrators will learn from these, from these courses that you're going to be providing? Well, you kind of give me an opportunity to get on my soapbox a little bit. And and in the in the spirit of tandur, I'm going to say this. Um, what made the digital signage Expo special was that they gave the they gave a home, a place where digital signage, professionals could live. And a vixa. And infocomm has done a great job over the years that getting a home for the AV integration community to live. But they've never really done a great job in totally embracing digital signage as a as a medium. And so over the last five years, maybe some might even say 10 years, that the whole situation is involved where the ad integration community is now adopting digital signage more and more. And now with the kind of cooperation and coordination between a vixa and the digital signage Federation, and the digital signage experts group. We're now going to give a home for the former digital signage community. The interesting thing, and I mentioned Canada, and the thing is digital signage is not like AV, AV and I have almost 40 years as you know, in the ad industry. We sell widgets, we sell displays, we sell mounts, we sell remote control systems and things like that. Well, a vixa has recognized the fact that the AV is more than selling widgets by the change in their name, the ad experience Association. But we still haven't totally come full swing to the point where we understand that word experience. Well, digital signage is all about the experience. Do we use some of the widgets that we sell an ad? Sure we do. We sell displays, we sell mounts, we do those things cables and connectors and networking and all of that. Yes, but digital signage is really about the message. And it's in its its outgrown its original retail origins to the point we become a mainstream communication medium. And so what this does for people who are involved in the AV community, it gives them a look, the certification programs, or the educational programs by the way that the DSF has on their website. It gives them an idea of what digital signage is all about going far beyond the widgets and the technologies and going into the dynamics of content, media, behavior modification experience enhancement. So just like the AV and the IT industry is finally converged after I think I wrote probably 20 articles about that over the turn of the century. Just as that his is now evolved. The AV and the digital signage industry is truly evolving into the experience. AV components, yes, digital signage components, yes, but the real focus is the experience and that's what these certifications provide for somebody the opportunity to learn the business with the DC, DSC, the digital signage, certified expert and the digital content and media expert understanding what content really
Does that's the benefit for people in the AV industry?
And moving forward, what are you hoping that this partnership with a vixa and digital signage certification week? What are you hoping that it turns into, you know, three 510 years down the line?
Actually what I hope for and and I'll get my crystal ball out and, and, and and polish it for you. What I'm hoping for is that the AV community has a presence that goes back to the 1920s 1930s, if you will, you know, with doing with doing integration with doing design with doing engineering and all of that. And the digital signage community has a reputation of being, you know, network operators and content creators and, and more of the, the the soft, touchy feely part of AV is what digital signage is really all about. Again, it's about the message. It's about the objective. Yes, we still screens and mounts, but that's not the focus of digital signage. So over the next few years, I hope that we can seamlessly blend together the AV community and the digital signage community. And I think what's going to happen with this new coordination is new relationship with the DSF. And with the sag, I think what's going to happen is we're going to provide a new home for the digital signage community, and one that we think it's going to be increasingly more comfortable as the years go on. And ultimately, isn't that really what it's all about? We're really trying to expand the concept of integration, design, engineering, and providing the right outcomes for our clients. And that's ultimately what I hope happens over the next three to five years with the vixa, DSF and DC cooperative ventures that we're planning.
Yeah, fantastic. And I also, you know, for those that are looking for continuing education, this certification week will provide CTS units as well. It'll provide the certifications through digital signage Federation, and and the experts group. And I assume anyone who wants to learn more about it or wants to register, head over to the websites to do so. Absolutely. We can post online, the the link to register, but if anybody has any questions, by all means, Alan at Braun consulting.com, send me a note or send Brian gorget, the DSF a note and we'll be happy to answer any questions that anybody has. Well, if anyone has any questions about it, or is interested in all I highly encourage you to reach out, check it out, register for it, it's going to be a really great week with a lot of great one to one and, and back and forth education. So I won't be attending because I'm not an integrator, but I wish that I could, I highly encourage everyone in the audience to do so. Alan brown of brown consulting. Thank you so much for joining us on AV plus this week. Thanks much for giving me the opportunity to preach the gospel of digital signage once again, anytime.
Great stuff from Alan there and we thank him for joining us as a reminder, digital signage certification week will take place from June 22 through the 24th If you'd like to learn more about any of the stories we discussed today, please make sure to head to commercial integrator comm where you'll find not only these in depth stories, but also much more information to help you grow as integrators as well as grow your firms. My name is Jonathan Blackwood, editorial director of commercial integrator and my tech decisions they for watching AV plus for the week of April 3
If you enjoyed this podcast and want to receive more valuable industry content like this, click here to sign up for our digital newsletters!