Just Add Power to Showcase AVoIP Solutions at InfoComm 2022
Just Add Power will show MaxColor 4K UHD distribution platform, ST1 Sound Transceiver, Matrix Programmer Software and more at InfoComm 2022.
Leave a Comment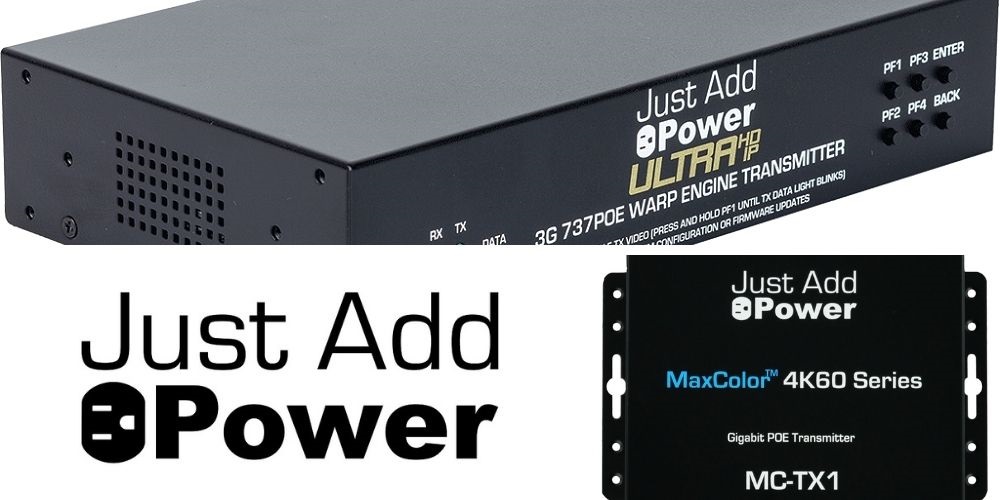 Just Add Power, the Seminole, Fla.-based AV-over-IP distribution provider announced its product lineup for InfoComm 2022 in Las Vegas. At booth N2473, the company will show its new MaxColor 4K60 transmitter and receiver series, its 2GΩ/3G ST1 sound transceiver, new KVM field-modifiable transmitters, Advanced Matrix Programmer (AMP) software for multicast and VLAN switching systems, and Warp Engine transmitter for creative videowall deployments.
"We're excited to return to the InfoComm show to share the latest launches with our pro AV partners and the industry," says Taft Stricklin, sales team manager at Just Add Power. "Coming off a hugely successful ISE 2022 show in Barcelona, Just Add Power is building our product offerings to bring customers as much flexibility, reliability, and innovation as possible to create new exciting systems and scale their legacy systems to new heights. As an added bonus, all the product we'll have on the InfoComm floor is in stock and ready to ship, ensuring that projects can stay on schedule and on budget."
Just Add Power's MaxColor 4K60 Series transmitter and receiver provide integrators with an affordable and scalable 4K UHD distribution platform to support today's 4K source content natively with high frame rates over existing network infrastructures.
MaxColor 4K60 offers video at 36-bit color and true 4:4:4 chroma that can be distributed over existing Cat5/Cat6 cable, eliminating the expense of upgrading to fiber and buying costly network switches.
The series delivers instant, seamless switching, 4K up- and downscaling and HDR management, while supporting all lossless audio formats and HDR10, HLG, and Dolby Vision for the best viewing experience. Additional features include image pop, push, pull and integrated control.
Just Add Power's ST1 Sound Transceiver at InfoComm
Functioning as an input or output, Just Add Power's ST1 is an audio-only component that allows integrators to add a stereo audio source easily to any Just Add Power system, or to extract stereo audio from an existing transmitter. Any audio source with an analog audio out — a TV, Sonos amp, CD player, microphone and more — can be connected and played on any receiver.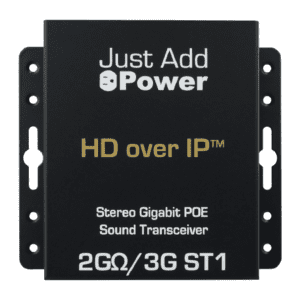 As an audio output, the transceiver can play any stereo audio content from any Just Add Power device, while providing variable audio control. This allows for unique functionality, such as sending analog audio from a display to the main rack without having to run an extra network cable.
Integrators also can mix audio and video in new and unique ways. For example, they can provide their clients with the ability to watch sporting events while listening to radio commentary, give a presentation by mixing PC video with microphone audio, or even add an audio return channel.
The new field modifiable 718KVM and 749KVM transmitters will also be on display at InfoComm 2022. Built in response to the incredible customer demand for the 718AVP and 749AVP transmitters at a time when the solutions' Dolby downmixing chipset is in short supply, the new transmitters KVM as well as stereo audio breakout right out of the box.
The transmitters will be field-modifiable in the future to have all features of the 718AVP/749AVP once chips become more readily available. This strategy will protect dealer investments and give them a path toward full AVP performance.
Just Add Power's Multicast Switching at InfoComm
For multicast switching, Just Add Power's AMP software is designed for environments with existing infrastructure or special network requirements that don't allow for a dedicated AV distribution switch.
AMP consolidates and streamlines the process of setting up individual Just Add Power devices — discovering them on the local network, presenting them in a list, and allowing installers to name them, configure their IP addresses, and assign channels to transmitters — while assisting with updates when new firmware is released. Alternately, AMP will configure devices and the network switch when used to set up VLAN systems. Once the Just Add Power system is configured, AMP provides a user interface to control source switching.
With Just Add Power's Warp Engine transmitter, installers can rotate any HDMI source — cable boxes, media players, game systems, cameras and more — in a Just Add Power matrix in 0.1-degree increments in real time with incredibly low latency. The rotated image can then be sent to an unlimited number of receivers in the network, allowing for the creation of massive artistic videowalls using a single unit. Fully HDCP-2.2-compliant, the transmitter can be added to any Just Add Power 3G or 2GΩ/3G system running Just OS.
If you enjoyed this article and want to receive more valuable industry content like this, click here to sign up for our digital newsletters!