Mount-It! PRO Expands dvLED Wall Mounts, Ceiling Mounts & Display Stands
Mount-It! Pro adds wall, ceiling mounts; fixed and mobile stands, customized to fit nearly all manufacturers' LED displays.
Leave a Comment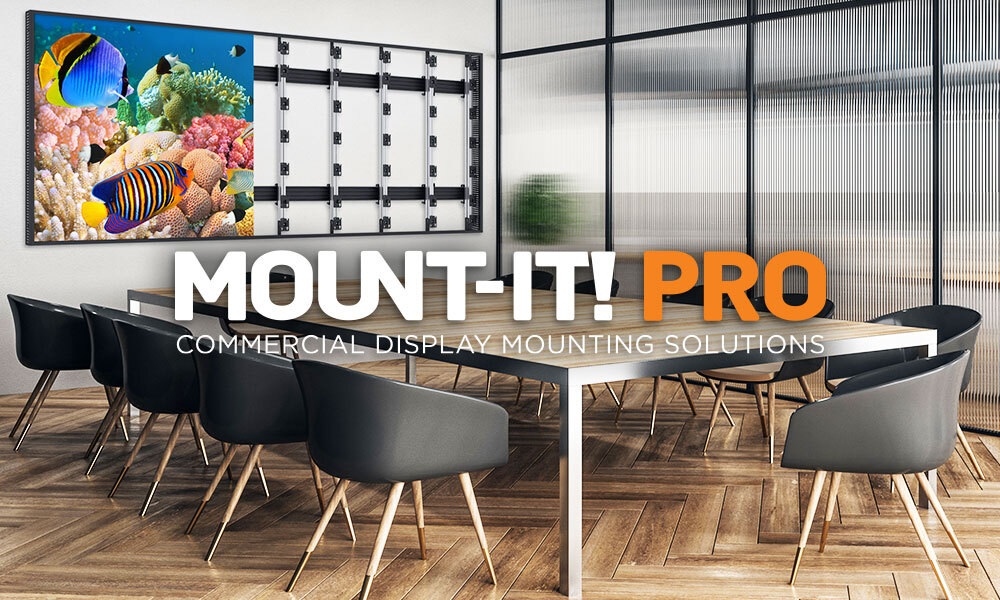 Mount-It! PRO, the San Diego, Calif.-based manufacturer of audiovisual mounting solutions, has introduced its dvLED Series mounts and trim kits to accommodate nearly any LED display configuration.
With the surging popularity of the latest in bright, color-accurate and extremely high-resolution in display technology, the company says it is committed to providing simple, solid, and elegant wall-, ceiling-, and floor-mounted installation products for all the major manufacturers' LED displays.
Using manufacturer-specific mounting adapters and modular matrix hardware, along with all-axes adjustability, Mount-It! PRO's dvLED series thus allows for precise and secure mounting of LED videowall modules in any number, size or configuration.
Mount-It! PRO's MI-20500 PRO Series Direct-View LED Mounts are modular LED videowall mounts that support the various LED manufacturers' high resolution, larger-than-life screens with simple, elegant and infinitely customizable mounting solutions.
Also Read: Mount-It! PRO Introduces Height Adjustable Wall Mounts for Classroom Applications
From a 5×5 Jupiter Zavus Mini-LED Series ceiling-mounted videowall, to a 6×6 Unilumin uPanelS Series on a mobile cart, to a custom, wall mounted LG LSCA or MAGNIT MicroLED panel array, Mount-It! PRO has the mounting solution for nearly any manufacturer, in nearly any application.
Mount-It! PRO also offers pre- and post-sales technical and customer support to assist integrator partners with projects from start to finish. With trim kits available for all models, Mount-It! PRO's LED mount borders can provide a clean, professional look.
dvLED displays are being installed in greater numbers of places every day: airports, sports venues, customer experience centers, training facilities and auditoriums, corporate lobbies, broadcast, video, and film production sets, and so many more locations.
Additional Features
MI-20500 PRO Series Direct-View LED Mounts are available for Ceiling-, Wall-, and Floor-Mount configurations to accommodate nearly all of the major manufacturers' LED products. These include Jupiter, Unilumin, Absen, LG, Samsung, INFiLED, Roe Creative Display, GLIC LED and many others.
The features are as follows:
Multiple LED display configurations available: 4X4, 5X5, 6X6, 8X8 – any number
Ventilated Trim Kits are also available for any configuration to create a clean, finished look
Modular, easy to configure, quick to install and also simple to maintain
Ideal for digital signage, public display, presentation, live video and point-of-information use
X-, Y-, and Z-axis adjustment for a precisely aligned and perfectly flat display surface
Curved LG LED Solutions available
If you enjoyed this article and want to receive more valuable industry content like this, click here to sign up for our digital newsletters!