Best Large Venue Project: IMS & Arlen Specter U.S. Squash Center
The dream of a national center for squash had been envisioned for decades by US Squash, and with the help of IMS that vision was realized
Leave a Comment
Photos & Slideshow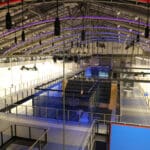 ---
Since 2011, the Event Staging division of IMS has been performing live event services and production for US Squash, most notably for the U.S. Open Squash Championships.
As part of the Professional Squash Association (PSA) World Tour Platinum tournament, it is the highest level on the professional tour. Forty-eight women and 48 men have descended on Philadelphia at Drexel University's Daskalakis Athletic Center every fall since 2012 to compete for the coveted U.S. Open title and prize purses.
The US Squash partnership with Drexel University led to the use of the Philadelphia 33rd St. Armory, which Drexel had been using as a multi-purpose student activity space beginning in 2008.
The Armory was constructed in 1916 to serve as a home for the Pennsylvania Army National Guard's 103rd Engineer Battalion.
Now in 2021, the center's 65,000 square feet is a state-of-the-art athletic facility. The third level is home to the AV/IT head-end, control room, and open staging area for live event production and management.
See Next: Best Immersive Experience Project: AVI-SPL & Microsoft's Welcome Wall
IMS has been behind the scenes for the past 9 years providing the customized solutions required to harness the energy of the sport's face-paced live action as well as convey the branding and communications strategies essential to US Squash.
Each year, the planning and development of the U.S. Open is a ten-month long process. IMS Director of Technical Operations, Chris Leonard, was in a leadership role during each project.
As US Squash's AV eyes and ears, he and the IMS crew truly became an extension of the US Squash event management team.
IMS was engaged as the preferred partner in mid-2019 to build US Squash's ambitions and vision for what the Arlen Specter U.S. Squash Center could become.
IMS Captures the Energy of the Sport
The AV technologies required to capture, distribute and support worldwide streaming from all for twenty squash courts for more than twelve hours a day rely on a sophisticated SDVoE network.
All 20 courts are able to support multiple cameras, court ambient audio, and referee microphone audio along with instantaneous embedding of scoring in the lower-thirds prior to capture and streaming.
The design team had to jump on-board after construction started and the previous technology scope and budget that was in place needed to be abandoned.
US Squash realized the previous design did not translate into creating a squash-centric live event facility that met their specific technology needs and could sustain growth over the next 10+ years.
IMS pointed out that the project was missing an AV control room as well as a central server room for the network and AV equipment.
IMS sped right into construction meetings with project architects and contractors to design an entire 3rd level section in the northeast corner of the building.
Each primary camera feed, inclusive of the embedded audio, is routed through the 64 x 64 SDI matrix and routed into a Coolux embedding and streaming system.
The Coolux processing system receives a court specific HTML from US Squash's scoring and sports management system, CLUBLOCKER, which overlays the feed into the court's primary camera signal and out to YouTube for live viewing, to a Haivision HMP capture system, and back into the 64 x 64 SDI matrix router for internal delivery around the facility.
Live court action and auxiliary video can simultaneously be distributed around the facility to more than 40 monitors, sized from 43-inches diagonal up to 100-inches while utilizing frame accurate switching allowing no discernable latency between a live court view and display rendered action.
Dante audio using Q-SYS DSP features 68 input channels feeding the capture system as well as up to 110 speakers throughout the center's eight spectator zones as well as the locker rooms, Physio, classrooms and coaches' center on the two main levels.
Any court audio mix along with all of the systems multiple wireless microphones can be routed to any area within the space. The level 4 control room features auxiliary connections for on-demand live event production via front-of-house mixing consoles.
IMS's software programmers customized a robust but easy-to-use control system that provides management of all aspects of daily AV operations with simple Q-SYS touch panels and iPads.
Drawing on years of U.S. Open planning and execution, the IMS productions and programming teams developed a comprehensive solution for Squash to both run the center's daily operations and then leverage the integrated system feeds for live event staff and the Professional Squash Association's SQAUSHTV to augment the center as a live event arena.
US Squash is absolutely thrilled that tournaments are already starting and the calendar is filling up. The systems are breathing life, color and sound into the center. Video capture and streaming is allowing coaches to view players and aid in their development.
The U.S. Open is set for October and tech enhancements are still being developed to support what will be the largest and most important U.S. Open to date.
The center and its technology systems have created the opportunity for the U.S. to have a place to call home for their sport and to draw international attention.
IMS' Equipment List:
AJA Video Systems hardware
Audinate audio
Chief mounts
Crestron hardware
Kramer cabling
Marshall Electronics cameras
Planar displays
Shure microphones
QSC Control