Coltrane Systems Helps WWT Innovation Center Live Up to Its Billing 
A mix of unique, room-specific tech packages & displays allows World Wide Technology to better showcase its broad capabilities.
Leave a Comment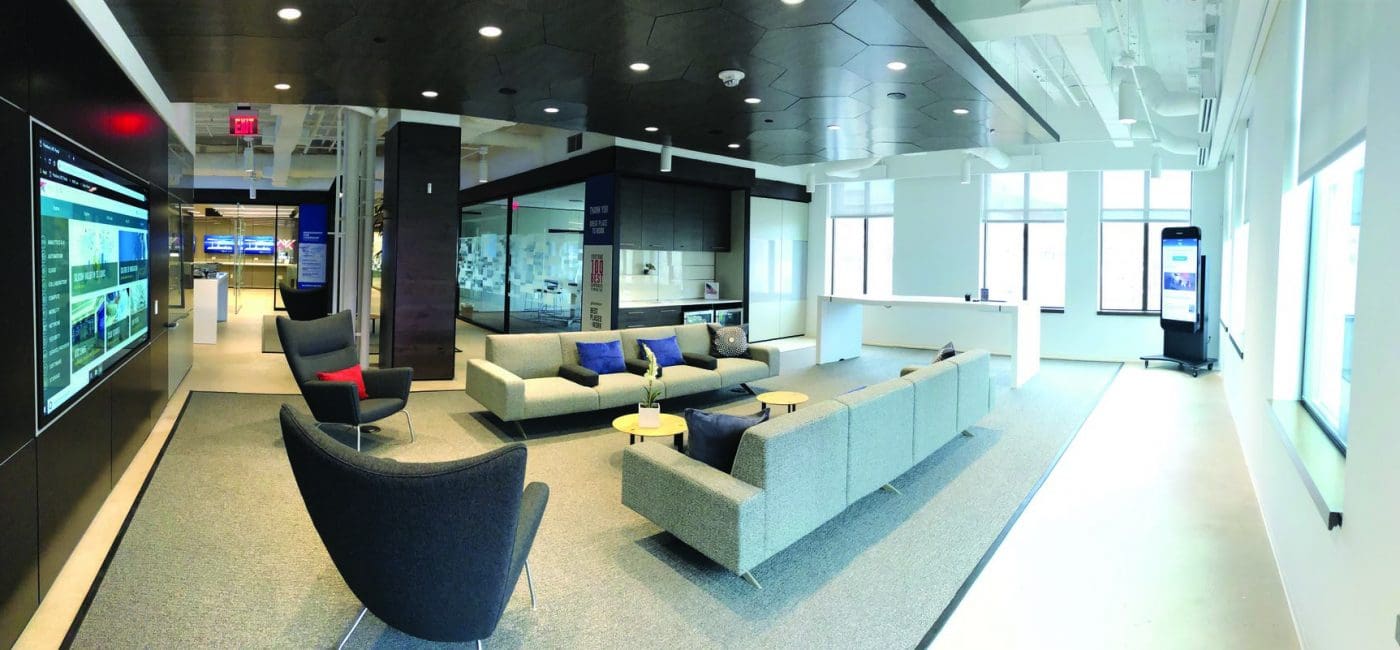 Coltrane Systems was engaged to provide a unique experience for tech solutions provider World Wide Technology's Washington, D.C., Innovation Center — a space WWT uses to engage its public sector customers in the beautiful Terrell Place building in Penn Square.
In conjunction with the interior design firm O'Toole, and internal IT/UC and facilities teams from WWT, the integrator collaborated to design a captivating space where technology is around every corner, according to Coltrane Systems AV manager Mike Dolan.
Prior Project Success, Communication Key
The integrator had successfully completed the technology integration at WWT's new Global Headquarters in St. Louis, along with numerous smaller facilities globally.
"We are constant communication and lock step with IT/UC and facilities to deliver AV, security, and low-voltage systems," Dolan says, "so we already knew the level of detail, creativity, and ease of use that the customer was seeking for this project."
The Coltrane team worked with Steve Krekeler, World Wide Technology's corporate properties product manager, as the main point of contact, and followed what Dolan describes as a typical process of engagement with the end users, designers and stakeholders to assess the desired outcome.
They created a plan of action that involved coordination with general contractors, electricians, and the wall integrators from Dirtt, a custom prefab interior provider.
The Coltrane Systems Solution
Each space in the Innovation Center features a unique technology package with a specific purpose, Dolan says.
Customers are greeted in the reception area by a Planar Mosaic display with custom corporate content built by WWT's internal marketing and design team.
The Virtual ATC space is designed to connect customers with other facets of WWT's experience. "Where typically an expensive onsite trip would be had, now technology is bridging the gap of distance," Dolan says.
A Planar fine-pitch direct-view LED with multitouch overlay allows users to collaborate and experience technology through dashboards, Cisco UC interaction, and other medium in a large format.
Related: Game of Thrones and Christie Boxer Projectors Set the Scene for Annual Meeting of 3,800 BNP Paribas Bankers
The Lounge incorporates a 98-inch 4K touch display for a more relaxed collaboration area, while a Dirtt Bespoke ceiling hides the audio for that space. In the Solution Showcase, customers are able to interact with a portrait touch display installed in a sleek Dirtt floor to ceiling frame.
Content on the six Planar displays around the room are modified based on the "bucket" that the customer chooses on the touch display, Dolan says.
"The coordination between trades was critical to the success of the technology solution on this project. Not only was the installation complex, like many projects, the timeline was also compressed," he adds.
Coltrane's ability to coordinate with the construction trades via Cisco Webex helped facilitate the entire construction project to be completed in less than eight months.
Plus, Coltrane Systems' familiarity with the custom Dirtt wall systems provided additional benefit when coordinating installation elements such as rough-ins, access and structural support.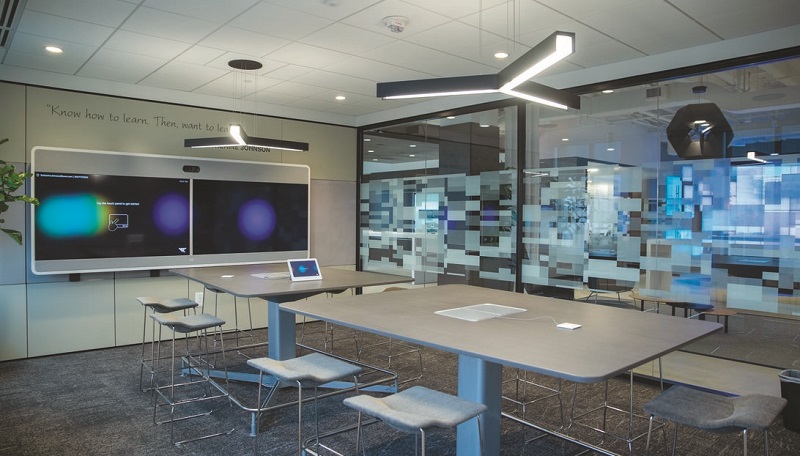 The Impact on World Wide Technology
World Wide Technology is able to utilize the space exactly as intended, Dolan reports. "Taking design to completion truly has allowed them to realize their expectations," he says.
"This boutique small office has been used in several social marketing campaigns and continues to impress customers during tours, and work sessions."
Equipment Highlights
Reception:
Planar Mosaic
RGB Spectrum Galileo
MediaVue D6
Sonance Professional Series
Lounge:
Planar QE Series 98-inch 4K Touch
Barco Clickshare
Sonance Professional Series
Crestron DigitalMedia
Crestron Cameo
Crestron Touch Screen Remote
Virtual ATC:
Planar TWA-1.2
Planar Multi-Touch
RGB Spectrum MediaWall V
Audix M3W
Biamp TesiraForte
Cisco Room Kit Plus
Leon Horizon
Crestron CP3
Crestron DigitalMedia
Solution Showcase:
Planar Professional Series Touch
Planar VM Narrow Bezel
MediaVue D6
Executive Board Room:
Planar QE Series 98-inch 4K
Shure Microflex Wireless
Clockaudio Condenser
Biamp TesiraForte
Crestron CP3
Crestron DigitalMediaCisco Room Kit Plus
Conference Room:
Cisco Room70Dual
Crestron DigitalMedia