LG & Marriott's Work Shows Hotel Technology Isn't a Luxury
A videowall in the gym, entertainment hubs and content streaming in guest rooms, and more help LG Business Solutions raise Marriott's bar.
Leave a Comment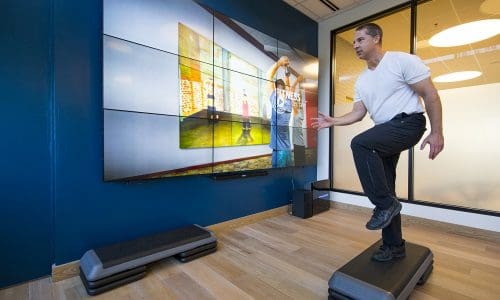 It helps to get in early. So the strong partnership that Marriott has retained with LG Business Solutions over the years paid dividends, particularly for guests at Marriott's M Beta Hotel in Charlotte, N.C., where the two brands worked to implement a plan to "revolutionize the hotel guest experience."
LG was brought into the project before construction, giving them a chance to collaborate with Marriott and to work off a collective blank slate during planning discussions. Both parties were able to freely exchange ideas and product suggestions as they reviewed blueprints and design renderings of each public area planned for the hotel.
This planning transpired over the course of nearly two years at Marriott headquarters and at LG, both in the U.S. and in Korea.
The planning resulted in both a functional design which meets customer needs and a 2017 CI Integration Award.
Inside LG Business Solutions' Installations
It's no secret that as technology rapidly evolves, the typical hotel experience lags behind. Marriott Hotels' vision was to create a revolutionary hotel model that puts innovation at the forefront. It partnered with LG Business Solutions to recreate the hotel experience, one space at a time, gaining feedback from guests as they experience the innovations in real time.
LG Business Solutions and Marriott sought to revolutionize the hotel guest experience from check-in to check-out, using advanced technology and intuitive design. From the guest room to the fitness center and even in collaborative common spaces, the brands aimed to create a personalized experience for hotel guests.
The transformation spanned all areas of the hotel – the lobby, fitness center, meeting spaces and guest rooms.
Each of the 450 guest rooms feature a 55-inch LG hotel LED TV, serving as the hub for in-room information and entertainment. Hotel and local area information is at guests' fingertips right in their room. LG TVs allow guests to stream content from their smart devices onto the big screen — including Netflix, Hulu, TED talks, YouTube and Pandora.
The fitness area was a major focus. The brands learned that guests were looking for more flexible solutions to their workouts on the road. Existing fitness centers were comprised of aging equipment and uninspiring spaces. Guests were often forced to bring their own connected devices to stream content.
Leveraging LG display technology, Marriott implemented a 3×3 video wall of 47-inch LG display panels and an LG soundbar in the newly renovated fitness center. It paired the technology with third-party Fitness on Demand content, which offers over 1600 free classes.
Marriott recognized the limited comfortable gathering spaces as a pain point for travelers. Recognizing that when friends and family gather at home they tend to congregate in the kitchen, Marriott created a proof of concept around a full residential kitchen with premium LG Studio kitchen appliances.
The suite of built-in appliances with design inspired by LG Studio Artistic Adviser, Nate Berkus, includes the LG Studio 42-inch side-by-side refrigerator, 36-inch counter-depth French Door refrigerator, 30-inch double wall oven, dishwasher and microwave oven.
Further enhancing this common area, Marriott installed a number of LG OLED TVs to help guests unwind.
Impact on Marriott's Guest Experience
It's hard to miss LG's impact on the building, regardless of where you walk in Marriott's M Beta Hotel in Charlotte, N.C. From the check-in area, where guests can use an LG touchscreen monitor to find their reservation, to the M Club, where VIP guests can enjoy 75-and 65-inch LG displays, to the board room with LG's interactive digital display for meetings, the entire property has a dynamic flow that was inspired by guests' feedback and ideas.
The Charlotte Marriott City Center's revamped fitness center opened to guests in early 2016, and has already experienced a flood of positive results in guest foot traffic and overall feedback, according to LG.
Feedback has been extremely positive among guests at the Charlotte property, who have compared the new fitness center experience to an "elevated health club" workout.
"We can't wait to install more LG video walls across more Marriott Hotels locations in the United States and enrich the health and wellness of more travelers," says Kenneth Ryan, VP of global spa operations, Marriott International.
"Fitness on Demand and LG are helping Marriott to set the new standard for hotel fitness facilities and reshape the gym experience in hotels and beyond."
Equipment Highlights
LG 60-inchFHD LED TV, Commercial lite (LG 60LX341C)
LG 49-inchLED TV display for Kiosk (LG 49LX341C)
LG 47-inchLG Digital Display Wall (3 x 3) (LG 47LV35A
LG 320 Watt, 2.1 Ch, Bluetooth, 1 HDMI In/Out, Wireless Subwoofer Sound Bar (LG SH4)
LG 55-inchLED Screen (LG 55SM5B-B)
LG Touch Screen Kit for 55SM5B-B (LG KT-T550)
Fitness on Demand's fitness content