Midtown Video Recruiting Rotunda Inspires High School Football Players to Join Up with UMiami
UMiami Hurricanes tempt top-notch high school players with an experiential, projection-mapped tunnel leading up to their meetings with coaches.
Leave a Comment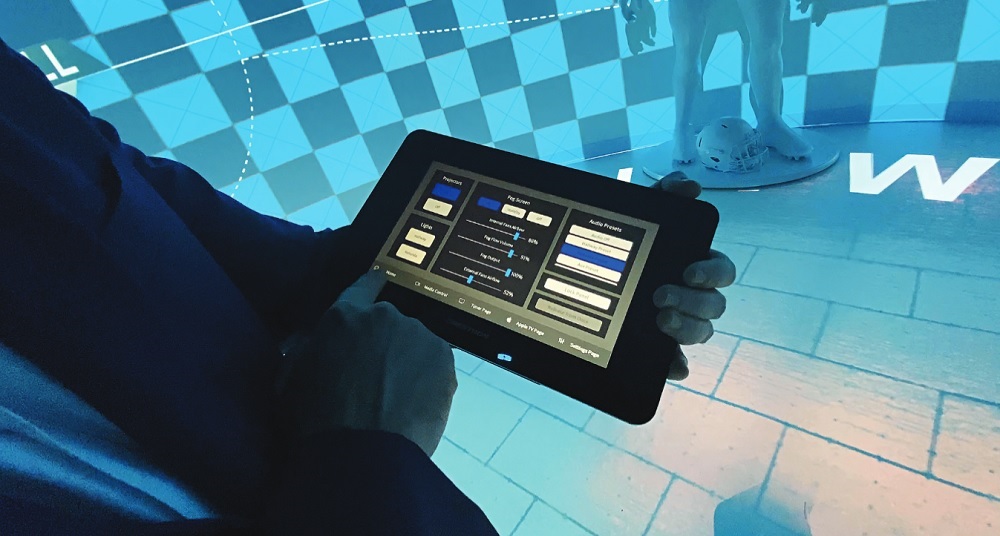 The Miami Hurricanes of UMiami wanted to place their team's accomplishments on a technological pedestal and, in the process, recruit promising high school football players. Their "Recruiting Rotunda," a projection-mapped tunnel installed by Midtown Video, immerses prospective recruits in the sights, sounds, and excitement of the team's five national championships. 
The Recruiting Rotunda serves as a portal that leads to the coaches' offices on the second floor of UM's Hecht Athletics Center.  
Recruits begin their journey by walking down a darkened, 60-foot corridor lined with flashing LED lights that illuminate a visual history on the walls, including the championship years.
At the end of the hallway, they see and hear championship highlights projected onto a fog screen that shrouds the entrance way. 
Once inside the Rotunda, they're barraged with 360-degree video projection, multi-channel surround sound booming from embedded speakers, 3D projection mapping, LED lights, and more.  
The experience leaves them wowed, smiling, and excited to join a winning team. 
Challenges to Installation
"Our goal was to implement UM's vision as closely as possible. But the sophisticated technology and AV systems integration were our responsibility," said Midtown Video GM Jesse Miller.
"In order to create such a powerful, flawless, and credible immersive experience, many complex technical challenges needed to be addressed and solved."  
For example, the projectors needed to be angled carefully so they didn't cast shadows on each other or the visitors while not shining directly in people's eyes. 
Since the projector angles needed to be "locked" prior to construction, it would be problematic if adjustment was needed after construction and installation. 
The Midtown Video engineering team used Cinema 4D software to plan the angles of the beams and the configuration of the projectors.
Three Datapath FX4-SDI 4K Display Wall Controllers split the 4K DisplayPort outputs coming from the Resolume Arena Media Server, which in turn feed up to four projectors. 
Creation of the fog screen involved a four-foot wide box with a pressurized water line running into it, and a water drain line running out.
Each day, a five-gallon water tank fills up, and when the system is turned on, it vaporizes the water, creating a vertical sheet of fog that acts as the rear projection screen.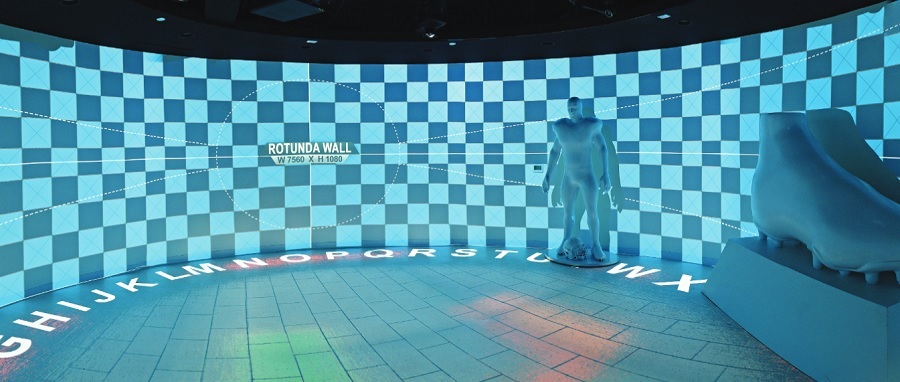 How the Experience Dazzles High Schoolers
Prior to meeting a potential recruit, the UM football coach uses a Crestron wireless touchscreen control system—custom programmed by Midtown Video—to turn on key elements of the attraction, including the LED lightshow and the fog screen.
He also selects the video playlist he wants to show the recruit from many high-res media assets residing on a Resolume Arena Media Server. 
As the coach and recruit walk down the 60-foot long, 7-foot wide corridor, LED lights illuminate words that are on one side and championship years on the other, with each LED choreographed to light up just as they pass by.
Ahead visitors see a large display of Miami Hurricane's five national championship highlights being rear projected onto a fog screen at the projection-mapped tunnel entrance. 
Related: InfoComm 2020 Connected: The Future of Esports and Pro AV
Within the darkened, 22-foot diameter, cylindrical theater, nine 10,000-lumen Panasonic PT-RZ970 DLP laser projectors mounted along the perimeter of the 9-foot high ceiling focus a total of 90,000 lumens of projection.  
Five projectors paint the walls, while four paint the floor with dramatic UMiami football moments. 
On one side of the projection-mapped tunnel, the team's uniforms are 3D projection-mapped onto a 7-foot plaster statue of a football player. The uniforms change continuously to show the team's many Adidas-branded looks.  
On the other side of the Rotunda, the team's multiple sneaker designs are 3D mapped onto a 7-foot long sneaker statue. The experience is augmented by multichannel surround sound booming from Stealth Acoustics audio speakers and subwoofers which produce sound from their hidden locations within the walls.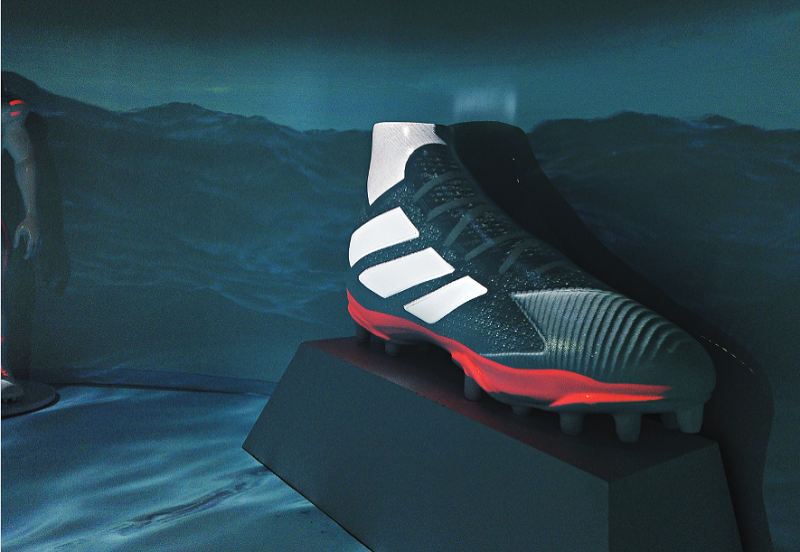 The Reaction from Prospects
While the customer, UMiami, praised the result, the most important feedback came from prospective recruits.
Leo Ramos, Director of Brand Marketing for the University of Miami Athletics Department, Miami, FL said, "You really know that a recruit was blown away when they smile, because for the most part, they try to play it as cool as possible." 
According to Midtown Video GM Jesse Miller, "Businesses, institutions, universities—they're all competing for positive mindshare, and the way they can set themselves apart is to create an immersive multimedia experience that's so impressive that people go away with it burned in their brain.
"Midtown Video is committed to focusing our expertise, ideas, and technology to create immersive AV experiences." 
Equipment Highlights
Stealth Acoustics Invisible 8" speakers and subwoofers

 

Cinema 4D projection software

 

Panasonic projectors

 

D-Tools design software

 
If you enjoyed this article and want to receive more valuable industry content like this, click here to sign up for our digital newsletters!