IDenticard PremiSys Now Integrates with Schlage
An updated PremiSys now integrates with Allegion's Schlage NDE Wireless Lock that also includes an internal push button.
Leave a Comment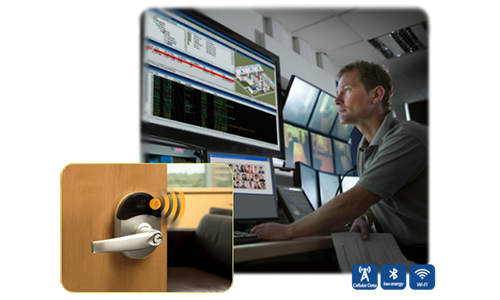 Access control and security provider PDC IDenticard announces its PremiSys photo ID and access control software now integrates with Schlage.
PremiSys allows users to grant and restrict access to doors, lock down facilities, view integrated video, create detailed reports and more. The newest version, PremiSys v4.5, integrates with Allegion's new Schlage NDE Wireless Lock with ENGAGE technology that includes an internal push button (IPB).
"The PremiSys integration with Schlage wireless locks is one of the most extensive in the industry," said Aaron Henderson, PDC IDenticard Director of Product and Support. "By adding the Schlage NDE wireless lock with internal push button to our product offering, we're providing our customers with even more options to enhance their building security."
According to the company, the addition of an internal push button to the NDE lock is especially useful for schools as it makes it easy to lock a classroom door from the inside.
The Schlage NDE wireless lock is a versatile technology that allows for wirelessly managing doors via WiFi, says the company. PDC IDenticard is the first manufacturer to integrate directly with Allegion's ENGAGE technology using WiFi. Additional integration options with the ENGAGE platform include RS-485 and direct IP.
For customers who are already using Schlage NDE locks, retrofit keys are available to modify existing locks.
Read Next: Here's What the Workplace Could Look Like Post-Lockdown
"Allegion is consistently innovating and looking for ways to deliver a better experience for end users and integrators, so we're excited to expand integrations with PremiSys," said Mark Casey, director of commercial electronic sales at Allegion.
"Schlage NDE wireless locks are ideal for schools that want an interoperable, affordable solution that offers access control from the inside-out, as well as added protection during crises, when advanced security measures are critical."
PremiSys v4.5 can also be integrated with Avigilon ACC 7, the latest version of Avigilon's video management software, allowing PremiSys to display live and recorded video directly from ACC 7 video servers.
For more information, visit identicard.com.
This story premiered on our sister site, Campus Safety.