Montevideo Football Fans are Safe, Thanks to Large Stadium Surveillance Project
Stadium surveillance tech like facial recognition, IP cameras & video walls keep Montevideo football bans safely engaged in Uraguay.
Leave a Comment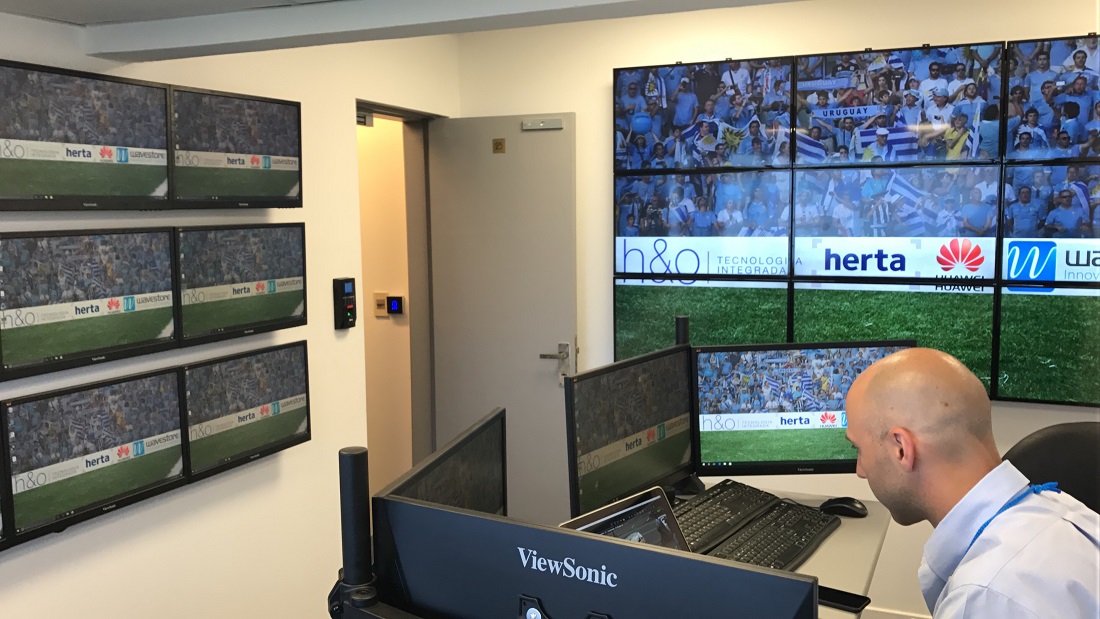 Uruguayans are particularly passionate about football—otherwise known as soccer in North America—supporting their clubs with enthusiastic crowds. The well-attended matches require sophisticated stadium surveillance to keep an eye on rowdy behavior.
To enhance the fan experience while keeping visitors safe, three of Montevideo football stadiums are leveraging advanced facial recognition technology and IP-based video.
Promoting Sportsmanship at Montevideo Football
The application of facial recognition in Montevideo's three football stadiums—Centenario Stadium, Champion of the Century, and Great Central Park—was promoted by the Ministry of the Interior as a security precaution against disruptive and dangerous crowd behavior, a common problem during sporting events around the world.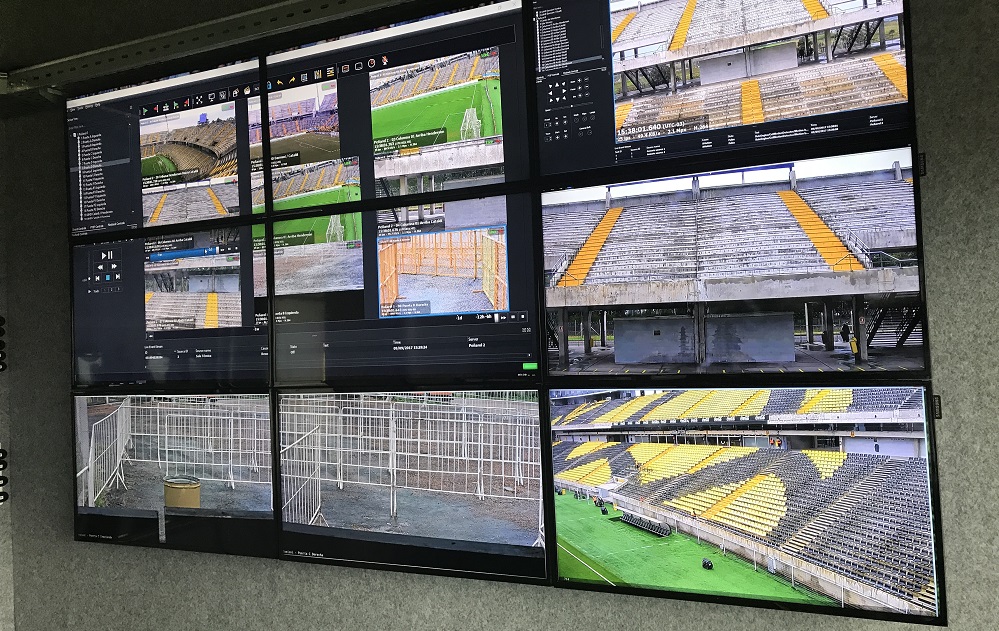 The initiative was then realized through an investment by the Uruguayan Football Association (AUF) and two of its clubs. AUF commissioned H&O Tecnología (DDBA Ltda), a Montevideo-based integration firm, for this ambitious project.
After researching available technologies for the Montevideo football stadium projects, DDBA implemented Herta's facial recognition solution, Wavestore's video management software (VMS) platform, and Datapath's iolite 600 video wall controller.
Seeing is Believing
The new stadium technology was installed with specific goals:
to prevent unauthorized people from entering the grounds
identify potential perpetrators if incidents are observed
capture photographic evidence of violent acts
help reduce the number of law enforcement officials onsite
Stadium operators wanted a seamless way to visualize multiple content streams, including stadium surveillance footage from high-resolution AXIS 20 Megapixel IP cameras.
Integrated with the facial recognition technology, various data streams and video feeds needed to be visualized simultaneously on three-by-three video walls.
According to Chris Williams, Strategic Projects Director of Wavestore Global Ltd, the Axis 20 MP IP-based cameras have been installed within the three Montevideo football stadiums to monitor seating and terrace areas, while high-definition Axis Q6055 32x PTZ cameras are being used by operators to zoom in on details of questionable incidents.
The Axis P1365 IP cameras—ideally suited to support facial recognition—have been installed at each stadium entrance, as well as in police mobile units located to monitor fan movement.
The stadiums and the Ministry of Interior have been equipped with Wavestore X-Series recorders plus additional servers maintained on standby for failover purposes.
"The level of integration achieved means that Wavestore's VMS is able to facilitate the display of face recognition events captured by high megapixel cameras on the Datapath video wall," Enrico Bizzaro, Head of Integrations, Wavestore, explained.
"These events, captured with the help of Herta face recognition software, enable control operators to quick identify if an unwelcome person has entered one of the Montevideo football stadiums."
Ultimate Flexibility
To deliver on such a high-profile project, the integrator and vendors worked closely together.
"The Uruguay Football Stadiums project required close collaboration between Wavestore and Datapath in order to ensure we could successfully integrate our respective technologies and deliver a highly effective solution which matched the client's expectations," said Enrico Bizzaro.
Datapath's iolite 600 video wall controller systems facilitate the display of live and recorded images captured by operator-selected cameras on large control room video walls.
Designed to house myriad video capture cards alongside multi-output graphics cards and SQX IP cards, iolite is available in fixed configurations for immediate deployment, or it can be customized to meet unique application requirements.
It can drive multiple screens simultaneously—a necessity for a live-events venue or stadium.
"With the Datapath iolite, the setup possibilities are limitless, and reliable performance is guaranteed," said Greg Babbs, Datapath's Sales Manager, South East USA and LATAM.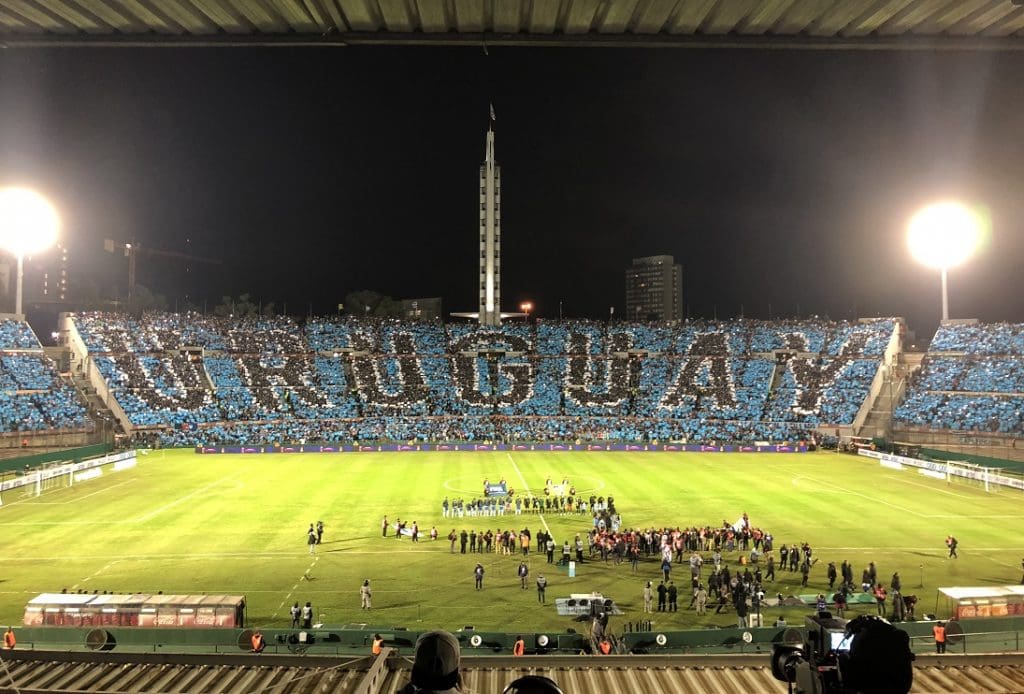 Standalone to COP
Security has traditionally been the purview of a designated operator, most likely a standalone person within a security environment.
However, many AV stakeholders believe that as the control room environment has evolved—away from siloed areas and procedures to more integrated, mission-critical decision-making—so too will security.
The question then becomes: how can we leverage stadium surveillance technology and visualization to provide operators with a common operational picture (COP) that they can all examine in real time?
Greg Babbs believes that for effective stadium video monitoring, operators "all need a common picture, whether that's a copy of what they see or in addition to what they see because they don't have enough screens."
IP Video is the Future for Stadium Surveillance
This football stadium triad is a notable project on its own, but it also signals a trend with much broader implications: IP-based video.
IHS Markit forecasts that demand will increase steadily for IP-enabled surveillance.
"The world is moving to IP-based camera technology," Babbs observed. "Every single year, expect to see more cameras on the streets and more monitoring."
He believes that the trend will continue to advance, and not just with the obvious organizations like police departments and traffic hubs, but even to smaller companies who need to protect office environments.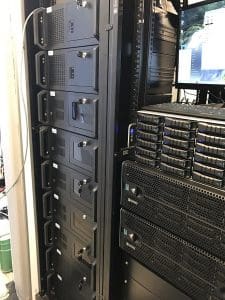 This evolution will require new conversations about the amount of data users can access as well as how to effectively view and analyse the data.
"Wavestore does the real-time analytics, all of the things that the human brain is not able to comprehend doing in real-time, with such a high-density of visual data," Babbs said.
The video wall acts as a cohesive canvas of data and video streams, helping teams stay informed and make quick decisions.
"If we will expect more cameras, we will need more and higher quality displays to view the camera feeds in real time."
Next-generation stadium surveillance clients won't be satisfied with high-resolution alone, however. Users want fully featured systems that are also networkable and scalable, supporting smarter ways to contextualize, visualize, and utilize AI and real-time analytics.