New Vaddio In-Wall Camera Enhances Interior Design & Privacy
Vaddio will feature the RoboSHOT IW in-wall camera at InfoComm 2018 in Central Hall booth C3683. The camera features enhanced safety, image quality, more.
Content from our Sponsor
Leave a Comment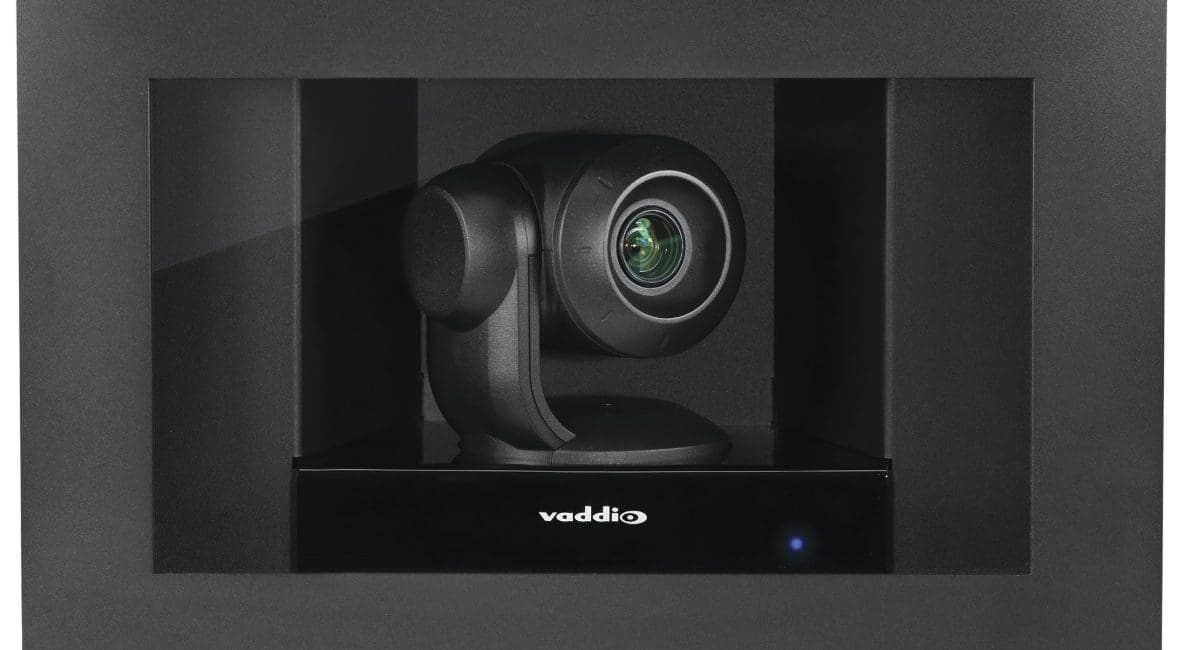 If you've ever had interior designers tell you that the PTZ (pan/tilt/zoom) video cameras you're planning to install mar a room's beauty and aesthetic appeal, you're not alone. A new low-profile PTZ in-wall camera option from Vaddio aims to addresses this common situation.
Introduced this spring, the inconspicuous and unobtrusive Vaddio RoboSHOT IW (In-Wall) HDBT Recessed HD PTZ Camera is a premium camera in Vaddio's architectural series, and an ideal choice for those projects where interior design and privacy are critical.
RoboSHOT IW is completely enclosed and features a glass cover, making it ideal for applications where elegant design and cleanliness are desired. Designed to be semi-flush mounted, the PTZ camera blends beautifully into the room design. Here are some other integration-friendly attributes.
Solves privacy issues
In addition to enhancing room aesthetics, the RoboSHOT IW Smart Glass model makes it totally obvious whether the camera is on or not.
This is critical in settings where sensitive conversations and privacy need to be protected —for example, corporate boardrooms, law offices, courtrooms or medical institutions. The camera's smart glass cover changes from a frosted opaque when the camera is off to a transparent clear glass when the camera is powered on.
Safety and theft-deterrence
Because the PTZ camera is located behind a glass panel, it's much less likely to be tampered with. In addition, the glass panel is made of safety glass, making it tough enough to operate in high traffic areas.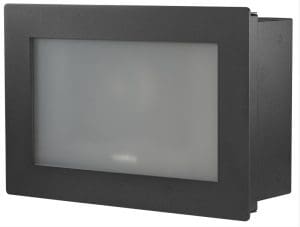 ADA compliant
RoboSHOT IW also meets the Americans with Disabilities Act (ADA) standards for accessible design. That's because most of the camera's enclosure box is installed behind the surface of a wall —convenient and out of the way.
RoboSHOT IW is also made in America and TAA compliant, making it a highly suitable choice for government applications.
Easy installation and sharp image quality
Providing excellent image quality, RoboSHOT IW was designed with HDBaseT technology.
This allows RoboSHOT IW PTZ cameras to easily connect to Vaddio OneLINK extension systems or other HDBaseT-compatible devices to simplify cabling and extend video, power and control to an installed distance up to 328 feet (100 m).
RoboSHOT IW features 10x optical zoom with 1080p/60fps resolution and 16 camera presets,plus an intuitive, easy-to-useweb-based user interface for remote configuration, management and control.
The in-wall camera also provides automatic or manual color adjustments to adjust for image color, shading, backlight, and wide dynamic range to optimize color in different settings.
Fordesign conscious customers, RoboSHOT IW is the ultimate professional PTZ camera solution without sacrificing video performance, network manageability or ease of use.
Vaddio will feature the RoboSHOT IW at InfoComm 2018 in Central Hall booth C3683.