Electro Acoustics: Crafting a Family Business Legacy in Pro AV
The second-generation owners of Electro Acoustics detail their experience with family business succession and creating a culture of stewardship.
Leave a Comment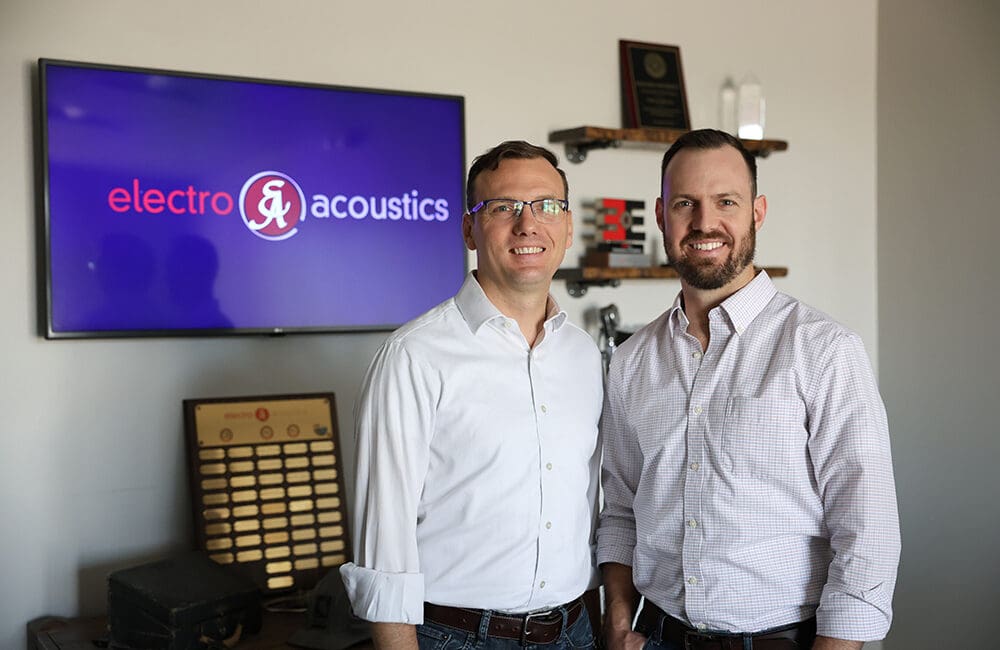 Photos & Slideshow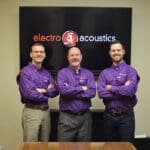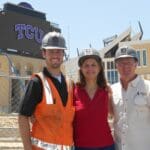 ---
Imagine being a six-year-old, stepping into the colossal Texas Rangers ballpark in Arlington, Texas, with its 43,000+ seats. That's where young Luke Jordan found himself, accompanying his father on an audiovisual installation. The sheer magnitude of the project left him awestruck, opening his eyes to the limitless potential of the family business. That day, amid the hustle and bustle of technicians and the hum of high-tech AV equipment, Luke knew then he wanted to carry forward the family business.
Today, Luke Jordan, PMP, CTS-I CEO of Electro Acoustics is living that dream alongside with his brother, Sam Jordan, JD, MBA CFO/COO. Together, they are co-stewarding the company vision that their parents, Chris and Sue Jordan, founders of Electro Acoustics set forth.
A Generation of AV Pros
The Fort Worth, Texas-based integration firm is in its second generation, although the Jordans have been in the industry for three generations. Luke recalls, "Our grandfather, Henry Jordan, after getting out of the Army following World War II, went to work for a commercial audio business in Forth Worth. In the '60s, he ended up starting his own residential stereo sound system business in Fort Worth. Our dad, and founder of Electro Acoustics, Chris, would work for him as a kid. After high school, [Chris] continued working for him. After a near death skydiving experience, [Chris] went to church and found Jesus. And that's when he realized that churches had an important message, and that the sound system usually was not done well. He realized he could help with that." Chris turned to commercial audiovisual system installations to pursue that vision.
Luke continues, "Our grandfather didn't want to grow out of his garage, he was comfortable with the size and scale of his business. He encouraged our dad to do his own thing. At the time our dad was doing sales and installs for my grandfather during the day and moonlighting at night on his own commercial projects. During one of his moonlighting projects, he wrecked my grandfather's station wagon (which was the company vehicle). Dad didn't have a way to get equipment to the job site. He sold his 1976 Pontiac Grand Prix and used the money to buy a used cargo van and some tools from a pawn shop. He finished the project and used the proceeds from that to start his own company." In 1984, Chris, alongside his wife Sue, founded Electro Acoustics.
Download: 2023 House of Worship Deep Dive Report
Large Venue Projects
For nearly four decades, Electro Acoustics has been at the forefront of transforming large-scale venues from churches and auditoriums to stadiums and arenas where they create exceptional experiences that captivate audiences.
The sound system installation at the Texas Rangers ballpark in Arlington put Electro Acoustics on the map. Later, in 1997, the team did a major audiovisual installation at the Bass Performance Hall in Fort Worth, Texas and another at The Eisemann Center for Performing Arts.
More recently, the company performed a major audiovisual installation at Dickies Arena, which opened in November of 2019. In 2023, the Dickies Arena was named as one of the best venues in the world and the top venue in North America for facilities with a capacity between 10,001 and 15,000, according to Billboard Magazine.
Luke's Journey
Luke, after graduating from Texas A&M, recalls interviewing for a position at his parents' integration firm with their project manager at the time. "Dad told [Electro Acoustics' project manager] and the general manager at the time, if I didn't add value to the installation team, then [they didn't] have to hire me." Luke knew he had to prove himself. He continues, "I had to be interested in the work and I had to be good at the work," he recalls. "My dad's biggest fear was that if I didn't want to be [at Electro Acoustics], if I felt obligated, and then it didn't work out, I would blame him for ruining my life. I had to force my way through the door and say, 'This is what I wanted; this isn't a backup plan.' If I wasn't good or wasn't interested after I got there, [I knew] he had worked too hard and invested too much to sell it to his children just because they're his children. You can love your kids and not sell them your business. And that's okay."
Indeed, Luke ended up proving himself, earning the positions of Assistant Field Manager, Service Manager and Sales Manager over six years before the transfer of business ownership.
Sam's Journey
After declining to join the family business to pursue a career as an attorney and serving in the U.S. Air Force for six years, Sam yearned for something more tangible, a place where he could witness the fruits of his labor. The constant changes and relocations left him craving stability. Electro Acoustics offered him a chance to work with people he genuinely cared about and could contribute to a legacy that endures.
Unlike his time in the Air Force, where he lost track of the impact of processes he helped develop, at Electro Acoustics he helps people grow and flourish every day. "I've had the privilege of nurturing team members, guiding them to leadership roles, and investing in them and their families," says Sam. "This journey ties back to the principle of stewardship — the desire to build, to pour into others, and to assist in achieving bigger and greater things," he says.
Transfer of Ownership
The vision for the company, at the time, was for Luke and his wife to eventually buy the business from Chris and Sue. However, after Sam rejoined the family business and worked alongside Luke for a year, the Jordans started charting a course together for the transfer of ownership to the brothers. Each family member read books by John Ward, the world's leading authority on family business governance. Together, the family would sit down and talk about every stage.
"We were very intentional about succession planning well in advance," says Sam. Four or five years before the first shares transferred, the family had been actively talking about and planning it. They discussed the transfer with CPAs and attorneys to figure out all the dimensions of business ownership.
Every Monday, the Jordans would meet over lunch and talk through the issues they were facing and the ultimate business decisions that they would have to make. Sam adds, "We would bounce ideas off [dad]. In doing so, he was teaching and training us on how to make decisions that would affect the multimillion-dollar business."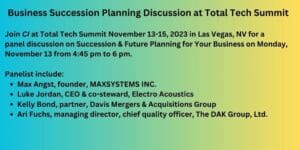 Luke and Sam bought their first shares of the business in 2019. That same year, Chris stepped down on the Electro Acoustics leadership team. Even though he was still the majority shareholder, he was no longer involved in the company's weekly meetings. He left that up to his sons to lead the team and learn how to make business decisions.
Luke and Sam bought the remainder of Electro Acoustics at the end of 2022 and since then Luke and Sam have been having weekly meetings together. Of course, there are times when they hit a patch, where they don't know how to solve a particular problem or are stuck. "We ask Dad to join us for lunch again, and we'll continue to bounce ideas off of him." Chris continues to operate as a member of the sales team and a trusted advisor for Electro Acoustics.
Sam says, "He's given us this opportunity to run with things and we're learning and growing in the process. He's helping us to an extent with this, but he's also not needling us and saying, 'I told you so.'"
Luke explains that they want to build on what their dad started. Each generation stands on the shoulders of those that came before. Chris, who was recently inducted into the SCN Hall of Fame in 2023, led Electro Acoustics to become Fort Worth's most successful AV company. His sons' vision is to lead Electro Acoustics to become a role model for quality, even outside the AV industry and Fort Worth. Electro Acoustics' commitment to quality, meticulous processes, and effective communication along with its positive work environment all contribute to this goal. When clients entrust their AV needs to Electro Acoustics, they can rest assured that the company will deliver the promised benefits.
Navigating Business Succession
Sam underscores the importance of family-business succession planning to ensure a smooth transition. "If you don't plan it out well, it can go wrong fast. And that's not good for the business and it's not good for our clients and community." He continues, "Dad is remarkably humble, unselfish and really wanted to involve us in these conversations as early as he could. He could have stayed with the business for longer, but at some point, Luke and I need to learn how to start making decisions and navigating things."
Not only did Chris' strategic move to step away from the business benefit the company, but also preserved the family relationship amidst the transition — a critical aspect that is often overlooked. In any business, family-run or not, selling or transferring ownership can stir tensions due to differing ideas and approaches. This change can introduce risk into relationships. However, for the Jordans, maintaining the relationship they've cultivated was, and will always be, a top priority.
Luke offers a valuable piece of advice: "Don't go into family business if you don't like your family first! If you've grown up together, sharing the same values and developing mutual respect, then you're already on the right path. Sure, there might be different perspectives within those shared values, but at the end of the day, you all get along. For instance, if integrity is important to you, it's likely important to your family members too, because you were raised under the same roof. When you bring family into your business, you know exactly who you're trusting. There's no secret formula or workshop for this — just raise good men and women who share your values."
Sam says, "Being related doesn't mean that we're destined to succeed. Most family businesses don't succeed. But doing the planning that's necessary makes all the difference — we read constantly, we challenge each other, we just have a thirst to develop ourselves and be better than we've ever been before."
The siblings also advise current AV business owners to figure out the next move. In their opinion, knowing what you'll do after leaving a business allows you to let go of the company emotionally as they now have an identity that is independent from the business. "[For business owners] who don't know what they're going to do when they let go of the business, they can really be left adrift — and that can be a difficult place to be," remarks Sam.
A Family Legacy that Transcends Time
Aside from their technical expertise, historical wisdom and a culture of stewardship set Electro Acoustics apart from other commercial AV businesses.
Luke brings an insightful perspective, saying, "Think back to the time before the Industrial Revolution. Family businesses were multi-generational from farming to blacksmithing, skills and trades were passed down through generations." As an example, Luke points to Arthur Guinness's family, the brains behind the world's most successful family business, Guinness Brewery. He explains, "Their brewing techniques and secret recipes were handed down generation after generation. That's the essence of a successful family business. But then came the Industrial Revolution, cities sprouted, farms were left behind, and new jobs emerged." Electro Acoustics' way of working together as a family harks back to those early days. It's an age-old formula for success, in which the duo is proud to be part of that tradition.
In essence, a family business is not focused on one generation: it's a tapestry woven through the past, present and future. This heritage can certainly alter the business decision-making approach. Electro Acoustics is not confined by the short-term gains of financial quarters. Instead, the company is focused on the long-term prosperity of future generations. Electro Acoustics is not just a run-of-the-mill integration firm — they're crafting a lasting legacy.
Just as Chris and Sue laid the foundation of Electro Acoustics with a vision of their sons, Luke and Sam, joining them, they too are nurturing the family enterprise. Luke and Sam share that hope to create a thriving company that their children will be excited to be a part of, should they choose to do so. Both aim to raise their kids to be individuals of high character and caliber, so that they will be ready and worthy to take on the family business.
This sense of stewardship, inherent in Electro Acoustics, is one of its most valuable aspects, benefiting not just the company, but also the industry. As Luke puts it, "Raise your kids to be the kind of people you would want to sell your business to."
Click 'View Slideshow' to see additional Electro Acoustic photos. All photos courtesy of Electro Acoustics.
If you enjoyed this article and want to receive more valuable industry content like this, click here to sign up for our digital newsletters!