GenComm Puts the 'Success' in 'Succession Plan'
GenComm's Ingolf de Jong is slowly and meticulously passing the leadership torch – while he and his successor continue to evolve the company.
Leave a Comment
Companies in the AV integration space have struggled for years when it comes to crafting succession plans and turning their businesses over to the next generation, then stepping away to watch the new leadership team continue to build the business in new ways. But GenComm doesn't.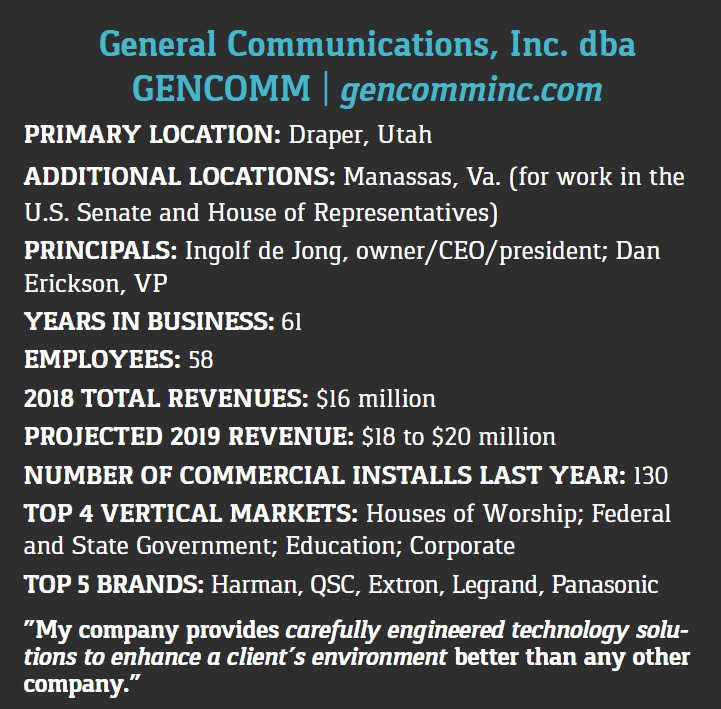 Even those who are at the helm of family-owned businesses can sometimes struggle to carry on the legacy of the company once the older generation walks away and, in some cases, takes those close relationships with long-term clients with them into retirement.
That's not something Ingolf de Jong wants to happen at GenComm, the Draper, Utah-based company he runs as owner, CEO and president.
He took over the company in 2006 under the guidance of Harold Haugen, the second-generation owner who had bought the company from his father, Per, in the early 1980s.
Per Haugen was one of the founders of NSCA and now has an annual lifetime achievement award named in his honor from the association.
He started GenComm with four others, including a dentist and a man who later became Utah's governor.
GenComm's Original Market
In the early days, GenComm worked primarily in houses of worship, particularly for the Church of Jesus Christ of Latter-Day Saints, along with all sorts of small audio jobs and pneumatic tube systems for banks.
"There were bedrock issues and values that were developed in this company — faith, family and friends and always looking out for the client's best interest," says de Jong.
"When you have a 61-year-old business with a client that's done business with the company all that time, that's a significant thing."
Two of the original GenComm owners started the audio engineering department for the Latter-Day Saints, which in part explains the company's connection that still holds on more than six decades later.
"There's a very tight relationship between our organization and the customer, an extremely open dialogue to address how to manage those installations and how to modify things," says de Jong. "There's a very open channel of communication.
"Nothing is ever perfect. There are always challenges. Working through those together is key to having a long-term relationship. There's a level of respect that goes beyond what you see."
From HOW to EDU
These days, GenComm has grown beyond houses of worship and government projects to have footing in education and corporate vertical markets, among others.
They have no plans to work in arenas or sports stadiums, but are proud of the mix of customers they serve.
"It helps us to be able to keep the business going when one is going slower," says Brandon Gramse, VP of engineering and operations.
The corporate and worship markets give GenComm "a playground to test" different ideas, although there's no guarantee a successful boardroom installation will work well in a church and vice versa.
"We had a desire to get into a situation where we were able to be more flexible," says de Jong. "Early on, we were basically supporting a single client. We were very expert at it, but it put us in a potentially high-risk position.
"We got into other spaces to create a more solid company. We do business with extremely large clients, but even they are impacted by economic conditions."
Planning for Succession: A Thoughtful Approach
In recent years, de Jong has worked closely with Gramse to ensure a smooth transition to the next leader to of the company. That said, de Jong says he's not looking to retire for another eight or nine years, but it's never too soon to be thinking about what's next.
"I look at where we are today and the opportunities that were given to me," says de Jong. "We want this company to be successful well into the future. I've taken Brandon to lots of events around the world for the purpose of coaching.
While there's been no official announcement of Gramse as the person who'll succeed de Jong to lead GenComm, neither of them has made any secret about it, either inside the walls of the company or in public with clients and industry colleagues.
"My management style is you have to have open conversations," says de Jong. "At some point in time, I'm going to want to retire. Ideally, I'd like it to be in the eight-, nine-year range, but don't hold me to that. It's a process."
Transitioning? Remember 'PIE'
Gramse developed the acronym PIE — passion, integrity and excellence — as the backbone of the company's approach to everything, both among its workforce and clients.
"Brandon has that same passion to find ways to make things better," he says.
Gramse feels "blessed to have Ingolf mentor me," he says.
"He's taken me all over the world," says Gramse. "We've had a lot of windshield time to discuss everything within the business and a number of things outside of it. I've been very blessed to be where I am. Without that, I'd be years behind where I am now."
What about the prospect of taking the baton from de Jong when he does step aside?
"It makes me excited — and very nervous," says Gramse. "There's a lot to carry on. Anything we approach, it's always with the long term in mind."
If you listen to de Jong talk, you get the sense he's not planning on leaving any time soon, and the industry as a whole is better off for it.
Transitioning is Like Chess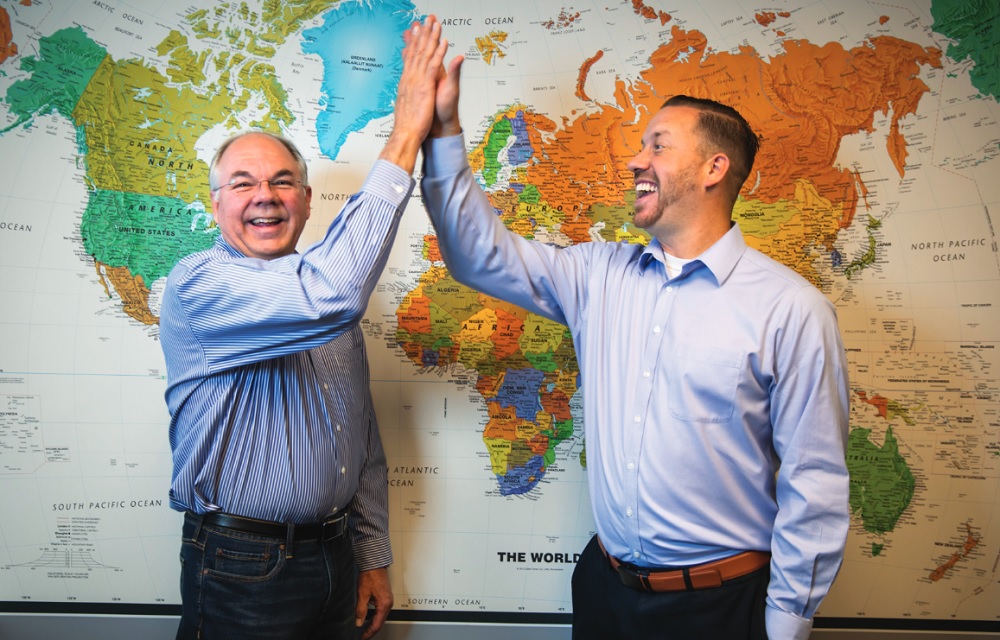 In many ways, succession planning and overall business success is a lot like chess, a game de Jong has played since he was a child with his father and grandfather.
"The pieces are constantly moving," he says. "You've got to look beyond where you are today. If you don't prepare for the future, how does that affect your business? If you're not thinking about it, it's going to have a negative effect. Is there a longevity in doing business with the company?
"There's lots of people who don't prepare and they wake up one day and think 'what now?' If you don't have a strategy in place, you're not preparing your company for sustained growth. It's my responsibility to prepare our organization for the next generation. It's a mindset and a process you have to develop, but it's important to me," he says.
They've Provided AVoIP For a While
GenComm has been offering AV over IP for about seven or eight years thanks to its team of code writers and electrical engineers, a move that's bearing fruit and serving as a model for the future of the company.
"We immediately jumped on it and implemented it in a few projects," says Gramse. "That helped us win a bunch of other new projects. Now that everyone is talking about it, we're seven years ahead of that game and able to look at the next thing."
Responding to New Tech: Useful and…Otherwise
Not everything they see at trade shows has applications in AV, but some certainly do.
"We run into some very off-the-wall things," says de Jong. "We want to know what's going on outside our industry, what's the next disruptive technology that's coming around the corner that's going to catch us blind-sided.
"We want to go and observe what's happening in other industries and embrace those technology changes. There are people who look at what they've been doing for years and realizing there has to be a different way, a better way. I want to make sure we are looking outside the box. You've got to pay attention to what's going on around you and ask, 'how can we incorporate that for our clients?'"