TD SYNNEX's Sandi Stambaugh on Recruiting/Retention Best Practices
As part of TD SYNNEX's sponsorship of the 40 Under 40, we share the distributor's thoughts on recruiting and retention.
Content from our Sponsor
Leave a Comment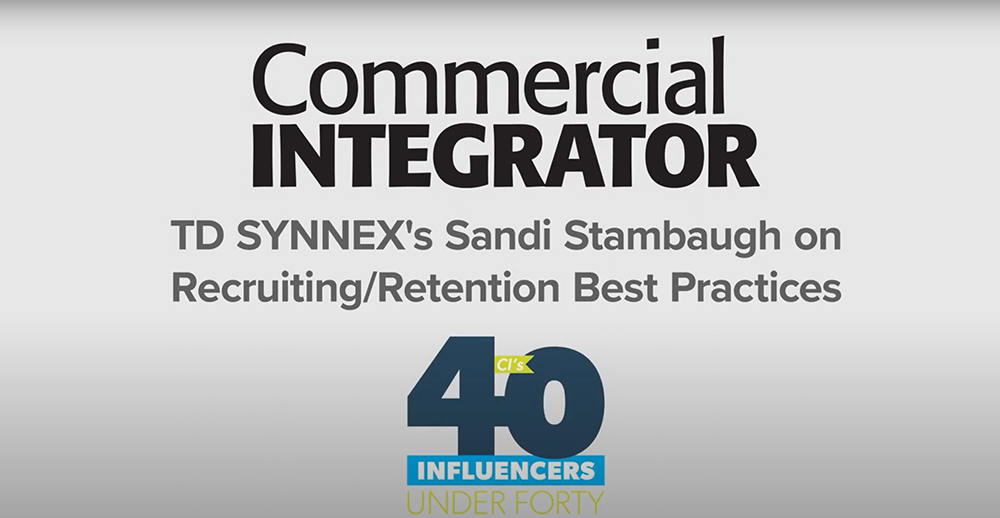 TD SYNNEX is deeply committed to recruiting and retaining the next generation of talent. That's why the industry leader in distribution supports Commercial Integrator's 40 Influencers Under 40 initiative. As part of that project, TD SYNNEX offered a thoughtful statement on the importance of helping young professionals find their passion.
What's more, Commercial Integrator sought an interview with industry icon Sandi Stambaugh to learn recruiting/retention best practices. As TD SYNNEX's senior vice president, product management, Stambaugh is a mentor and inspiration to many young AV practitioners. Recognizing that, CI offers her firsthand perspective on key topics like attracting people to our industry intentionally, cultivating internship programs, and investing in young employees' professional development.
Check out the interview below. And then, be sure to check out TD SYNNEX's powerful clarion call for how to bolster the youth talent pipeline.
Helping Young Professionals Find Their Passion
When it comes to seeding the next generation of AV and IT professionals, it's important for companies to be intentional in their approach to investing in their expertise. There is an incredible opportunity in this industry for fresh perspectives and diversity of thought when organizations connect with the younger generation.
Our advice to organizations looking to bolster their youth talent pipeline is to look at your workforce and determine your goals. Look to community for ways to get involved — through partnerships with schools, through job fairs and through other synergistic opportunities. Put yourself in a young person's shoes and reflect on what attracted you to the industry, as well as what kept you engaged. What could have been better?
Along with internships, one way TD SYNNEX helps young professionals find their passion is through our Discovery Representative Program, which allows recent graduates to rotate through departments to find their best fit. This program helps participants experience all facets of our business and launch their career, but it also helps our company discover new efficiencies and ideas. It's a win-win.
Once you've attracted great talent, it's just as important to retain that talent. At TD SYNNEX, we often find that, when you pour into employees' professional development, putting them on a path to success, they become the first to give back to the new up-and-comers, perpetuating the cycle. It's also important to allow employees to shape the culture they want. TD SYNNEX has Business Resource Groups that allow coworkers to align on shared passions and engage on matters important to them. This kind of opportunity creates a culture where people want to stay.
For more content from and about TD SYNNEX, check out Commercial Integrator's website archives.
If you enjoyed this article and want to receive more valuable industry content like this, click here to sign up for our digital newsletters!