Here's How Vaddio DocCAM 20 HDBT Overhead Camera Engages Culinary Students
Culinary arts program in a newly-renovated high school features a culinary classroom with a Vaddio DocCAM 20 HDBT camera overhead camera over the food preparation area.
Content from our Sponsor
Leave a Comment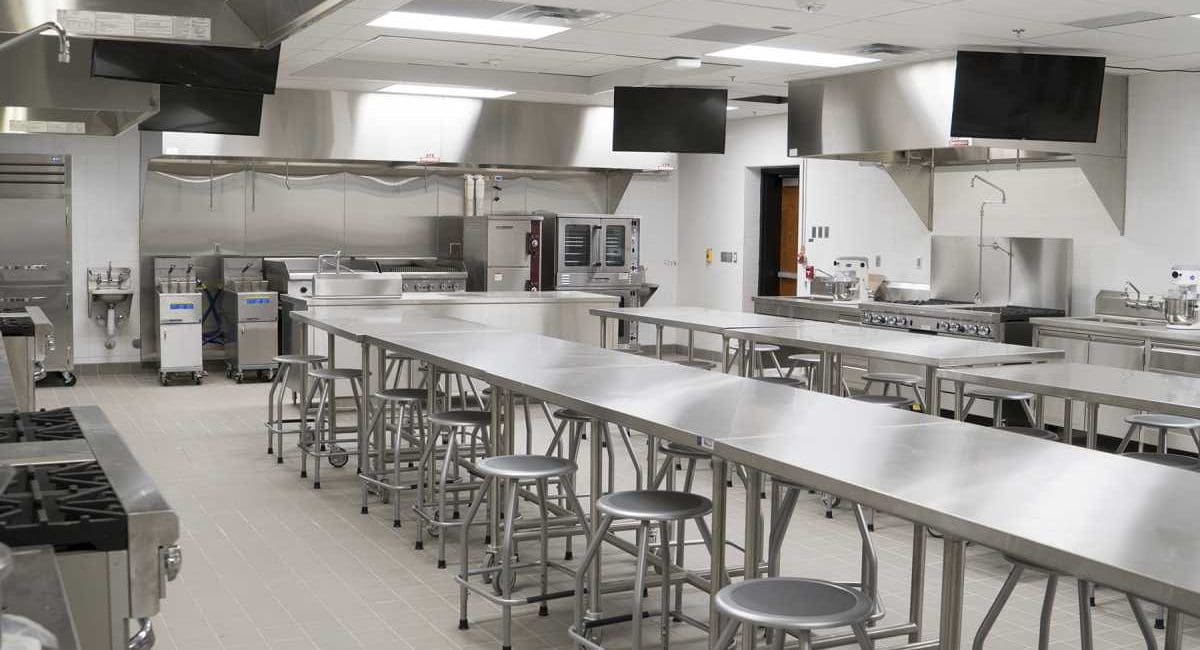 Unlike traditional home economics classes that focus on cooking for a home environment, a new culinary arts program in a newly-renovated high school in Shakopee, Minn., will prepare culinary students for careers or part-time jobs in the food service industry. The new culinary classroom, meanwhile, features a Vaddio DocCAM 20 HDBT overhead camera over the food preparation area in the front of the room, plus four 43-inch high resolution monitors.
The DocCAM's 20x optical zoom helps students see extreme close-ups of cooking techniques no matter where they are seated in the classroom.
Ideal for classroom settings, the easy-to-install DocCAM is also well-suited for boardrooms, technical training sessions, city council chambers and other settings where achieving a razor-sharp overhead view is critical for presentations.
Vaddio's DocCAM 20 HDBT is a high resolution, recessed in-ceiling overhead document camera with high definition 1080p/60fps resolution. The nearly 60-degree horizontal field of view captures more of the table. In addition, DocCAM uses a laser dot alignment feature to center the subject matter quickly and easily using a remote control.
The DocCAM 20 HDBT is available in two system configurations — the OneLINK Bridge System and the OneLINK HDMI System. Both systems provide simple, clutter-free camera extension with HDBaseT technology, and simplify cabling installation and extend video, power, control and network up to an installation distance of 328 feet (100 m) over a single Cat-5e/6 cable.
The DocCAM 20 HDBT OneLINK Bridge System provides simultaneous HDMI, USB 3.0, IP Streaming and HD-SDI outputs, and bridges audio and video for easy soft-client conferencing. The OneLINK Bridge System also features a configurable audio matrix with AEC.
Common design applications include:
Higher education classrooms
Medical schools and operating theaters
Technical training sessions
Video conference rooms
City council chambers
Courtrooms and evidence viewing
Art schools — illustrative demonstrations
Culinary schools — cooking demonstrations
Construction and architectural firms — reviewing plans
Remote network management of the DocCAM 20 HDBT allows the presenter to transmit a live image and control all the functions remotely, making it an effective and efficient distance learning tool.
The DocCAM's intuitive web-based user interface enables remote configuration, management and control. Users can automatically or manually adjust image color, shading, backlight, and wide dynamic range in order to optimize color for various settings.
The 20x optical zoom and recessed in-ceiling placement preserves clean sightlines and allows it to blend into nearly any environment — particularly in areas with higher ceilings. The DocCAM 20 HDBT overhead video camera is easy to install and provides high definition image quality at a price that won't break the budget.
Related video: