AudioControl Makes Commercial Debut at InfoComm 2018 with 70-Volt Amplifier
The AudioControl InfoComm 2018 booth is a milestone for a company which has never before exhibited at the show – they'll debut a 70-volt amplifier and more.
Leave a Comment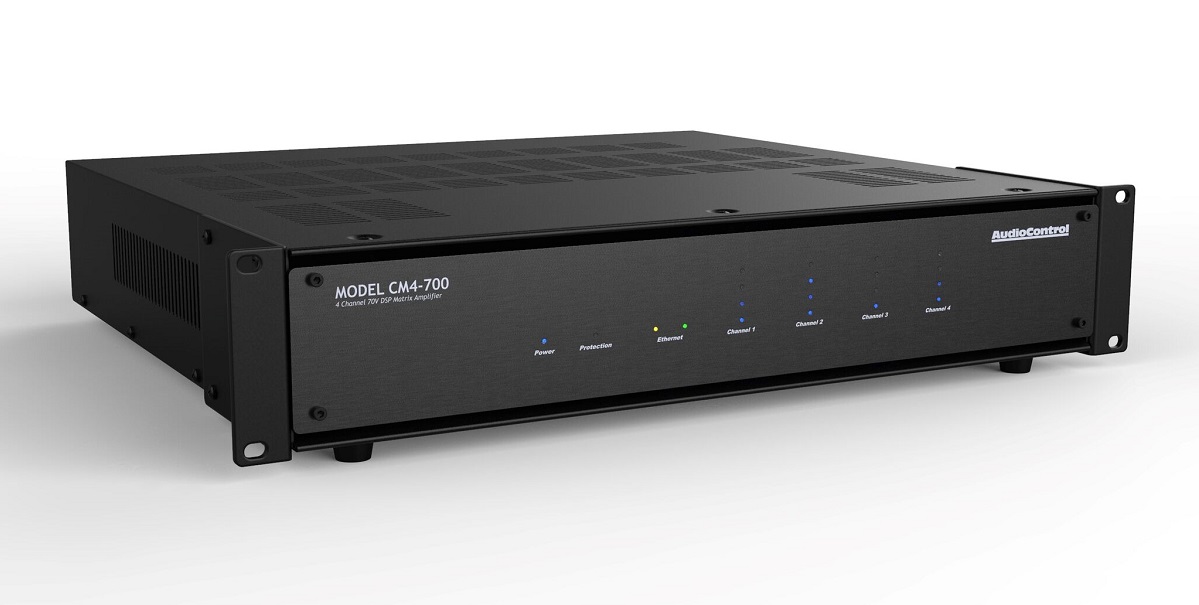 A manufacturer of residential, automotive and some commercial products is stepping out into the commercial space and exhibiting for the first time at InfoComm. The AudioControl InfoComm 2018 booth (#N3139) will feature the company's new 70-volt amplifier, the CM4-700.
The company says their new dual-mode amplifiers run both high- and low-impedance and use a DSP amplifier platform that enables integrators to fine-tune sound "for any acoustic environment," according to the press release.
AudioControl Commercial Amps Specs
the three amps enable integrators to deliver content through a large number of speakers connected to each output, according to the company
DSP control
signal matrixing capabilities
feature allows integrators to "precisely tailor sound by zone to any environment," says the press release
750 watts in 70/100 volt mode, 500 watts at 8-ohms (stereo or mono output) and 750 watts at 2 or 4-ohms and 1500 watts bridged into either a 70/100v and 8 or 4 ohm load
eight analog inputs (four stereo), plus four digital stereo inputs (digital coax and optical)
four outputs can be individually controlled or be controlled as two stereo pairs
system setup and diagnostics can be managed remotely via an IP web-based browser or app for PC,  Mac, iOS, and Android
More from the AudioControl commercial press release:
"AudioControl has been expanding into commercial markets and as demand for our solutions has increased sharply, we decided that the timing was right to exhibit at the AudioControl InfoComm booth," said CEO Alex Camara.

AudioControl has a 40-plus year history of creating award-winning products for integrators and backing them up with superior customer service as well as a 5-year warranty.

DSP capabilities include onboard speaker profiles crafted by the engineers from leading architectural loudspeaker manufacturers such as Dynaudio, Graysound, James Loudspeaker, Monitor Audio, Nuvo, Origin Acoustics, Stealth Acoustics and Triad Speakers—all part of a growing list of Sound Partner Program members. AudioControl's 70-volt amplifiers also offer advanced graphic and parametric equalization along with onboard crossovers, enabling integrators to fine-tune the sound to any acoustic environment.
AudioControl says the CM4-700 70-volt amplifier will be available "later this year."
Read Next: Made in the U.S.A. – 12 Companies That Manufacture in America