A Tool for Every Modern Integrator's Toolbox
AV professionals can transform a space into a multidimensional experience with this latest development in pro audio.
Leave a Comment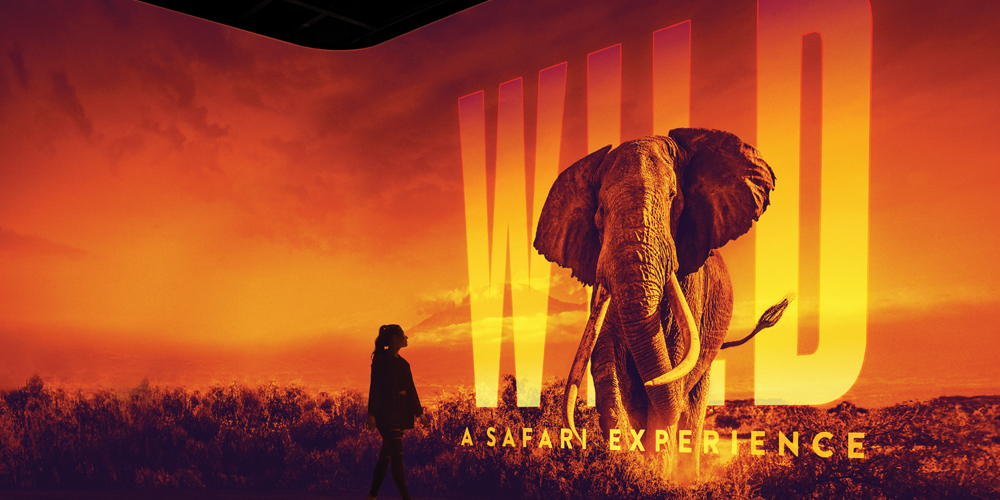 "Immersive" is a buzzword that many in the AV industry have batted around for quite some time. Whether the speaker is referring to a commercial environment with a dazzling soundscape or a museum with 4K images that swallow you up, calling an application "immersive" can generate a strong pull. 
By definition, something that is immersive provides "information or stimulation for a number of senses, not only sight and sound." If that description is our guide, true immersion implies a multi-sensory approach. In other words, when a truly immersive experience has been created, people notice the difference because they can feel it. And, increasingly, integrators are recognizing that immersive audio, combined with astonishing video and lighting, can produce an incredible multidimensional experience that leaves patrons entranced and hungry for more. 
That kind of end-user reaction has propelled immersive applications forward. Not too long ago, integrators might have tackled projects like this once or twice a year. Now, though, immersive technology has become a focal point for many projects across almost all vertical markets. So, Commercial Integrator decided to take a closer look, focusing in particular on how immersive audio can be applied. 
Integrators Form Pro-Audio Partnerships
Leading integration firms like Electrosonic — known for creating technology-infused experiential environments — are already seeking synergies with pro-audio companies. In September, Electrosonic announced a strategic alliance with Germany-based HOLOPLOT to advance the possibilities of immersive-experience design. Ryan Penny, head of sales at HOLOPLOT, in a statement about the Electrosonic alliance, said that it represents "…the fulfillment of our mission to push the boundaries of what's possible with professional audio." 
Even before the announcement, Electrosonic and HOLOPLOT had collaborated on the Atlanta-based Illuminarium, an attraction garnering acclaim worldwide. In fact, Illuminarium won Commercial Integrator's Best Immersive-Experience Project award in 2022. Reflecting on Wild: A Safari Experience, Allan Greenberg, CEO of Illuminarium, says that audio "…increases the power of the experience by 50%." 
First Wave of Immersive Formats
Immersive audio hardware and software has come to market in greater numbers since names like Dolby, DTS and IMAX set the original standard in commercial cinema and home theaters. For this story, CI caught up with d&b audiotechnik, L-Acoustics Creations and Meyer Sound for their insights, as well as leading integration firm Bluewater. 
According to Nick Fichte, global sales director at L-Acoustics Creations, "The residential market has been ahead of the game for immersive audio since the advent of 5.1 in 1992. It has evolved greatly since then, and, with platforms like Apple Music and Tidal offering immersive audio as part of their subscription-based services, the appetite has never been bigger." He points to the trend continuing to blossom, with artists like Jean-Michel Jarre composing an entire album in immersive audio, architecting sound in a native 3D environment. "We also see this happening with album premieres for artists like Talking Heads, Max Cooper and Snarky Puppy, which we host in our 18.1.12 listening spaces in California and London," Fichte adds. 
Immersive sound systems might have gotten their start in home theaters, but, with the commercial opportunity exploding, the paths are diverging. Rob Gerwatowski, DMC-D-4K, audio service department head at Wixom, Mich.-headquartered Bluewater, explains, "Surround-sound systems in home theaters are produced on the same level plane as the listener. Immersive audio produces a 3D, 360-degree sound field around the listener that is more lifelike." The latter perfectly encapsulates the kind of application where AV integrators have the power to transport those visiting out-of-home environments to an entirely new plane of being. 
Immersive Audio vs. Surround Sound
Marc Lopez, vice president of marketing, Americas, d&b audiotechnik, helps tease out the differences between surround sound and immersive audio. He explains, "Surround sound is a fixed format that requires loudspeakers positioned in specific locations acting as specific output functions in order for content to deliver in a coherent manner." He adds that surround sound, as with stereo, has a limited "sweet spot" in which the listener can hear the audio properly positioned and spatialized as intended. "This format works best in controlled rectangular spaces and has difficulty when spaces become very wide, fan-shaped or multi-level," Lopez observes. Surround sound and stereo work well in home theaters, where there are only a few listeners and where it's possible to target seating in the limited "sweet spot."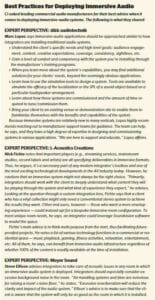 Lopez next outlines the comparative virtues of immersive audio, saying, "Immersive systems typically do not require specific, fixed positions for loudspeakers, and, with that variable arrangement, can allow 'sound objects' to be positioned and spatialized accurately based on the loudspeaker arrangement." He adds, "This also allows some automatic translation from space to space where there may be different loudspeaker arrangements. There is a great degree of flexibility in the scalability and loudspeaker arrangement depending on the application and needs." 
Vertical Markets
Although immersive audio and spatial sound have natural alignment with theatrical sound design and themed entertainment, the applications certainly don't end there. Steve Ellison, Meyer Sound's director of spatial sound, affirms that corporate, house of worship and special-event audio systems can all benefit from the increased engagement that immersive audio helps provide. 
On this point, L-Acoustics Creations' Fichte says, "The house of worship market is driving strong demand for immersive audio as they recognize that it gives their congregants a more intimate experience, immersing them in the message." He also points to performing arts centers (PACs), whose operators understand the value of offering a permanently installed immersive-audio system to set their space apart from the competition by delivering exceptional audio experiences. On that score, he points to artists like Aerosmith performing a Las Vegas residency with an immersive-audio system, as well as Resorts World Theatre (also in Las Vegas) having permanently installed these products. 
According to Fichte, "Artists such as Katy Perry, Michael Bublé and Luke Bryan have all benefited from this technology." And the return on investment for Resorts World is inarguable. Fichte notes the proof of value, saying, "In its first year of operation, Resorts World has already become the highest-grossing PAC in the world, in its category, according to Pollstar." 
Considering Corporate
As noted, corporate spaces are potentially ripe opportunities for immersive audio, as well. "We have seen companies like Salesforce and AT&T install massive videowalls within their lobbies, which go viral on social media," Fichte observes. "But what is the audio solution?" There's no doubt that huge screens can create dizzying landscapes. "But if you want to truly transport yourself to that space," Fichte adds, "then the audio needs to be 100% true to life. And this can only be achieved with an immersive audio solution." 
Lopez wraps up the conversation by pointing to the breadth of opportunity at integrators' disposal. He says, "We see potential for any vertical that requires a high level of engagement with their audience, including sports venues, dance clubs, themed entertainment, retail environments and even multi-purpose spaces where it may need to be transformed to suit a need at a moment's notice." 
So, invite your clients to step into the zone and give their patrons, customers and guests an experience they won't soon forget. The time is right to deliver an end-user experience not merely that they can see and hear but, indeed, that they can feel.