Pure Resonance Audio Debuts C5 Micro 4-inch Ceiling-Mount Speaker
Pure Resonance Audio's new speaker provides more robust sound and delivers a quick yet versatile install for a wide range of commercial environments.
Leave a Comment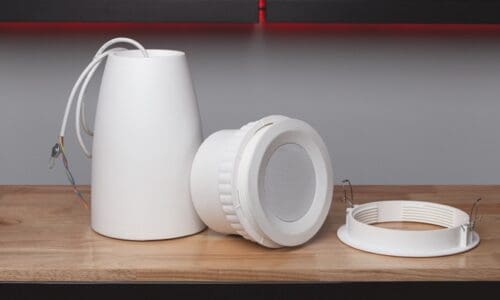 Pure Resonance Audio has once again expanded its portfolio of commercial ceiling-speaker products, providing even more versatile options to fit diverse audio needs. The newly added C5 Micro 4-inch 70-volt ceiling-mount speaker achieves a small footprint for a variety of applications while also maintaining the robust functionality and engineering, says Pure Resonance Audio.
Similar to its sister product, the extremely versatile C3, the new C5 70V in-ceiling speaker adds an additional inch in diameter. This makes this speaker a larger option that offers a more robust sound yet still delivers a quick and versatile install for a wide range of commercial environments.
Providing Simplicity and Versatility
Perfect for spaces that require a traditional commercial ceiling speaker or open-ceiling concept, the Pure Resonance Audio C5 was engineered to provide simplicity and versatility.
Designed with multiple mounting options, this 70V ceiling speaker can be installed in traditional drop tile ceilings with the included Easy-Mounting ring or in drywall ceilings with the optional C5-DM drywall mounting ring. The C5 can also adapt to exposed structure and high open ceilings with the C5-PK pendant mounting kit.
Users can also pair the Pure Resonance Audio C5-TB ceiling speaker tile bridge with the C5 speaker for additional support when mounting in ceiling tiles. This ceiling speaker tile bridge features a round 6.31-inch cut-out for use in drop tile and suspended ceiling applications.
Also Read: Pure Resonance Audio Adds C6 & C8 70-Volt Ceiling Loudspeakers
Small but mighty, the C5's intelligently engineered enclosure contains a full-range 4-inch paper cone driver with a rubber surround that delivers robust sounds with a 120-degree-by-120-degree coverage angle, 90Hz to 20kHz frequency range, and 91dB sensitivity. Perfect for offices, retail spaces, restaurants, hospitality venues and more, this 70-volt ceiling speaker boasts high-quality foreground and background music, paging and sound-masking capabilities.
The new Pure Resonance Audio C5 Micro 4-inch 70V ceiling-mount speaker further enhances the range of versatile and affordable commercial ceiling-speaker options for nearly any commercial application.