Listen Technologies Launches Listen EVERYWHERE Private Channels
Venues such as theme parks and houses of worship can create password-protected audio channels in updated Listen EVERYWHERE platform.
Leave a Comment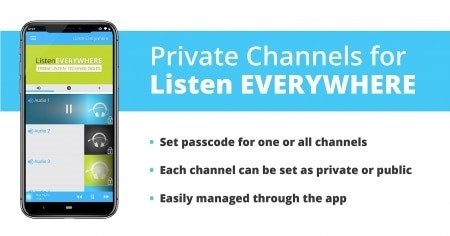 Listen Technologies Corporation has announced a private channels feature in Listen EVERYWHERE.
The new feature is part of a firmware upgrade to Listen EVERYWHERE, the wireless system that streams audio and customized content to smartphones and smart devices.
Listen EVERYWHERE private channels allow venues to create confidential, password-protected audio channels on their networks.
Listen EVERYWHERE private channels are ideal in courtrooms, boardrooms, and conference rooms where confidentiality may be necessary. In academic environments, administrators can create a private audio channel for closed classes or study groups.
Venues can also use the private channels feature to offer members and guests access to premium content. For example, they could offer VIP ticket holders at drive-in sporting or theater events exclusive access to behind-the-scenes commentary.
How Listen EVERYWHERE Private Channels Work
Venue administrators, professors, or IT personnel can select any or all Listen EVERYWHERE channels on their networks to mark private, and generate passwords directly from their smartphones through the new administrator section of the mobile app.
Passwords can be communicated to the intended recipients in any manner that meets a venue's security protocol and needs (e.g., email, text, website, signage in the room, etc.).
When listeners want to stream a channel that is designated as private, they are prompted for a password and must enter the correct password to hear the audio on their own iOS and Android devices.
Venue audio from speakers, TVs, or other audio sources streams directly to users' iOS and Android devices through a free customizable Listen EVERYWHERE app. Users can listen to audio from their devices with headphones or earbuds.
If they have Bluetooth-enabled hearing aids, they can connect the sound from their device directly to their hearing aids.
"As BYOD (bring your own device) trends increase and people maintain physical distance from others in the workplace, schools, and drive-in events, Listen EVERYWHERE plays a crucial role in helping them hear and engage safely," said Listen Technologies president Maile Keone.
Related: TMC Productions Hosts Drive-in Movie Nights with Help from Listen Everywhere
"At Listen Technologies, we're always connecting with our customers and partners to understand their needs and deliver solutions that help them entertain, educate, and engage their stakeholders," said Sam Nord, VP of global sales at Listen Technologies.
"Their input is reflected in the evolution of our product offerings. We are excited to launch private channels as part of Listen EVERYWHERE and enable venue owners and administrators to offer more audio content options and support listeners' preference to use their own devices."
Additional features of Listen EVERYWHERE include a new app administrator section on the mobile app that allows for easy password management by venue managers and administrators. This is compatible with iOS and Android devices.
The private channels feature also is flexible so administrators can setup channels as public, private or any combination.
Listen EVERYWHERE private channels is available now. Listen Technologies continues to add new features and performance enhancements based on customer requests.
All Listen EVERYWHERE customers are eligible for a free upgrade to unlock the new features of Listen EVERYWHERE, including private channels.
Existing Listen EVERYWHERE customers will need to update their server by making sure it is online, logging into the Listen EVERYWHERE web services, and pushing the update to their server.
End users will need to update their mobile devices if they do not have auto update enabled on their smartphone.