AV News to Know May 8, 2020: New Products, Cool Projects and People in New Places
In this week's edition: QSC releases software-based Dante for Q-SYS, Dubai Airport gets extra control and USAV Group adds new partners.
Leave a Comment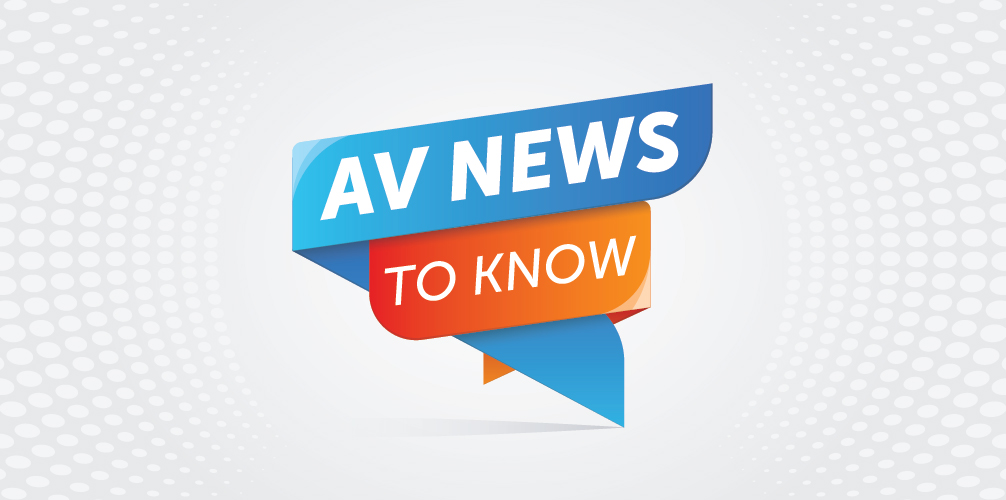 Here's a closer look at some of the AV news, products and projects you might have missed this week. We call it AV News to Know:
New AV Products
AV-iQ Product Catalog to Include HDBaseT Ecosystem
AV-iQ and the HDBaseT Alliance recently announced the classification of HDBaseT audiovisual standard on products in the AV-iQ platform.
The HDBaseT audiovisual one-cable standard "offers more features, increased reach, and better performance than existing solutions. Users of the AV-iQ product catalog can search or filter for specific features, to locate products that utilize the HDBaseT standard.
The partnership between the HDBaseT Alliance and AV-iQ is committed to providing audiovisual professionals with accurate, real-time product information including the HDBaseT standard indication in an online catalog that provides powerful search, comparison and project list tools.
QSC Releases Software-Based Dante for Q-SYS Ecosystem
QSC this week announced the availability of software-based Dante for the Q-SYS ecosystem.
As part of its strategic partnership with Audinate, these feature licenses allow integrators to enable Dante networked audio integration on Q-SYS Core 110f processors running Q-SYS Designer Software v8.3.1 or higher.
This software implementation eliminates the need for additional hardware I/O to integrate Dante into the Q-SYS audio, video & control workflow and greatly increases platform interoperability between Q-SYS and Dante-enabled devices.
Q-SYS Core 110f processors sold after March 30, 2020 will include 8×8 Dante network audio channel license (while Core 110f processors sold prior to that date can purchase the 8×8 channel license).
Furthermore, all Core 110f processors are capable of licensing higher Dante channel counts options (16×16 or 32×32). Software-based Dante for the Q-SYS ecosystem will be available on the remaining current models of Q-SYS processors (Core 510i and Core 5200) later in 2020.
BrightSign Hardware Users Gain Access to Enplug Digital Signage Software
Enplug this week announced it has integrated with BSN.cloud, BrightSign's cloud-based digital signage player and network management platform.
Now any organization using BSN.cloud to manage its network of BrightSign players will have a direct path to Enplug's enterprise-ready digital signage software built for management, automated content and multi-location control.
BSN.cloud Control Cloud is available as a free subscription with every BrightSign player. Integration with Enplug's digital signage platform now gives users direct access to Enplug's powerful, easy-to-use content management system to manage all of their BrightSign-connected displays.
Martin Introduces Zoom Lenses for ELP Series Fixtures
HARMAN Professional Solutions this week introduced Zoom Lens accessories for the Martin ELP family of ellipsoidal LED light fixtures.
Martin ELP Zoom Lenses broaden the functionality of ELP CL and WW LED ellipsoidal lights with two beam ranges and two housing colors. Their six-lens design provide ultra-bright output, flat projection and focus of a static lens with the speed and flexibility of a zoom lens.
Lenses feature a mechanical anti-slip locking mechanism and a service hatch for easy lens cleaning and maintenance. A gobo/accessory gate accommodates A/B-size gobos, and a color gel frame is included.
Two variants are available: Variant 1 offers a 15–30-degree range with a 7,000-lumen output (ELP CL in High Output mode); Variant 2 offers a 25–50-degree range with an output of 6,900 lumens (ELP CL in High Output mode).
Both lenses will be available in either black or white housing when they begin shipping in the fourth quarter of 2020.
Extron Shipping TLP Pro 300M 3.5″ Wall-Mount Touchpanel
Extron this week announced the immediate availability of the TLP Pro 300M 3.5″ portrait wall mount TouchLink Pro Touchpanel.
The TLP Pro 300M is designed to control video, audio, lighting, shades, HVAC, security, and other systems within virtually any environment. This touchpanel is equipped with a 320×480 resolution capacitive touchscreen built with scratch and smudge-resistant Corning Gorilla Glass.
The TLP Pro 300M also features the convenience of Power over Ethernet, which allows it to receive power and communication over a single Ethernet cable. It mounts in a one-gang junction box without the need for additional mounting hardware.
The TLP Pro 300M fits any environment requiring a wall-mountable, portrait touchpanel with a customizable interface.
MSE Audio Releases Applications for SoundTube IPD Hub 2 DSP Amplifier
MSE Audio—parent company of SoundTube Entertainment, Soundsphere, dARTS, Phase Technology, Induction Dynamics, SolidDrive and Rockustics—releases applications for the SoundTube IPD Hub 2 DSP Amplifier that shows integrators how to create a Dante-enabled system without a traditional DSP. The IPD Hub 2 is now shipping globally.
SoundTube's IPD Hub 2 amplifier is a 2-channel Dante amp with DSP built in. The amp is AES67 compatible and powered by PoE, PoE+ or 40W PoE.
It includes an RJ45 Ethernet connection and can be used with Radio Design Labs Format A (RDL) or Attero Tech Axiom line level, mic level, balanced XLR or Bluetooth input devices – stereo or mono, virtually any input.
Audio Visual Projects
Dubai International Airport Manages Operations 24/7 with RGB Spectrum
Dubai International (DXB) in the United Arab Emirates is the world's busiest airport for international passenger traffic, handling more than 88 million passengers a year.
Dubai Airport's new Airport Operations Control Centre (AOCC) houses several teams managing airport operations 24/7. Dubai-based AV integrator Aesthetix was appointed to design and integrate a state-of-the-art audio-visual solution for the new AOCC control room.
The objective was to provide a user-friendly, flexible video wall solution for operators to view live visuals and data for monitoring and collaborative decision making.
Aesthetix selected RGB Spectrum's MediaWall V 4K display processor to power the AOCC's 55-screen video wall.
The AOCC MediaWall-based video wall centralizes an extensive volume of visuals and data to enhance situational awareness. Operators can view information for daily management and planning.
The MediaWall V processor receives input from surveillance cameras, and computer system displays covering dynamic flight information, passenger and baggage status, check-in and boarding information, weather, access control and other data.
The MediaWall V processor consolidates these diverse sources and displays them in windows of any size, anywhere on the video wall array. The processor's features include overlapping images, window borders and titles, and pan and zoom.
The processor is controlled by RGB Spectrum's VIEW Controller, which uses a graphical user interface (GUI) to provide drag-and-drop selection and routing of any source. Live thumbnails of all sources provide visual aids for managing workflow.
Sources can be previewed prior to routing. Operators can choose from up to 60 preset window layouts. VIEW Controller does not require custom programming, so it is both quick to implement and cost-effective.
It provides access based on user privileges that allow or restrict access to features, supporting multiple users with configurable levels of access.
Vizrt Brings Journalists Separated by Countries Together in Same Studio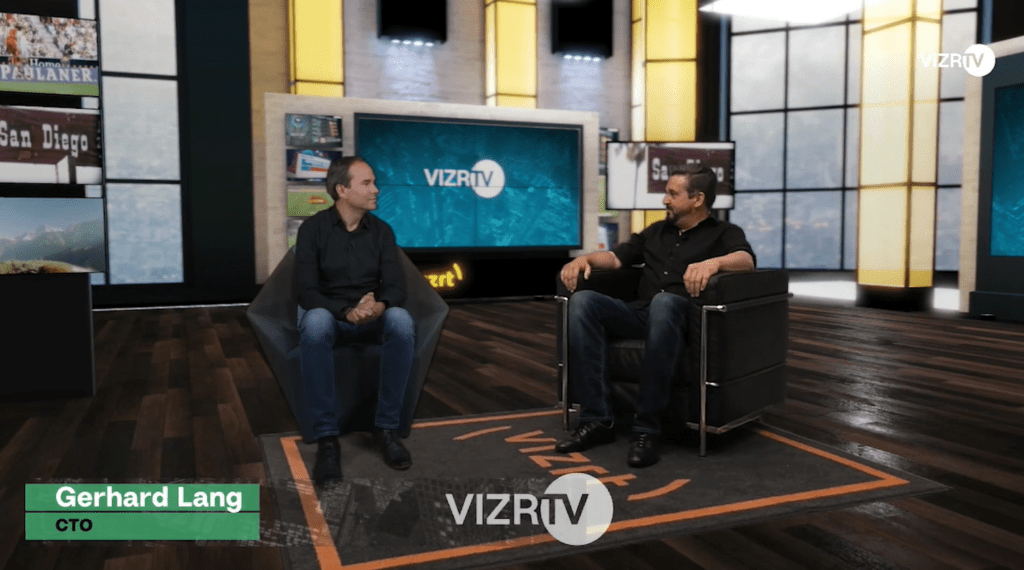 Vizrt recently offered the world its first glimpse of science fiction-turned-real in what could become the future of remote live interviews.
Using IP and the built-in Fusion renderer in the just announced Viz Engine 4.1, two individuals located in separate countries appear to be in the same room having a conversation in a live, 1-on-1 TV talk show format on Vizr.TV.
Vizrt launched VizrTV as a digital-first online platform utilizing Vizrt tools to provide broadcast customers insight into the latest company offerings in lieu of cancelled industry tradeshows.
Social distancing mandates not only moved the timeline of VizrTV production up by several months but added the extra challenge of having to produce from multiple locations remotely – and even from home.
In the VizrTV broadcast, host Chris Black appears seated in a lounge next to guest Gerhard Lang, CTO for the Vizrt Group, conducting a one-on-one interview.
However, Black is in the Vizrt global headquarters in Bergen, Norway while Gerhard is in the Vizrt office in Vomp, Austria, more than 2,000 kilometers away.
A virtual set provides a common background behind both individuals.
"The ability of Viz Engine 4.1 to key two or more independent streams at the same time while rendering and compositing everything together is the real magic here," says Lang. "Getting good quality video from Chris' location with very little latency to the Viz Engine 4.1 in Austria via public Internet was crucial for the keying quality and natural dialogues."
Two Matrox Monarch Edge devices were used to send and receive SRT streams from Norway to Austria.
Using Viz Engine 4.1, only two frames of latency for audio and video, in and out, in both SDI and IP mode are introduced into the stream.
The low latency provided Black the final composition in an IP stream for his reference monitors and for the final live production. Viz Vectar was added for cuts between clips and live, but also to send the live stream to Vimeo, Facebook and LinkedIn.
People and Places
Bob Hallas Joins Alpha Video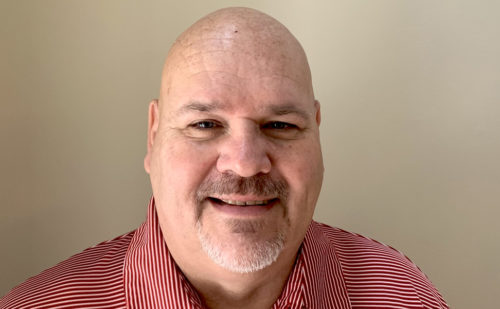 Alpha Video recently introduced Bob Hallas as its newest broadcast project manager.
Hallas joins Alpha Video with more than 30 years of experience in sports facility operations, facility maintenance, operations, building operating systems and working on remodeling/renovation projects.
He most recently served as project manager with CTI, where he oversaw broadcast and AV projects. Before that, Hallas was VP of stadium operations for the Milwaukee Brewers where he managed building operations, safety and emergency response programs, as well as special projects for Miller Park.
USAV Announces New Partnerships
USAV Group this week announced the addition of five new integrators and one service provider to the USAV consortium.
The new partnerships include:
Integrators
Bluewater Technologies (Farmington Hills, MI) was founded in 1985 and is the only woman-owned business of its kind, operating four industry-leading business units that support sensory storytelling through digital & physical canvases.
SCI Electronics LLC (Greenville, SC) is a 50-year seasoned solutions provider of turnkey design, engineering, installation, documentation, training and maintenance services for multimedia communication and sound systems for performing arts centers, corporate boardrooms and auditoriums.
Strategic Connections (Raleigh, NC) is a technology systems integrator which has combined seven core specialties of technology construction to allow the strategic connections that all modern facilities require in today's high-tech environment.
These consist of structured cabling systems, AV systems, commercial security systems, fire alarm systems, fire protection systems (sprinkler), telephone systems and power supply systems.
Texadia Systems LLC (Addison, TX) is an AV design and integration firm that specializes in both commercial and residential solutions, from corporate boardrooms, conference rooms and collaboration spaces, restaurant and hotel solutions to high-end residential technologies.
Redwire LLC (Collierville, TN) specializes in the design, installation, rental and support of high-quality and affordable custom audio, video, lighting, broadcast and control systems for worship facilities and large public venues.
Preferred Service Providers
AV Design Labs (Nashua, NH) offer AV drafting, programming and engineering consulting. The team at AV Design Labs offer integrators the opportunity to supplement their staff with highly specialized expertise without adding to headcount.
AVPro Global Holdings Appoints SFM as Canadian Distribution Partner
AVPro Global Holdings this week announced Montreal-based SF Marketing Inc. (SFM) is now the exclusive Canadian distributor of the AVPro Edge line of connectivity solutions, Murideo testing and troubleshooting equipment, and Bullet Train HDMI Cables.
AVPro Global Holdings brands include AVPro Edge, Murideo, and Bullet Train HDMI Cables. AVPro Edge products are used in residential and commercial AV installations for switching, splitting, connecting and controlling HDMI.
The complete product line includes a range of extenders, distribution amplifiers, matrix switchers, multi-viewers and audio equipment.
If you enjoyed this article and want to receive more valuable industry content like this, click here to sign up for our digital newsletters!