Why Is Texadia Systems on This Year's Fast-Growing Firms List? Because They Clean Up BIG Messes
Texadia Systems earned a spot on this year's list of Fast-Growing Integration Firms. Learn what sets this Texas company apart.
Leave a Comment

The first thing you might notice in the graphic below is the blip in 2017 when Dallas-based Texadia's revenue dipped from 2016, but burst back in 2018, climbing to $8 million. Texadia Systems is also stacking on employees at a fast rate.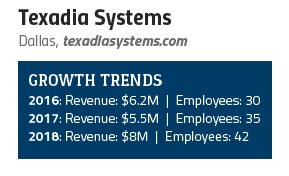 Texadia is only approaching its fifth year in business and it's finding the Dallas market to be "on fire," says Steve Burke.
Like all-too-many systems integration firms, Texadia is finding a lot of business related to cleaning up "messes" that Burke says were left by larger companies.
"We respond immediately to clients' needs and can provide a faster level of support."
Not surprisingly, the young firm's biggest challenge seems to be finding talent. "We are having to take chances on people to see if they can fit our level of quality and culture," Burke says.
Related: 18 Fast-Growing AV Integration Firms and What You Should Learn from Them
"We are looking for more IT background people versus straight AV experience."
As for whether the young integration firm can sustain the growth and the 42 employees, Burke is confident.
"We have a large list of repeat business clients and we continue to do great work in this market. You are only as good as your last job, so the commitment to quality is imperative if you want to continue to grow."
Other Company Focuses
The company is focused on spaces such as boardrooms, conference rooms, training rooms, and auditoriums; and technologies including digital signage, structured cabling and security.
Their residential services include home automation, networking, lighting control, home theater, video distribution, and audio distribution.
As another way to stand out, the company has also honed its Google SEO online, which is breeding between 2 percent and 4 percent of the company's projects.
Texadia Systems also has a Youtube channel with instructional advice for integrators. Check out one of their videos below.
Learn more about Texadia Systems on their website