AV News to Know Nov. 8, 2019: New Products, Cool Projects and People in New Places
In this week's edition: Shure releases modified version of MXA910, Epson at Lightning in a Bottle Festival and Atlona announces a quartet of new hires.
Leave a Comment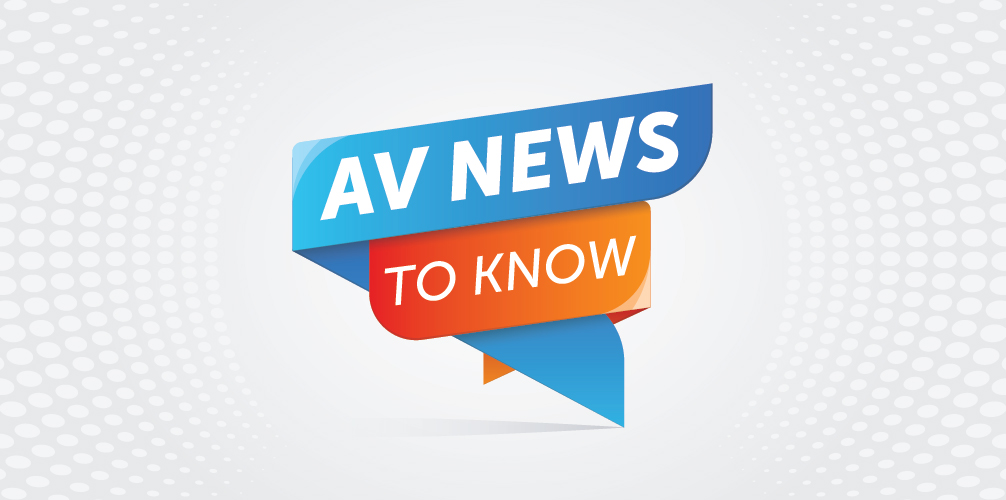 Here's a closer look at some of the AV news, products and projects you might have missed this week. We call it AV News to Know:
New AV Products
ClearOne Unveils COLLABORATE Versa Pro CT
ClearOne announced the release of the new COLLABORATE Versa Pro CT, which includes a Huddle DSP mixer and the new Huddle-compatible and patented BMA CTH for small-to medium -sized rooms.
The COLLABORATE Versa Pro CT facilitates bring your own device (BYOD) collaboration using any cloud-based service such as COLLABORATE Space, Microsoft Teams, WebEx, Zoom and more.
The system includes ClearOne's new BMA CTH beamforming microphone array ceiling tile with built-in AEC, providing the same impeccable room coverage as the BMA CT using adaptive steering.
The COLLABORATE Versa Pro CT system also includes mic/line inputs with AEC, line outputs, 4×10 Watt power amps, USB audio, mobile phone jack, and HDMI.
The system comes preloaded with a project file ready for the most common room configuration. Or it can be further configured using CONSOLE AI software, now with enhanced visualization and audio intelligence.
Shure Taking Pre-Orders for New Version of MXA910 Microphone
Shure has announced that its new version of the MXA910 ceiling array microphone with Intellimix DSP is now available for pre-order, with delivery planned to start in December.
The MXA910W-A ceiling array microphone with IntelliMix DSP provides a solution for installation in 24×24-inch ceiling grids in the U.S.
This new MXA910 variant includes the same technology and performance as all prior versions.
The MXA910W-A features subtle adjustments to the form factor of its chassis design to ensure it is compliant with recent court requirements. Additionally, Shure continues to offer uninterrupted global availability of the MXA910 60cm version.

NEC Releases 20K Lumen RB Laser Projector
Designed for theaters with screens up to 65.5 feet wide, NEC's NC2002ML is the latest DCI compliant RB Laser DLP cinema projector.
Delivering 2K (2048 x 1080) resolution, 3D capabilities and high contrast images (2000:1), this model provides up to 50,000 hours of laser life.
The NC2002ML features an all-in-one Integrated Media Server (IMS) with 2 TB RAID5 of storage.
Audio Visual Projects
LG TechTour Wraps Up with NYC Pop-Up Shop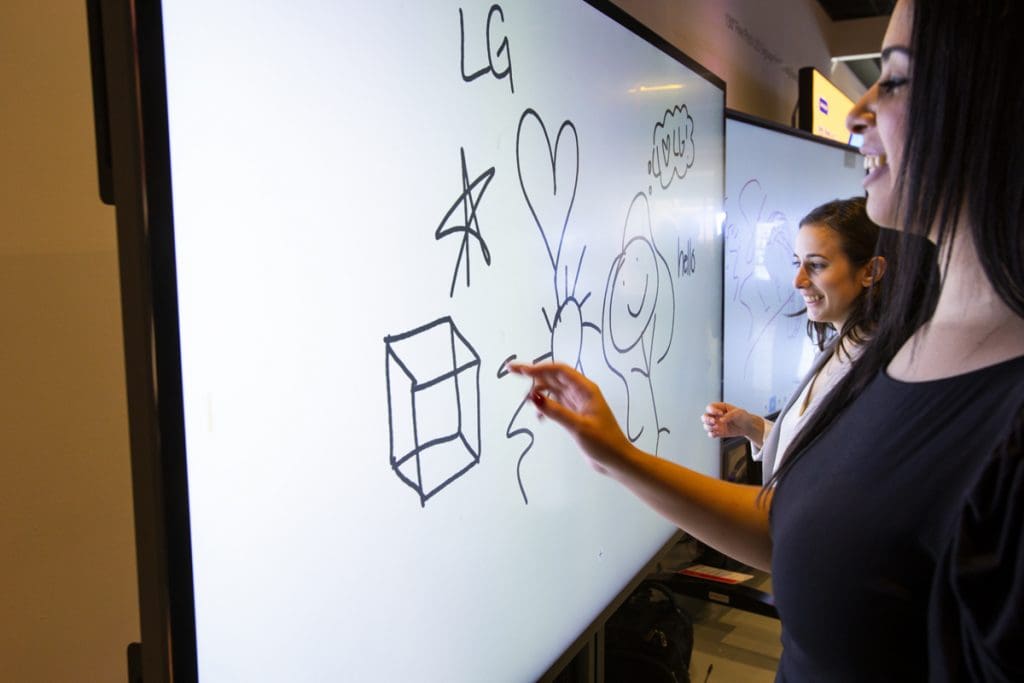 LG Business Solutions USA wrapped up its 2019 coast-to-coast LG TechTour—a self-contained technology road show—with a technology pop-up experience on New York's Fifth Avenue that drew hundreds of attendees.
At the day-long event – featuring live entertainment and a range of food from New York eateries — guests experienced an assortment of digital signage displays along with a series of workshops and product presentations.
More than 1,400 customers came to LG TechTour stops in six cities, including Chicago, Dallas and New York City, said Garry Wicka, VP of marketing at LG Business Solutions USA. Each stop featured themed events that were tied into the host city, he said.
Artists Create Intimate Art Experience with Epson Laser Projectors
Artists Adrian Rasmussen and Ryan Uzilevsky turned to Epson PowerLite L615U laser projectors to create an intimate art experience, combining 3D projection mapping with intricate wooden sculptures to illuminate fine art pieces.
Rasmussen and Uzilevsky debuted their work at the 2019 Lightning in a Bottle Festival, with future plans for showings at various art galleries in New York, California, and Bali.
"Our goal for this piece was to create a captivating experience in an intimate space," said Uzilevsky. "We started with our large-scale projection mapping techniques, and then scaled them down to create something more personal."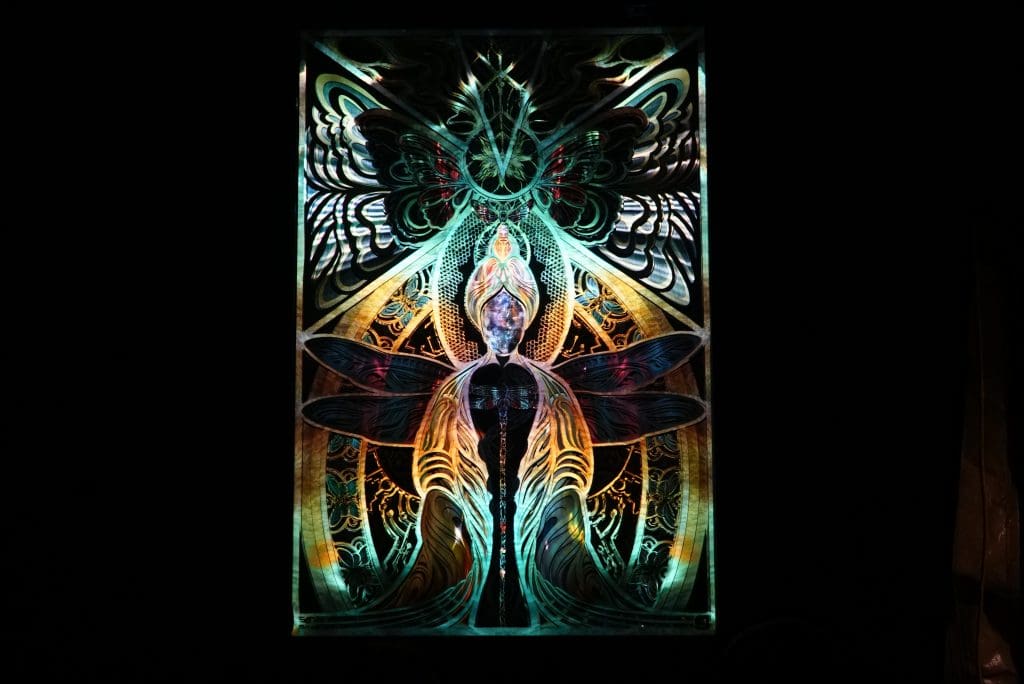 People and Places
Shure Welcomes Emanuele Luongo as Market Development Manager
Shure Incorporated recently announced plans to enhance its marketing and sales operations in Europe with the appointment of a new Integrated Systems Market Development Manager for Italy, Emanuele Luongo, effective Dec. 1.
In this new role, Luongo will concentrate on the Italian integrated systems market, working closely with Shure distributor Prase Media Technologies. His office will be located in Milan.
"We are pleased to appoint Emanuele to this key position, supporting our market development activities in Italy," said Rob Smith, senior director of integrated systems sales in western Europe at Shure. "As Shure continues to expand globally, adding Emanuele will be essential in building customer relationships and providing solutions to meet the needs of this important market."
Luongo's background is in sound engineering, acoustics and wireless audio. His areas of expertise include sales, product management, business development, technical training, and sound reinforcement design. He has held sales and product management positions at Shure's Italian distribution partners, as well as live sound engineering positions for notable artists.
Atlona Bolsters U.S. Sales Organization
Atlona, a Panduit company, this week announced the appointment of four new members to its sales team. Three new regional sales managers and a new inside sales representative have joined the company to support its ongoing growth.
Robb O'Brien has been named as regional sales manager, commercial, for the southwestern U.S., while Patrick Smith takes on a similar position for the north central U.S. region.
O'Brien brings with him 15 years of experience in professional AV sales, most recently as a regional sales manager for Kramer Electronics.
Smith is also an AV industry veteran, with 30 years of background in sales engineering and management including roles at Visitec and Crestron as regional sales manager.
The duo joins six other sales team members.
Steve Neylon has joined the company as residential AV regional sales manager for the eastern U.S. and Joseph Sebek is the company's newest inside sales representative.
Sebek has previously held similar positions in the AV industry, most notably focusing on the digital signage market for display manufacturer Planar Systems.