Crestron Adds AV-over-IP Bridging Technology to DM NVX Portfolio
Crestron's new HDBaseT to AV-over-IP bridging enables 1- and 2-gang solutions, hybrid system designs and planned migration strategies.
Leave a Comment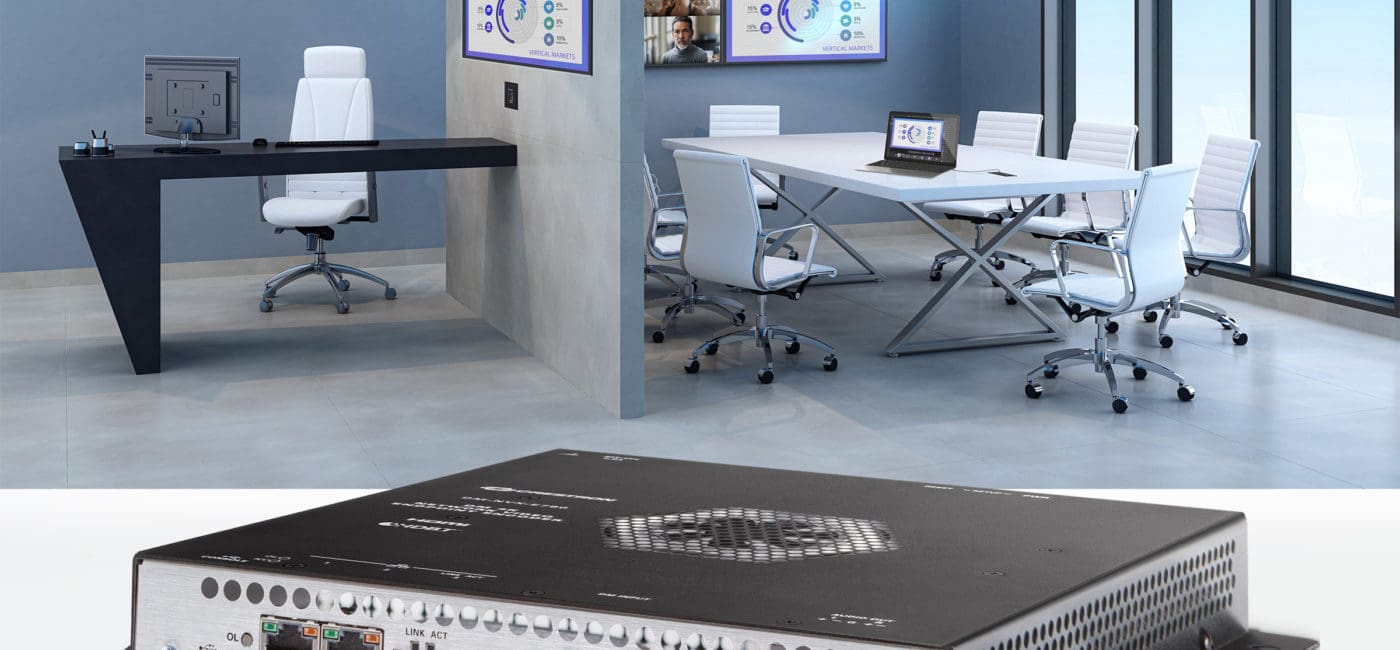 Crestron today introduces the latest addition to its DM NVX AV-over-IP product portfolio: the Crestron DM-NVX-E760.
The new DM-NVX-E760 encoder is "the first-ever AV-over-IP bridging technology that enables tight integration for standards-based HDBaseT solutions or expanding an existing room system for broader distribution," according to the Crestron announcement.
The Crestron DM-NVX-E760 features support for Crestron DigitalMedia technology, including DM matrix switchers, all-in-one DMPS systems, and DM Lite transmitters, providing a selection of endpoints, 1- and 2-gang formfactors, wall mount, surface mount, and single and multi-input models to the system designer's toolkit.
Offering a single wire solution for power, audio, and video, it can be powered through a supplied power pack, PoE+, 802.3bt, or UPoE.
Related: Pinnacle AVL Outfits USC Iovine and Young Academy with 800 DM NVX AVoIP Endpoints
For customers that have invested in DigitalMedia or other HDBaseT solutions, DM-NVX-E760 provides the ability to continue to leverage those investments while adding the capabilities of AV-over-IP, such as room overflow capability and global source distribution.
"Crestron knows that many designers still prefer to use HDBaseT solutions for in-room switching, which is why we continue to invest in these transformative products," said Andrew Ludke, director of product management for AV solutions at Crestron, in the announcement.
"Crestron's new DM-NVX-E760 bridging technology enables hybrid designs, bringing our market-leading solutions into a cohesive ecosystem. DM-NVX-E760 has also enabled us to offer our customers and dealers their number one requested feature: 1- and 2-gang wall-plate extensions," he said.
More About Crestron DM-NVX-E760
With Crestron's standards-based approach, DM NVX is "the most flexible and interoperable AV-over-IP signal distribution platform on the market," according to the company announcement.
DM-NVX-E760 guarantees interoperability with Crestron's entire line of DigitalMedia products, as well as hundreds of other products from various manufacturers that conform to HDBaseT standards.
"Customers now have the ability to integrate DM NVX with their existing technology deployments and can also explore how they can further evolve their systems," according to the Crestron announcement.
"The future-flexible solution demonstrates how Crestron is providing great investment protection and taking a forward-looking approach to innovation," the announcement says.
The new DM-NVX-E760 AV-over-IP bridging technology are available now with an MSRP of $1,900.