DiGiCo Sparkles at America's Christmas Tree Lighting Ceremony
DiGiCo SD10 monitor console supplied by Maryland Sound managed a nonstop entertainment agenda of musical artists at 96th National Christmas Tree lighting.
Leave a Comment
It's beginning to look a lot like Christmas—and, while some traditions remain alive from the first time people celebrated the birth of Christ and arrival of Santa Claus—many of them have been enhanced, in no small part because of technology.
On Christmas Eve 1923, President Calvin Coolidge walked from the White House to the Ellipse and pushed a single button to light a 48-foot Balsam fir— the first National Christmas Tree —as enthusiastic spectators looked on.
Related: Your Last-Minute Holiday Gift Guide for Pro AV People
On Nov. 28, however, there were a few more buttons to push as monitor engineer Sven Giersmann piloted a DiGiCo SD10 console—provided by Maryland Sound, the event's audio supplier for over a decade—for a large and diverse array of musicians who performed at this year's lighting of the National Christmas Tree.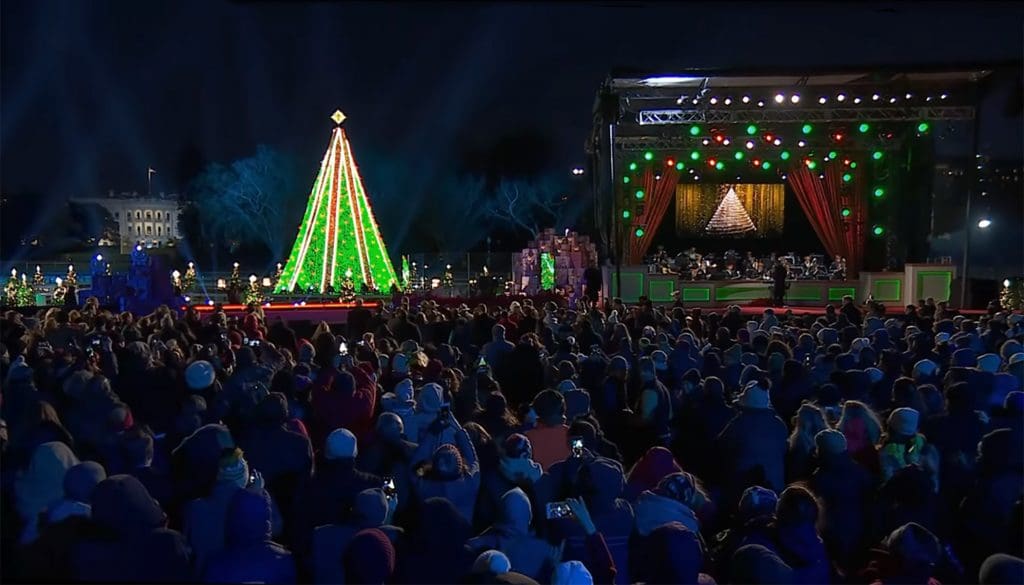 Hosted by actor Antonio Sabàto Jr. and aired on the Ovation and REELZ channels the following Sunday, the 96th annual National Christmas Tree lighting production featured a diverse lineup of performances from Abby Anderson, Anthony Kearns, the Dominican Sisters of Mary (a.k.a. "Caroling Angels"), Gabby Barrett, John Driskell Hopkins and Joe Gransden, LOCASH, Matthew West, Paul Cardall, Spensha Baker, Thompson Square and the United States Army Band, Pershing's Own.
"The show has multiple performance spaces and is live to tape, so there was a lot to manage," says Matt Snyder, Maryland Sound's account executive on site during this year's tree lighting.
SD10 Performs Well, Even 'Maxed-Out'
"Some of the artists performed on their own, others played with the U.S. Army Band, plus we had a number of different hosts on stage throughout the event, and we had a constant mix of both in-ears and wedge monitors. The SD10 was maxed out, but it handled everything flawlessly."
The SD10 was used in conjunction with a pair of SD-Racks on an optical loop, clocking at a pristine 96 kHz, to manage 34 handheld wireless microphones, 20 stereo IEMs, and even more floor mixes. In addition to 96 stage inputs, multiple stems and truck feeds to performers were routed through the SD10 monitor console.
"None of the small format consoles in the inventory could handle the I/O capacity of this show," says Snyder.
"The SD10's intuitive workflow was critical and, because of the remote location of the console, the iPad app was also an essential system tool. With only one timed rehearsal before the broadcast, Sven had to generate and edit snapshots on the fly, and the SD console software lets us do that easily."